Guns and children should never mix. Sadly, with a large number of homeowners across the U.S. having firearms in their house, incidences involving young ones and guns are bound to happen.
When they do, it's no small surprise that tragedy is waiting just around the corner, as was proven this weekend when a 3-year-old boy in Texas died after accidentally shooting himself with a family member's gun.
As per reports, the Montgomery County Sheriff's Office confirmed that the boy had died on Saturday after picking up a gun that had dropped out of a family member's pocket.
Sources state that the boy's family had gathered to celebrate his birthday at a party in Porter, Texas – about 25 miles north of Houston – and that the adults were playing cards when they heard a gun go off.
The 3-year-old was rushed to a nearby fire station so he could be administered first aid. Tragically, he died of his wounds there.
The sheriff's office said in a statement: "Our thoughts and prayers go out to the family and friends [in] this tragic accident."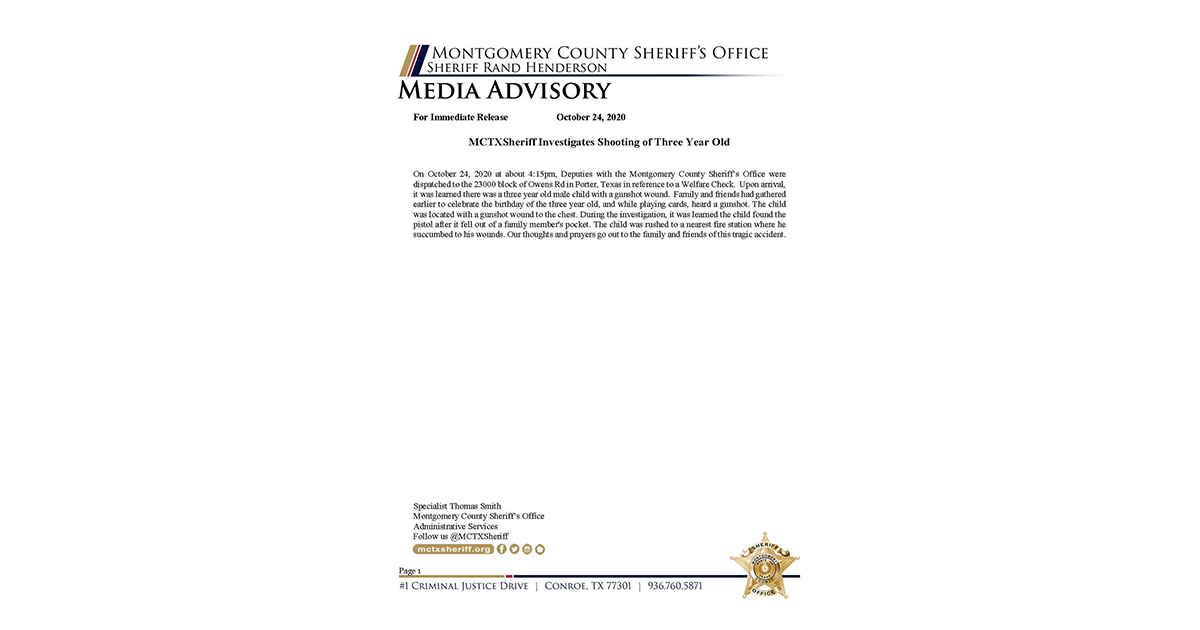 The full post from the sheriff's office reads:
"On October 24, 2020, at about 4:15 pm, Deputies with the Montgomery County Sheriff's Office were dispatched to the 23000 block of Owens Rd in Porter, Texas in reference to a Welfare Check. Upon arrival, it was learned there was a three-year-old male child with a gunshot wound. Family and friends had gathered earlier to celebrate the birthday of the three-year-old, and while playing cards, heard a gunshot.
The child was located with a gunshot wound to the chest. During the investigation, it was learned the child found the pistol after it fell out of a family member's pocket. The child was rushed to the nearest fire station where he succumbed to his wounds. Our thoughts and prayers go out to the family and friends of this tragic accident."
As per USA Today, in 2018 alone at least 73 children under the age of 12 died in accidents related to access to firearms.
My heart bleeds for this little boy. Another innocent live lost needlessly. We need to be better as a society regarding the potential access children have to firearms, otherwise we're doomed to repeat tragedies like this time and again.
Share this article on Facebook to say rest in peace to this poor little boy, and to send love and support to his grieving family.