Father Time takes its toll on all of us, but it would appear that Dick Van Dyke must have cut some sort of deal.
The legendary entertainer is now 96 years of age (way to make me feel old), but shows absolutely no signs of slowing down. In fact, it seems that the Chitty, Chitty, Bang, Bang star, famed for the high energy he has exuded since the beginning of his career, is still taking every opportunity he can get to bring a smile to people's faces.
Earlier this month, Dyke was all smiles when he was pictured leaving a restaurant in Malibu, California.
What's more, he took the time to tell people that he's "just glad to still be here."
Later that same day, Dyke, who began his illustrious career as early as the 1940s, was seen running errands that included picking up a self-tanning spray from a local store.
Yet it's a video from earlier on this year, on Valentine's Day, that has people talking at the moment.
In the clip, Van Dyke can be seen dancing alongside his wife, Arlene Silver, 50, to the 1958 Doris Day hit Everybody Loves a Lover.
The duet, which lasted three minutes, starts off with Arlene checking herself in the mirror. The singer and producer then walks up to her iconic husband, sitting on a floral chair while buffing his nails.
After singing a few verses, the Mary Poppins star joins his partner, and two perform the two-step and other brilliant moves that are synchronized to perfection.
Watch the video below:
Needless to say, the video of Dick Van Dyke proving that he's definitely still got it – especially so, given his advancing years – was a big hit with his fans.
A few years ago, Van Dyke told Closer Weekly that he hits the gym as often as three times a week – no mean feat for a man who is closer to 100 than 90.
He revealed in 2019: "I've always been an exerciser and still am … I get in the pool and exercise. At my age, they say to keep moving. Put me on solid ground and I'll start tapping."
Van Dyke also thanked his partner, Silver, for helping him to stay youthful.
"I sometimes forget that we're doing a great experiment here — 46 years' difference. And we work at it to some extent," he explained.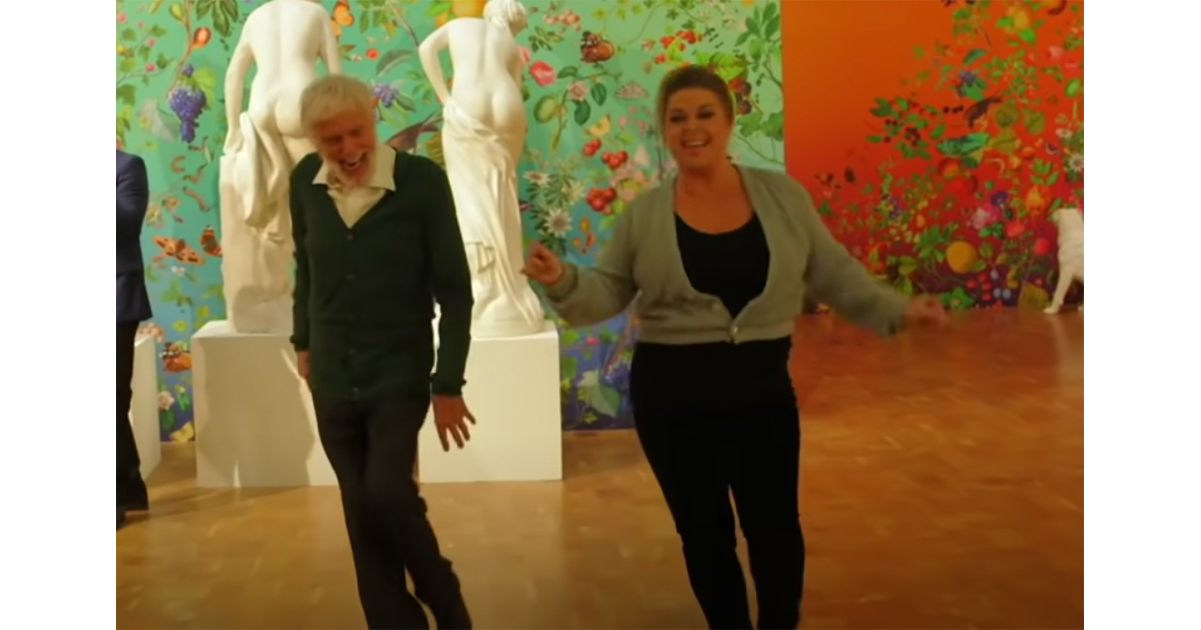 "There's got to be some understanding. Find out what old habits don't work anymore. It takes some adjusting and fitting in, but that's part of the fun of it."
Silver, meanwhile, said: "He is the most perfect human being. I've never met anyone so happy, so genuine, so amazing. He's just like a happy pill."
I for one am so glad that Dick Van Dyke is alive and doing well. He's got to be one of my favorite actors of all time!
Are you a fan of Dick Van Dyke? If so, what's your favorite movie of his? Let us know in the comments box.