Steve Irwin became a certified legend during his time on this Earth. The eccentric Australian was best-known for his work in promoting animal and wildlife conservation, and his larger-than-life attitude secured a legacy that few will ever forget.
When thinking about the name "Irwin", there's really just one thing that comes to mind. Steve Irwin became "The Crocodile Hunter" to the entire world through his many documentaries. Outside the spotlight, meanwhile, he strove for animal awareness and conservation.
Irwin's death during the filming of a production titled Ocean's Deadliest in September of 2006 left the world in shock. The celebrated personality was just 44 at the time, and left behind a family that included his two then-young children, Bindi, 8, and Robert, 3.
Growing up, Bindi's home was the Australia Zoo. Living around crocodiles and other exotic animals doesn't quite seem like a regular childhood, but it appears to have been a very happy time for Bindi.
Of course, things took a turn for the worse when her father tragically passed away. At the time, Bindi was only 8 years old.
Needless to say, it was a huge tragedy for the entire family. But at the same time, as people who've dedicated their entire lives to the animals, his family knew the show had to go on.
Both children, Robert and Bindi Irwin, where homeschooled. Living at a zoo presented a very different kind of childhood, and since their parents were living a hectic, but simple, life in the spotlight, they were often on the move.
Today, it looks as though both of them are following in his footsteps. Along with Steve's wife Terri, 57, Bindi and Robert work at Australia Zoo, where they endeavor to continue their father's great work.
Not only that, but it would appear that the Irwin family's devotion to animals is steadily being secured for future generations to come. Last year, Bindi and boyfriend Chandler Powell, 25, welcomed Grace Warrior to the world, and the little one is reportedly "fascinated" by her grandfather.
"We have so many documentaries of Dad, and we're always playing them for Grace," Bindi told PEOPLE.
"It's so fun to watch her study him. I didn't realize how much Dad's passion for life and his animated facial expressions — I mean, they captivate her."
What's more, Bindi said that she can already see elements of her famous father in her daughter.
"I definitely see parts of [Dad] in Grace," Bindi said.
"His determination and his inability to sit still. I think that's really special. I'm excited to see as she grows up how her personality will develop. If Dad was around, honestly, we would never see her. He would be in love."
She added: "He'd just have her doing everything with him. We would only see her if she needed a feed and then be gone again."
"She just stares at him in complete and utter fascination," Bindi continued. "She hangs on every word he says. Whether he's talking about a croc or a spider, she thinks it's amazing."
Earlier this year, Grace Warrior celebrated her first birthday, and her family marked the occasion by creating a cut-out picture of Steve for a special photograph.
Steve's widow, Terri, wrote of Grace's birthday: "Today is Grace Warrior's first birthday. I am amazed every day when I see her determination, curiosity, and depth of love. There is a wise old soul behind her eyes, and I am very privileged to be her grandmother."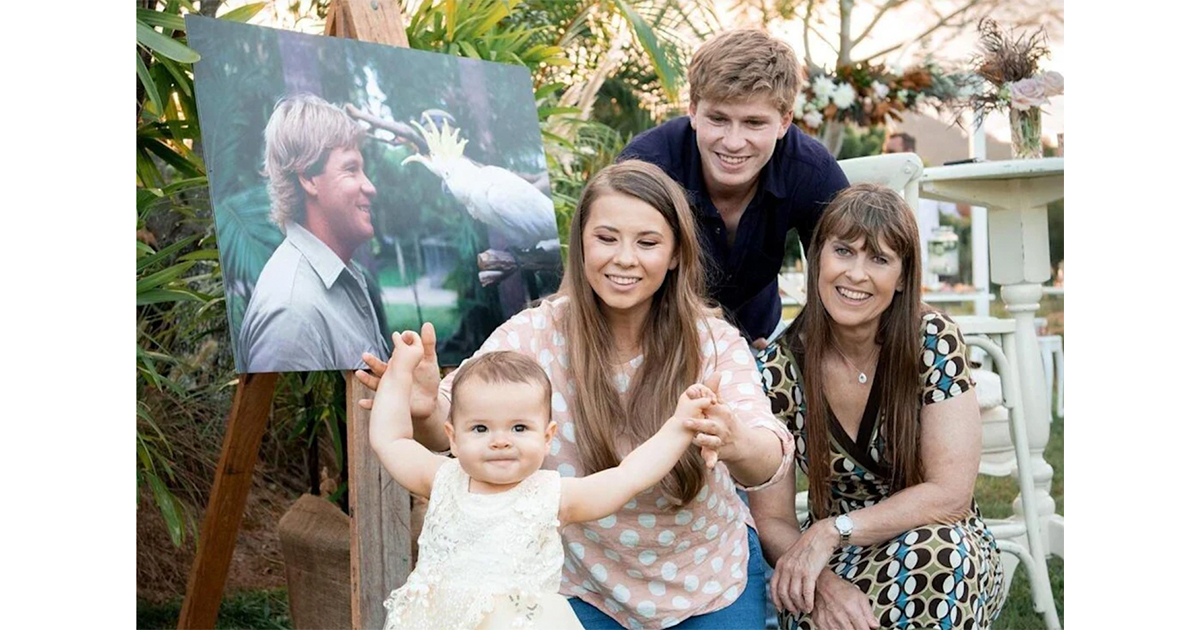 Bindi Irwin and Chandler
Bindi Irwin first met Chandler Powell in 2013. He was a professional wakeboarder who was in Australia for a competition and had decided to visit the Australia Zoo.
Just as Terri had been when she met Steve for the first time, Chandler was only at the zoo as a regular tourist.
He spotted Bindi – and knew that something special was in the offing.
"[Bindi and I met] right next to where Steve and Terri met [after] Steve had just finished a croc demonstration," he explained. "I met Bindi right next door, and I was holding a koala and Bindi was holding an echidna, and it was just love at first sight."
There was something special in the air from the beginning. However, the two didn't start dating straight away. Initially, Chandler decided to reach out to Bindi's mother, Terri.
Speaking on Entertainment tonight, Bindi recalled what happened before the two started dating in a long-distance relationship.
"He sent a letter asking my mom if he could stay in contact with me, and then Mom gave the letter to me and said, 'Is this person real?'" she recalled.
The fact that Bindi and Chandler met the same way as Terri and Steve did sure is wonderful. For Chandler, it was very special as well.
"It was so cool seeing the parallels," he told US Weekly in 2019.
Chandler and Bindi soon fell deeply in love and in 2016, Chandler accompanied her to her school prom.
On her 21st birthday, Chandler proposed to Bindi. 
Wedding ceremony
In March 2020, the couple tied the knot in an intimate ceremony at the Australia Zoo. Because of the COVID-19 pandemic, the couple couldn't invite a lot of people. They wanted to have 200 people on the guestlist.
Instead, they were surrounded by animals and there were only three other people witnessing the ceremony; Terri, Robert, and Steve's best friend, Wes Mannion.
"Where we got married was such a special place to dad," Bindi Irwin says of the garden at the Australia Zoo
On her big day, Bindi decided to honor her father's memory and she felt his presence during the wedding.
The day before the wedding, Bindi posted an old photograph of her and her beloved father alongside a wonderful tribute.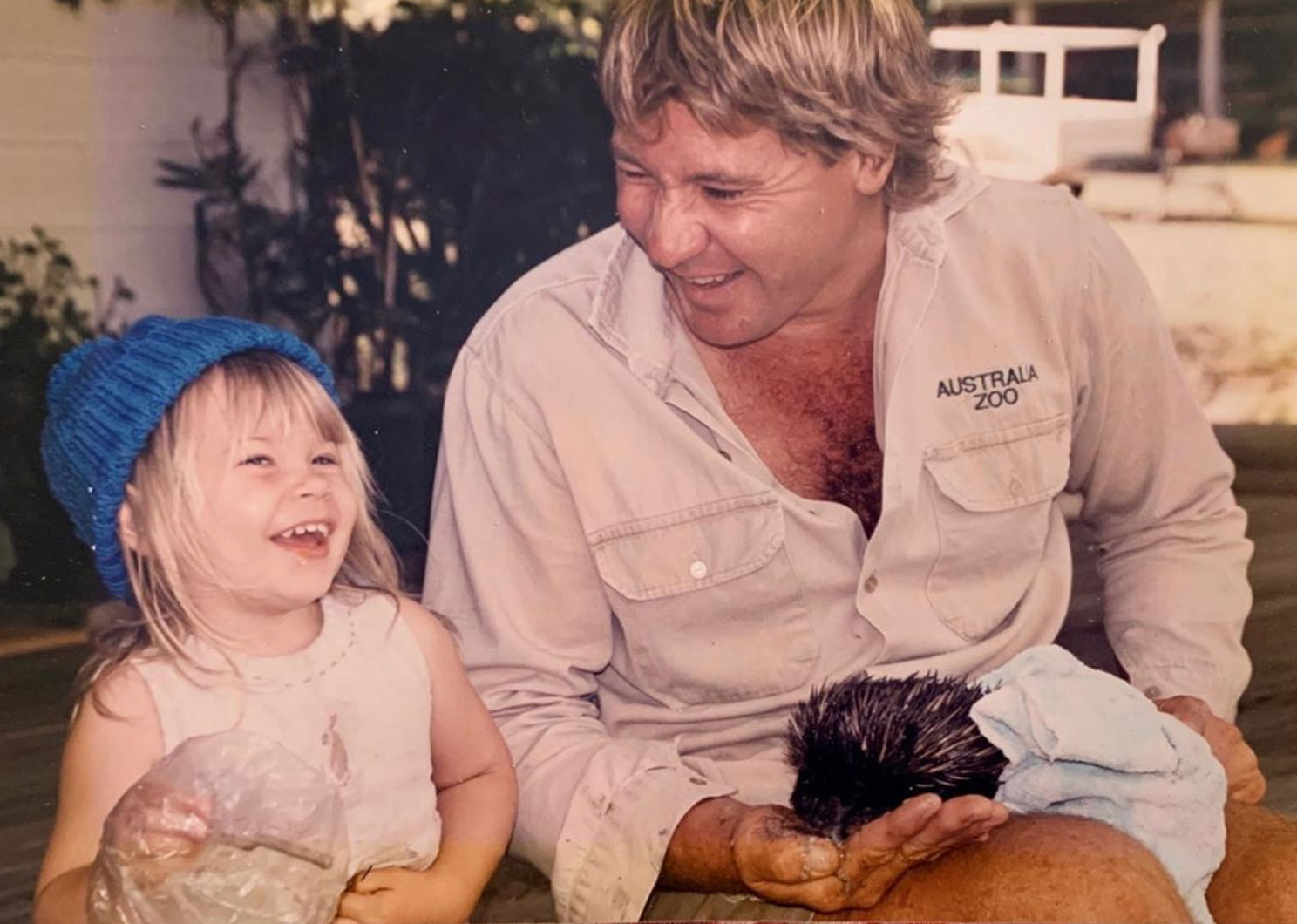 "Thank you for being my guiding light. You're always with me," the caption read.
A portrait of Steve was also brought to the ceremony and she lit a candle in memory of her beloved father.
"It really felt like he was there with us. It was a lovely moment of peace and happiness," Bindi said.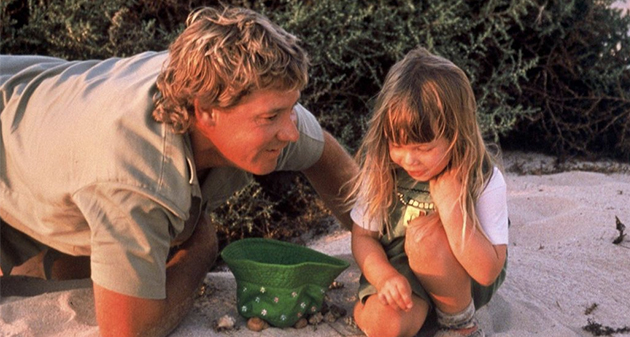 Bindi Irwin also decided not to change her last name. Why? Well, partly because of her late father, Steve.
"I've kept Bindi Irwin," she told Entertainment Tonight. "I think that for me personally, after dad passed away, it was really important for me to feel close to him, and having his last name means so much to me."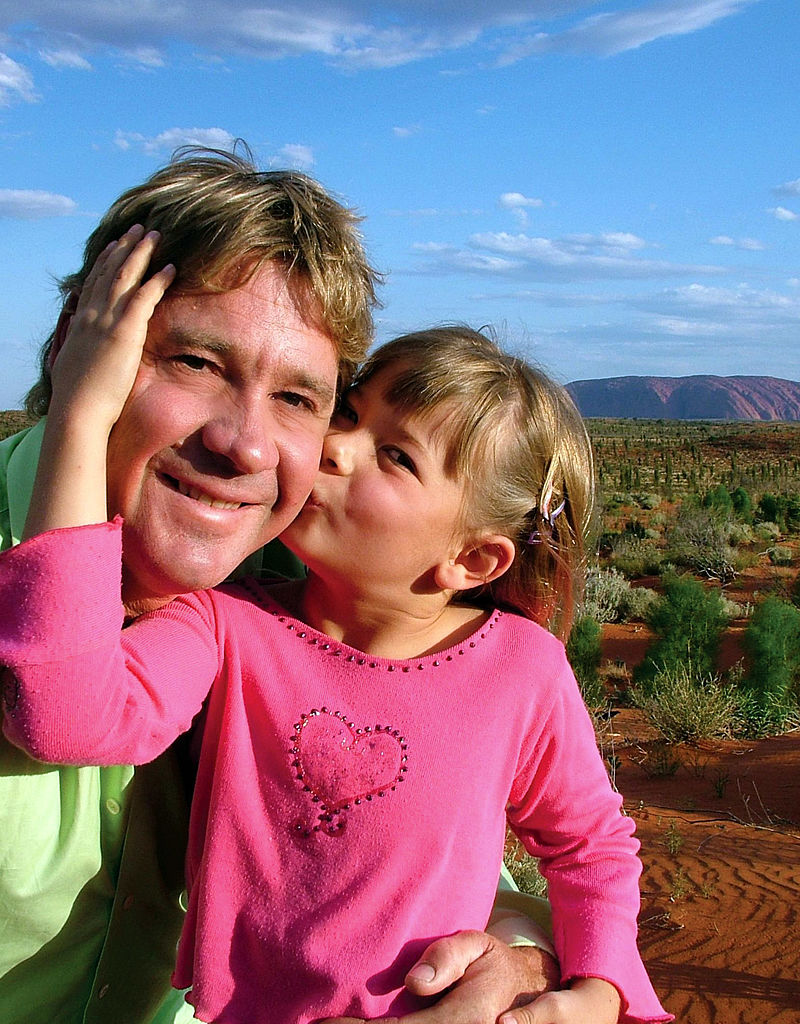 As for Chandler, he understood his wife's decision fully. In fact, it looks like he's the one who will be changing his surname.
"Chandler has become an Irwin now," he added. "It has become a part of me. Everyone has their own ideas, but the nice thing is that it's 2020 now. Anything works!"
Even though she has her own, beautiful family it's very clear that Bindi still misses her father. In an interview in 2019, she spoke about the emotional scars that still exist and occasionally sneak up on her.
"There's old footage of Dad with the crocodiles and, even though I've seen the video maybe 50 times, that day I started crying."
We can only imagine how much pride Steve Irwin must feel upon looking down at the wonderful family he helped to create, and the overwhelming legacy forged by his actions on Earth.
Man, we sure miss Steve Irwin and his incredible work with animals. That said, it certainly looks like his wonderful legacy is being fulfilled by his children.
Please, share this article on Facebook if you miss Steve Irwin.