Giving birth to your first child is an exciting time, but it can also be scary. There are a lot of unknowns, but at least when a professional is involved everyone can relax a little.
That wasn't the case for Leo and LeeAnn Bienaime. The couple was told to go home after hospital staff determined LeeAnn's contractions weren't strong enough.
Several hours later, Leo helped his wife deliver their firstborn in their bathtub.
On August 23, the couple went to Naval Medical Center Portsmouth because LeeAnn was experiencing contractions.
"I was told that I should come back when my contractions were when you can't really walk and you can't really talk through them," she told WTKR.
Four hours after they arrived, the Bienaimes were told to go home, so they drove the 25 minutes to their home in Chesapeake, Virginia.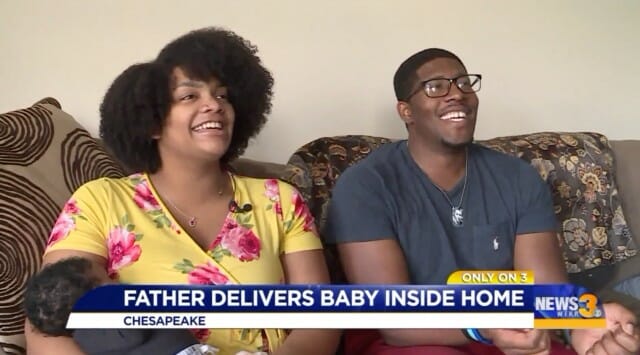 At home, LeeAnn frequented the bathroom, and at one point she felt her son's head. She wanted to wait to get to the hospital, but she knew her son wasn't going to wait.
As her husband called 911, she got into the bathtub.
"I had to let instinct take over and just go with it and kind of release myself to the experience," she said.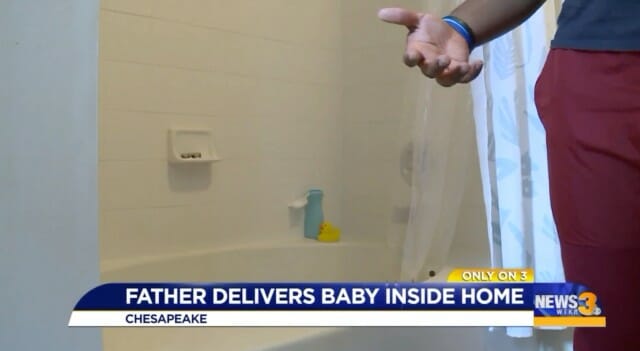 It didn't take long before their son, Joachim, was born. Even while he helped his wife deliver their firstborn and he spoke to the 911 dispatcher, Leo managed to get a picture of their firstborn shortly after his birth.
"Everyone that we showed the picture to was like, 'Wait… why is there shampoo in the background?'" he said. "Don't try this at home."
LeeAnn was happy everything went smoothly, even though the birth occurred at home.
"If I could do it again, I would've just sat in the waiting room and not left. We would've pitched a tent. We would've started a fire. We would've just straight-up camped," Leo said.
A father had to deliver his own son in the bathtub of his family's Virginia home after the hospital told them to come back when his wife's labor was further along.

Posted by WGN TV on Tuesday, 17 September 2019
When WTKR reached out to the hospital about LeeAnn's situation, they released a statement, which said in part: Naval Medical Center Portsmouth is committed to ensuring the safety of every patient and providing high quality care.  Whenever a patient has a concern about their care and treatment, we welcome the opportunity to discuss this with them and resolve any potential issues.
Thankfully nothing went wrong with this home birth and both mama and baby are doing well.
Let's congratulate this family on their newest addition. They will certainly have a story to tell their son when he gets older.