Unless you've been living under an America-sized rock, you'll be well aware by now that change is in the offing at the White House.
Despite the ongoing chorus of cries insisting foul play on the part of the Democrats, Joe Biden did enough to secure the presidency after bringing home sufficient electoral votes.
Donald Trump continues to accuse his rival's campaign of cheating, but unless a truly unprecedented turn of events takes place in the coming weeks, it will be Joe Biden and Vice President-elect Kamala Harris who lead the US moving forward.
This throws up no end of interesting first-times and breakaways from tradition, not least the fact that Joe Biden's wife, Jill, has already stated her intentions to continue her normal job despite becoming the First Lady.
As per reports, Jill Biden – should she make good on her pledge – will become the nation's first FLOTUS to have a full-time job in the role's 231-year history.
But just who is the lady that has given America's next president so much support over the years? What can the country expect?
Here are five things you may not know about Jill Biden.
Jill Biden
Jill Tracy Jacobs was born June 3, 1951 in Hammonton, New Jersey, but grew up in Willow Grove, Pennsylvania.
She has a bachelor's degree and a doctoral degree from the University of Delaware, as well as master's degrees from West Chester University and Villanova University. But what do we know about the future FLOTUS?
1 – Continuing teaching
If Jill herself can be believed, she won't be giving up her teaching role when she becomes the First Lady. Far from it, the 69-year-old has promised to carry on teaching as an English professor at a community college in Northern Virginia.
Back in August, she told reporters: "It's important, and I want people to value teachers and know their contributions, and lift up the profession."
2 – She and Joe met on a blind date
 As per a Vogue profile, it was Joe Biden's brother who introduced him to Jill – then a college student – after he tragically lost his first wife and daughter in a car accident.
The two ended up going on a date to the movies, where Joe apparently turned up in a sport coat and loafers.
"I thought, 'God, this is never going to work, not in a million years'," Jill later said. Yet it did work, obviously, and the couple continued to see each other, before tying the knot in 1977.
3 – Jill said no 5 times
Joe and Jill have been married for a long time now, but at first it seems like it wasn't all so straight forward.
As per reports, Joe had to ask Jill to marry him five times before she eventually said yes. The reason? Jill wanted to be one hundred percent sure that marriage was the right course for the family, especially where it concerned Joe's children from his first marriage, Beau and Hunter.
All told, Joe is said to have proposed to Jill five times before she relented and the couple tied the knot. It turned out to be a good decision after all!
4 – She gives back to the community
Perhaps unsurprisingly for one so steadfast in her dedication to teach the nation's youth, Jill has a reputation for giving back to the community and helping others.
She founded the Biden Breast Health Initiative, helping to empower women's health through early screenings, and also Book Buddies, which aims to get reading materials to low-income children.
Not only that, but she and Michelle Obama teamed up to form Joining Forces, providing assistance to military families all over the US.
We can certainly expect more from her when Joe assumes office!
5 – She has a great sense of humour
This is probably (hopefully) something Americans will get to see firsthand moving forward, but various sources cite the country's next FLOTUS as having a great sense of humour.
One of Joe and Jill's granddaughters, Naomi Biden, explained in a DNC video: "I would say she's not your average grandmother. She's the grandmother that wakes you up at, what was it, 5 a.m. on Christmas Eve to go SoulCycle-ing.
"She's a prankster, she's very mischievous. When she goes on a run, sometimes she'll find, like, a dead snake and she'll pick it up and put it in a bag, and she'll use it to scare someone."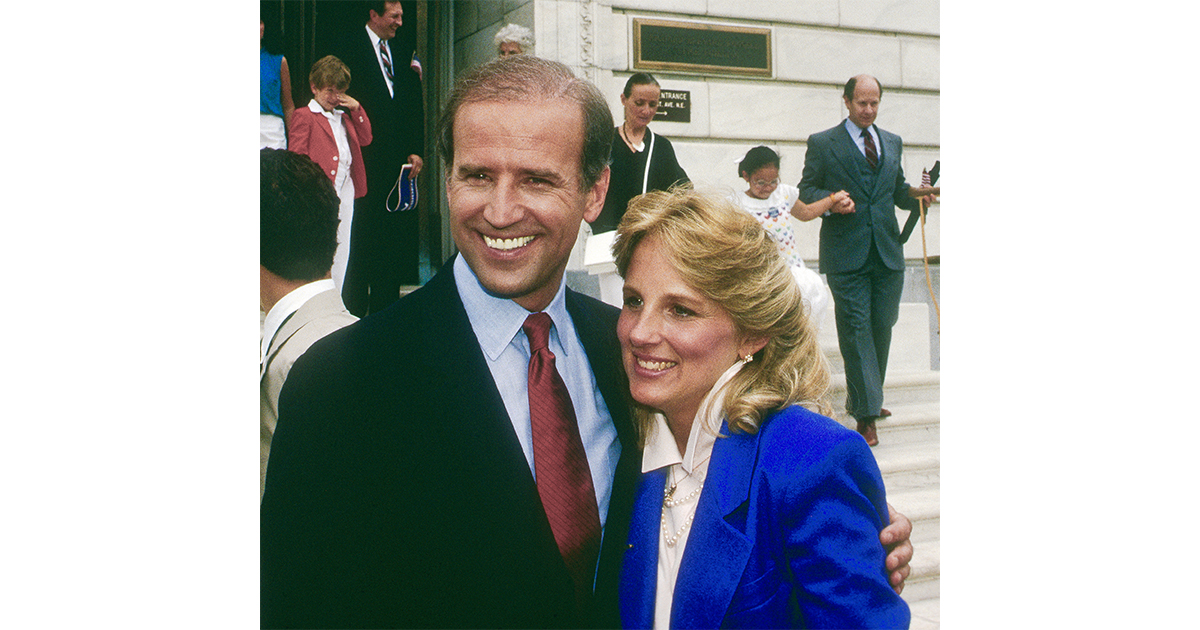 I don't know about you, but I'm actually looking forward to seeing the direction America heads in with Joe and Jill at the helm.
Being the FLOTUS is no simple, easy task, and so for me it speaks volumes that Jill will keep teaching on top of her official duties!
Share this article if you think Jill Biden is a truly inspirational woman, and one that will serve the White House well!