With the amount of surveillance present in our society these days it's no wonder that we catch almost everything on camera.
That's especially true when we're in or around places like restaurants, bars shopping malls and arenas, or indeed anywhere people are known to gather.
The result is a mixture of the good, the bad and the ugly. Crimes can be solved using security tapes, embarrassing incidents immortalized and, sometimes, genuine acts of kindness that might otherwise have gone missed are caught.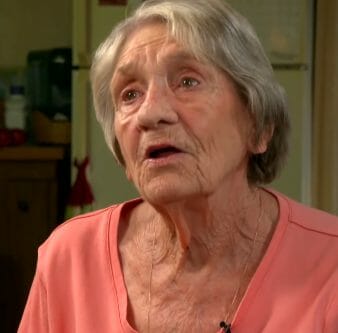 At Brad's Bar-B-Que in Oxford, Alabama, the latter happened one night after an elderly lady entered the restaurant. Three young men followed her in not long after – very few could have predicted what was to happen next.
80-year old Eleanor Baker lives in Oxford, Alabama, with her dog Rufus. Her husband has passed and most of her family live out of town, meaning ordering dinner for one isn't unusual.
One fateful night, however, she says she was sent to Brad's Bar-B-Que by a higher power.
"It was a God thing," she said. "I think God sent me there [as an example that] people care about other people and how important it is."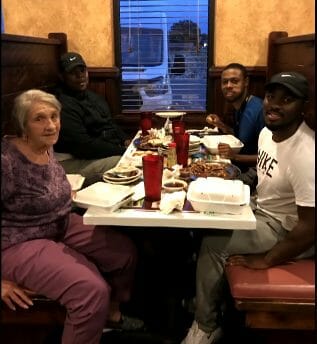 She was soon approached by one of the three men who had followed her into the restaurant. Jamario Howard said that he suspected she must be lonely and asked if she wanted some company.
"He just came up and he said 'I saw you sitting over here alone' and he said 'do you mind having some company?'" Eleanor explained.
Before long the three men had joined Eleanor and the four of them were enjoying food and conversation. One of the men, JaMychol, said: "When you make that kind of connection with somebody, it's hard to let it go."
Needless to say, these boys have rightly been praised on social media for their fantastic gesture. Eleanor could have been any one of our grandparents, and to think that she had company at a time when she would otherwise have been seated alone makes my heart warm.
Thank you, Jamario, JaMychol and their other kind friend, for spotting the opportunity to do something nice and then going through with it. Your mothers must certainly be proud of you. I know I am ❤️
Share this article on Facebook if you, too, think the world could do with more of such kindness.