Meghan Markle's "trashing" of the royal family could help her to become President of the United States, according to a royal biographer.
In an explosive interview with Oprah Winfrey last month Meghan painted a bleak picture of the royal family saying one member had made a racist comment concerning their baby's skin color and said the couple got married in secret a few days before the public event, a claim which has been disputed.
She also said she was refused the help and support she needed from the 'Firm' following a heartbreaking admission of experiencing mental health issues and suicidal thoughts while pregnant with Archie.
Now Royal biographer Tom Bower has said by distancing herself from the royal family Meghan is setting the stage for an entry into American politics.
"She's very popular with young people, she's popular with ethnic groups in America, she's popular with those who are anti-British royalty and anti this whole hierachy that the monarchy represents," he said in an interview on Good Morning Britain (GMB).
"Her challenge will be to fashion policies and promote herself as a proper serious politician as oppose to just somebody who campaigns against racism," he told the show's hosts Ranvir Singh and Charlotte Hawkins.
One of the morning talk show's main hosts Piers Morgan quit GMB after five years following 41,000 complaints about comments he made about Meghan Markle.
Piers 'decided it was time to leave' after he suggested that he didn't believe Meghan when she said she was refused help from the palace while experiencing suicidal thoughts.
Now Bower has described Meghan's revelations as "crafting" a picture in the interview which "favored" herself – a trait he claims is the mark of a good politician.
"She was quite prepared to craft a picture which favored herself against many of the truths which we would imagine would stand in her way but it didn't matter to her," he said on the show.
"And that I think that is the first qualification for a politician, that's what Trump did, he invented his own truth and bulldozed it through and that's what Meghan clearly did with Oprah Winfrey and I think that's what she's going to do with American politics."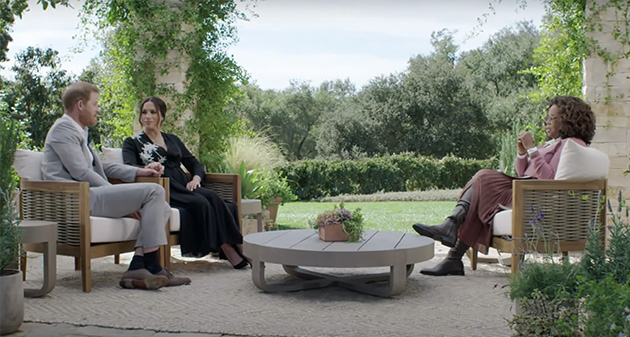 In the interview Meghan claimed it was Kate Middleton who made her cry and not the other way around as media reports suggested.
Bower added on GMB: "In the end, what she's been able to do with the Oprah Winfrey interview, which trashed the royal family but gave her a global profile.
"She's now known across the world at the expense of the royal family and that is the first step to a political career and she's done that very successfully."
Bower went on to say that if Meghan did go after the top job she would probably have to give up her royal title.
"She'll have to build a team, she'll have to get policies on China or trade or immigration or the economy or the rest of it. But she's able to do all that.
"She's got money, she's got presence, she's in the right place to do it in California and I think she's very much a woman looking for a role in the world.
"Not just endorsing cafe lattes but also changing the world. So she's well-placed now with the Oprah Winfrey interview and all she's got to do, really, in the end, is to distance herself from the royal family even more. Probably the title of 'duchess' – it doesn't sit well with American voters."
Only time will tell whether Meghan has her eye on the top prize in America and the whole world will be watching.
What do you think about Bower's comments, do you agree? Let us know your thoughts below and share this story.