The mother of the three children found living alone in a house with their dead brother has been arrested, along with her boyfriend, according to reports.
ABC say that Gloria Williams, 35, and her partner, Brian Coulter, 31, were apprehended on Tuesday evening at a public library – they were in the process of searching for news articles about themselves.
Thus far, Williams has been charged with injury to a child by omission and tampering with evidence, a human corpse, while Coulter has been charged with murder. Both may face additional charges.
Shockwaves rippled across the US earlier this week, when reports emerged confirming that three young boys had been found living alone in an apartment in Green Crest, Texas.
Investigators have since said that it was William's 15-year-old son who made the phone call to the police to report that he and his two younger brothers, aged 7 and 10, were living with the body of a third brother who had been dead for a year. He also said their mother had not been back to the house in months.
After arriving on scene, deputies found the skeletal remains of an 8-year-old under a blanket at the property.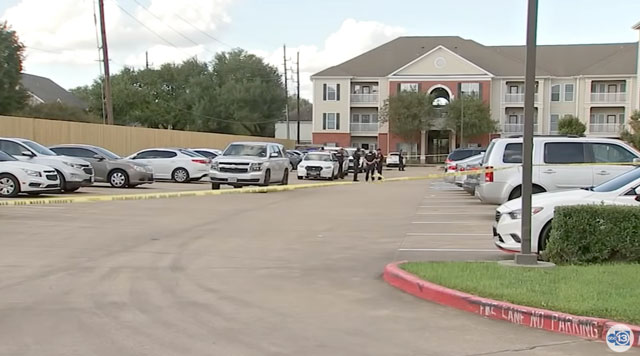 A medical examiner yesterday ruled that the 8-year-old's manner of death was homicide caused by multiple blunt force injuries. At this time, investigators are reportedly of the belief that Coulter beat the boy to death and then moved out with Williams.
Neighbor Erica Chapman, who also lives in the apartment, first noticed the 15-year-old several months ago.
"The first time I saw him, he was sleeping on one of the slides," she said.
She said she started giving the boy food about half a year ago when she noticed the teen's mother was rarely home.
Trevor Thompson, another neighbor who also gave him food, said the boy was terrified of being poisoned and would only accept pre-packaged food.
He never knew the teen had any siblings until he asked the boy how he liked a pizza he recently bought him.
"I asked, 'Did you like the pizza?' And he asked, 'What? The first pizza we had?'" Thompson said. "That made me wonder why would he say, 'We.'"
My thoughts and prayers are with these poor boys. How could any parent do such a thing to their children?
What do you think should happen to Gloria Williams and her boyfriend if they are found guilty? Let us know in the comments box on Facebook.
Meanwhile, share this article to wish the surviving boys well.