Weddings are pure love and joy. Two people become one in good times and bad until death parts them. And until then, the couple promises each other eternal love. It doesn't get more beautiful than that, does it?
When Mark popped the question to his girlfriend, Jackie and she said "yes," he knew just how he'd welcome her to the altar.
Mark likes to sing and has a good voice. So he didn't just want some generic background music playing when his bride walked to the altar, led by his son.
He wanted to do something different, something personal.
But even though his plan was special, he never could have imagined that a video of him singing would soon get hundreds of thousands of views on YouTube.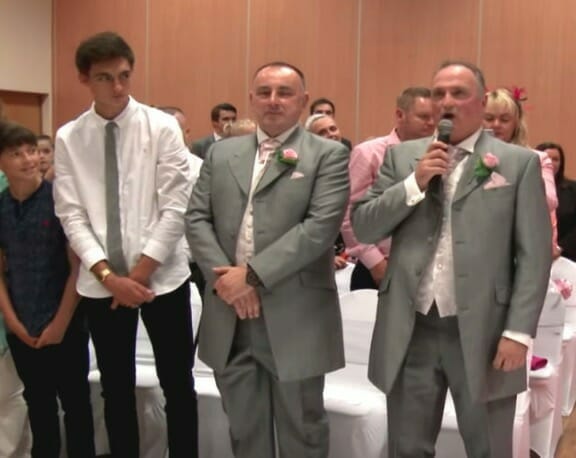 When it came time for Jackie to enter the room, Mark had a microphone in hand. And it didn't take long before the wedding guests understood that something special was taking place. Because Mark has a wonderful singing voice. He sounds eerily like Elvis, and you can feel chills going down your back when you hear him sing "Can't Help Falling in Love" by the King.
An Elvis classic
Mark was really on the spot, but you can also see and hear that he's very confident in his voice. He sounds just like Elvis!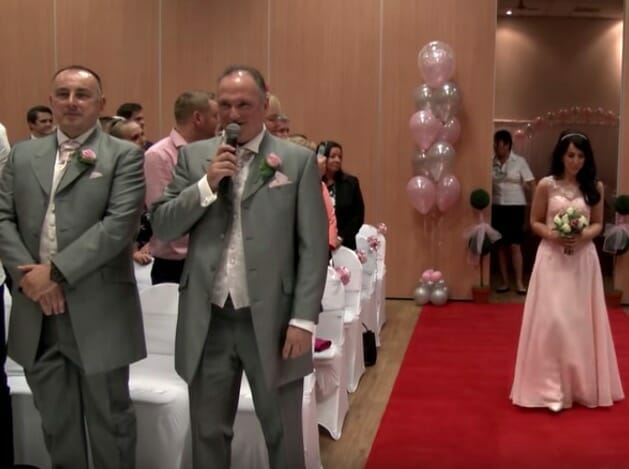 Certainly, no one does the song like the King himself, but Mark does it justice and sings it in a very similar way.
Here's the video, and watch what happens when Mark eventually meets his bride at the altar:
We wish the couple all the best in the future. Thank you, Mark, for a wonderful performance!
Please share this video if you also think that Mark has a fabulous voice!