Debra Stevens was delivering papers for the Southwest Times Record in the early morning hours of August 24 in Fort Smith, Arkansas when a flash flood swept her car away.
She called 911 for help, but when she reached a dispatcher she was scolded for putting herself in her current situation. More than an hour after she called for help, rescuers reached her car, but she had already drowned.
The Fort Smith Police Department recently released the audio of the call with "great reluctance."
According to a timeline of events, released by the Fort Smith Police Department, Debra Stevens, 47, called 911 at 4:38 a.m. Since every officer on duty had already been assigned to other calls, it took nearly four minutes for the fire department to be dispatched to rescue Stevens.
As Stevens patiently waited for help, she spoke to Donna Reneau, a dispatcher who was working her last shift. Two weeks earlier she resigned.
During the 22-minute call, which was published on KFSM, at one point Reneau can be heard telling the 47-year-old woman to "shut up."
Throughout the call, Reneau's demeanor was anything but kind and understanding.
As Stevens, who said she doesn't know how to swim, begged for help, the dispatcher said, "Am I not on the phone with you trying to get you some help? Then stop."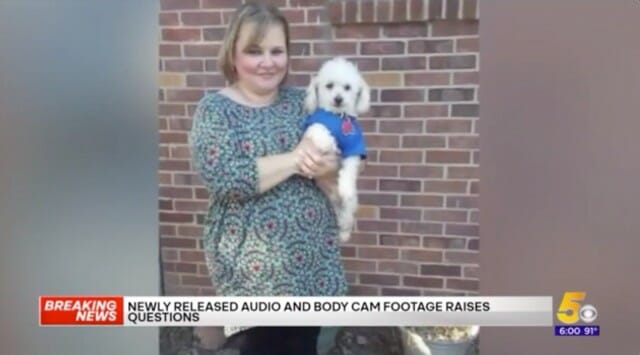 "You're not gonna die, I don't know why you're freaking out," Reneau said. "I know the water level is high … but you freaking out doing nothing but losing your oxygen level up in there, so calm down."
At one point Stevens apologized for her behavior and the dispatcher told her that maybe this would teach her a lesson. Reneau even suggested that Stevens could save herself by standing in the water and walking to safety, unless she was "3 feet tall."
At 4:50 a.m. first responders arrived on scene, but reported having difficulty locating Stevens' vehicle. Once they located her vehicle rescue crews requested a boat. As Stevens tried to help her rescuers locate her, Reneau told her to shut up.
"Ms. Debbie, you're going to have to shut up, OK?"
The 22-minute phone call ended with Stevens screaming.
By the time rescue crews were able to reach Stevens, more than an hour passed and it was too late. Stevens had drowned.
Police now face community outrage.
In a statement, Fort Smith Interim Police Chief Danny Baker said, "the operator's response to this extremely tense and dynamic event sounds calloused and uncaring at times, sincere efforts were being made to locate and save Mrs. Stevens."
Baker expressed his condolences to Stevens' family and assured the public that first responders did everything they could to save her life.
Baker also discussed the dispatcher's response, saying that her "manner" would have been addressed, but it was more of a "rudeness quality type service complaint. I don't think it would have risen to the level of terminating someone."
Since Reneau no longer works as a dispatcher, she cannot be investigated but the department's policies and dispatch center will undergo an investigation.
First responders aside, do you believe Reneau could have been more compassionate towards Stevens?
Share this on Facebook and let us know, and please say a prayer for her family.