Damar Hamlin, the NFL player who was rushed to hospital last week after collapsing during the Bills-Bengals game, returned to social media for the first time on Saturday to thank fans for their "overwhelming" support.
Tributes flooded the internet for the 24-year-old after the terrifying incident, which took place on Monday Night Football. The safety had put in a tackle on Bengals wide receiver Tee Higgins. Moments after getting up, however, he fell flat on his back.
Trainers with the Bills treated the player within 10 seconds, while an ambulance arrived on the scene in under five minutes. Hamlin was given CPR on the pitch before being transported to the hospital.
According to Hamlin's family, he had to be resuscitated twice. A statement released by the Bills on Twitter early last Tuesday morning said that the 24-year-old's heartbeat had been restored on the pitch.
Since then, though, Hamlin has shown remarkable resilience and looks to be well on the road to recovery.
On Thursday, several people connected to Hamlin provided promising updates.
"He has been responsive, which is extremely positive — neurologically intact, is how the Bills reported it — and has been gripping the hands of those close to him," NFL league insider Ian Rapoport reported on NFL Now.
READ MORE
Hamlin's teammate, cornerback Kaiir Elam, tweeted Thursday morning that the 24-year-old is awake and "showing more signs of improvement."
Agency 1 Sports, who represents Hamlin, also shared some good news and thanked everyone for their support over the past several days.
"The outpouring of support for Damar across the nation has been amazing. Thank you for the calls, messages and emails. Damar has made substantial improvement overnight. We are so thankful for all the first responders, doctors, hospital staff and everyone who has played a role in this process. Please continue to pray for Damar and we will provide updates as they are available."
Then, on Saturday, Hamlin posted his biggest update yet, returning to Instagram to give fans a wide smile as he thanked them for all their support.
The Bills' safety uploaded several photos in which he's wearing his team uniform, as well as a quote from Dr. Timothy Pritts, who revealed doctors had told Hamlin that he had "won the game of life" after Hamlin woke up and asked them who had won the Bills-Bengals game.
"When you put real love out into the world it comes back to you 3x's as much.. 🫶🏾🫶🏾🫶🏾," Hamlin, a second-year NFL pro, wrote in his caption.
"The Love has been overwhelming, but I'm thankful for every single person that prayed for me and reached out. We brung the world back together behind this. If you know me you know this only gone make me stronger. On a long road keep praying for me! 🫶🏾❤️3️⃣ #3strong."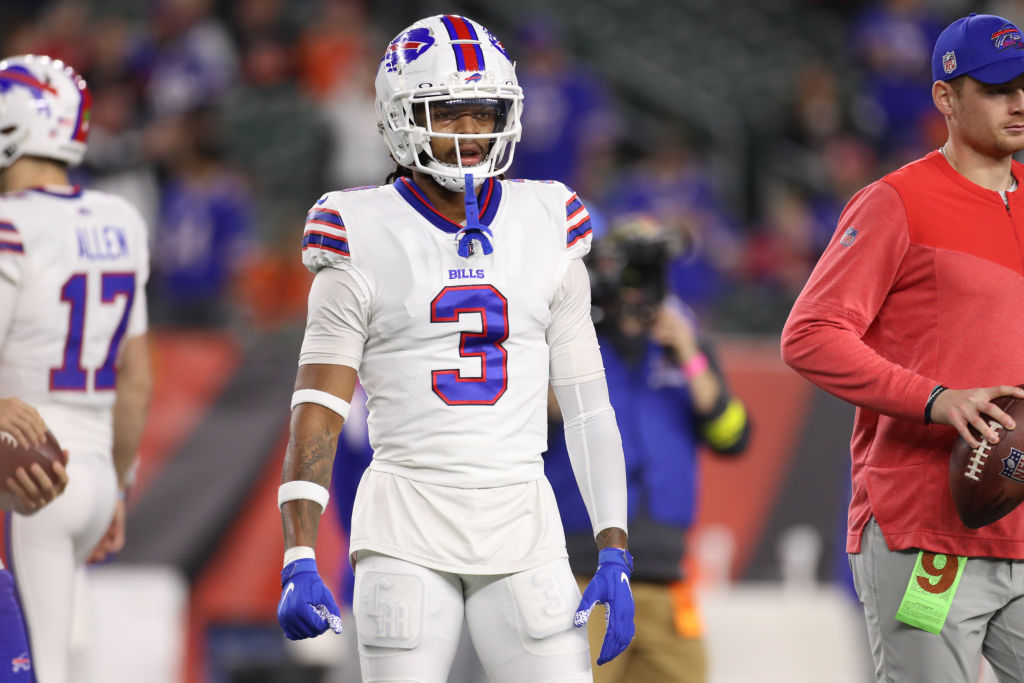 Hamlin's post came one day after he apparently FaceTimed his teammates, telling them, "Love you boys." The Bills shared then that Hamlin's breathing tube had been removed, and that the player "continues to progress remarkably in his recovery."
They added: "His neurologic function remains intact and he has been able to talk to his family and care team."
I don't know about you, but I'm absolutely delighted that Damar Hamlin is making such a wonderful recovery.
Please, keep this young man in your thoughts and prayers. Share this article on Facebook if you want to send your support.