A 22-year-old man has been arrested and charged with killing a Georgia firefighter and his wife. The couple's 2-year-old son was left unharmed.
Police identified Matthew Lanz as the suspect after they arrested him for stabbing a police officer inside a Sandy Springs home. He now faces multiple charges including attempted murder on a police officer, aggravated assault on a police officer, first-degree home invasion, and felony murder.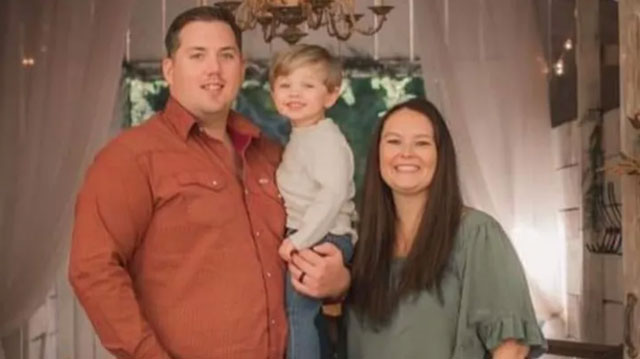 On Thursday, November 18, a Cobb County firefighter and his wife were found shot to death inside their home. Their 2-year-old son, who was also in the home, was not hurt.
At the time police said the couple had been killed by an "unknown assailant."
"We woke up to the parents of the people who live there freaking out. Normally she was waking up early to take the kid to daycare, and she didn't," Hanna Mabrey, a next-door neighbor, said.
"Police brings the child out holding him by his torso, runs him out, and the grandmother grabbed him, and the grandfather grabbed him, and they're crying and freaking out saying, 'Where's my baby?'" Mabrey said.
Investigators believe that sometime between Wednesday night and Thursday morning, Timothy Justin Hicks and Amber Hicks, both 31, were shot to death inside their home.
The couple had recently moved into the Chestnut Hills neighborhood.
Cherokee County Fire and Emergency Services released a statement following Justin's death.
Firefighter Justin Hicks has been a member of Cherokee County Fire & Emergency Service for over 6 years. He has always been recognized as a happy, funny, loved by many kind of guy. He was always a highly motivated, energetic individual who deeply loved his job as a firefighter and consistently worked to do better and be better every day. He was really thrilled on his recent accomplishment of completing his paramedic program training.
Immediately after the shooting, investigators did not have a person of interest, but the following day, when officers arrested Lanz for stabbing an officer, they identified him as the suspect in the couple's murder.
According to WSB-TV, Lanz lived around the corner from the Hicks family and shared a backyard fence with them.
Lanz was charged with two felony counts of murder, two counts of aggravated assault, home invasion and possession of a firearm during the commission of a felony in relation to the murder.
I cannot even begin to comprehend why anyone would murder an innocent family. I hope justice is served.
Please share.