As the coronavirus continues to spread, many countries are putting their citizens on lockdown. But the healthcare workers continue to fight tirelessly on the frontlines to treat those suffering from the potentially deadly virus.
Doctors and nurses around the world have pictured themselves covered head-to-toe in personal protective gear – often with bloody, red marks on their faces after spending countless hours wearing goggles and masks in the ICU.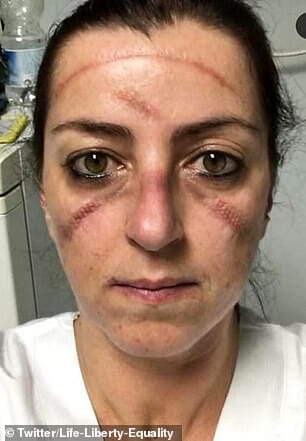 Finally, it feels like people are beginning to realize what a vital job these people are doing, even though it is not always visible in payroll envelopes. They are literally out there right now to save the lives of people who do not have a chance without their help!
The COVID-19 has infected more than 381,000 people and killed over 16,500 globally. Italy is one of the worst affected countries and the death toll has risen dramatically in recent weeks – some cemeteries are now overcrowded.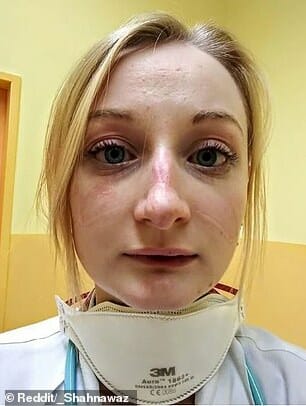 Most of us can only imagine what it must be like for a health worker in Italy facing this level of sickness in unprecedented figures every day but this image brings the horror of the situation to life.
One nurse, Alessia Bonari, recently posted the picture showing her bruised face after wearing protective gear for hours during a shift in Milan.
In her post, she revealed how she could not drink or go to the bathroom for six hours after putting on her protective gear, according to a Daily Mail article.
Another nurse was pictured looking exhausted from working excessive hours slumped over her desk at a hospital in Cremona.
Alessia posted the image on social media saying she was frightened to go to work because of all the ways she could possibly catch the virus, which has infected more than 115,000 people worldwide.
Despite saying she's "physically" and "psychologically" tired, Alessia is warning people to do all they can to quarantine themselves and stay healthy.
"This will not prevent us from doing our job as we have always done. I will continue to take care of my patients because I am proud and love my job," she wrote.
"What I ask anyone who is reading this post is not to frustrate the effort we are making, to be selfless, to stay at home and thus protect those who are most fragile."
Dr Nicola Sgarbi, 35, from Modena, Italy, also took a selfie of his face covered in red marks after wearing goggles for 13 hours in the ICU. He posted the picture on Facebook.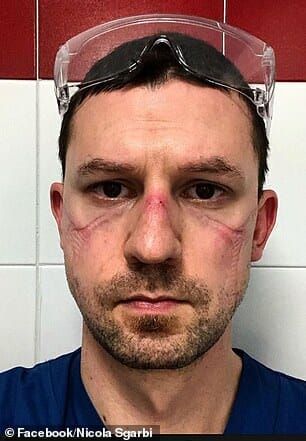 "I don't love selfies. Yesterday, though, I took this photo. After 13 hours in ICU after taking off all my protective devices, I took a selfie," he wrote on Facebook.
He believes that in order to get through this extremely demanding time, we need the effort and commitment of each and every one of us.
"I am not and I don't feel like a hero. I am a normal person, who loves his job and who, now more than ever, is proud and proud to do it by giving all himself on the forefront lines together with other wonderful people (doctors, nurses, technicians, cleaners)."
Another picture that went viral was taken by 25-year-old Sherry Dong.
She is a registered nurse who has worked in the medical ICU at Johns Hopkins Hospital in Baltimore. Last week she shared a photo taken during a hectic day at the hospital. The photo rushed up to the top of Reddit's front page and gained more than 2,100 comments.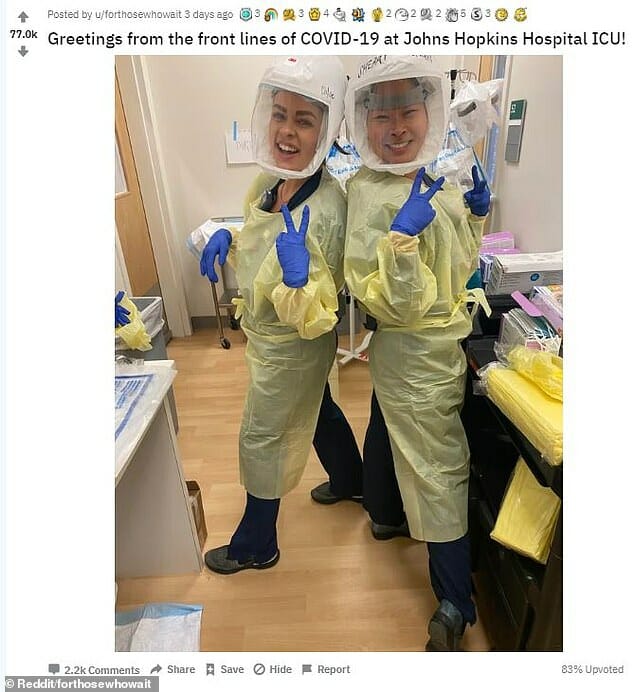 "My heart is grateful and my mind is heavy seeing medical professionals all over the world putting themselves at risk battling against this outbreak. I think the medical community has found various ways of coping through social media outlets," Dong told CNN in a Reddit message.
To the doctors and nurses working on the fronline of this pandemic – we salute you thank you for working tirelessly in helping to keep others healthy while risking your own health.