Meghan Markle was accepted into the royal fold after her marriage to Prince Harry in 2018. The couple has made headlines, often in a negative light ever since.
While there was discord between the Sussexes and the rest of the Royal Family, there is also a genuine love that they share with one another…
Prince Harry and Meghan Markle were already in the United Kingdom for work-related engagements when the news of the Queen's ill-health reached them. The couple canceled all their previous engagements, and Harry rushed to Scotland on a flight to see his grandmother for one last time.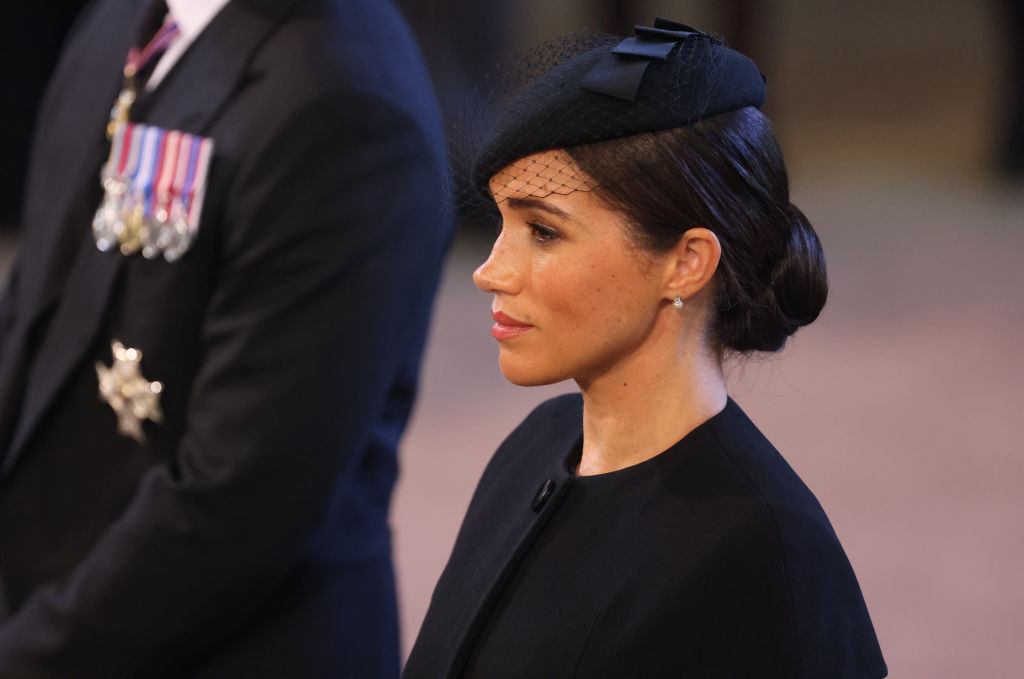 Unfortunately, the Queen passed away just a little bit before Harry's flight had landed and before he could see her at her Balmoral estate for one last time.
Once the death was announced, the Royal Family sprang into action and began procedures put in place years ago. One of the most important things for any member of the family to do is to make sure they wear black.
The color black is a visual symbol of grief that the family depicts. The family also wears symbolic jewelry with meaning as well as any military tokens they have as a sign of their respect.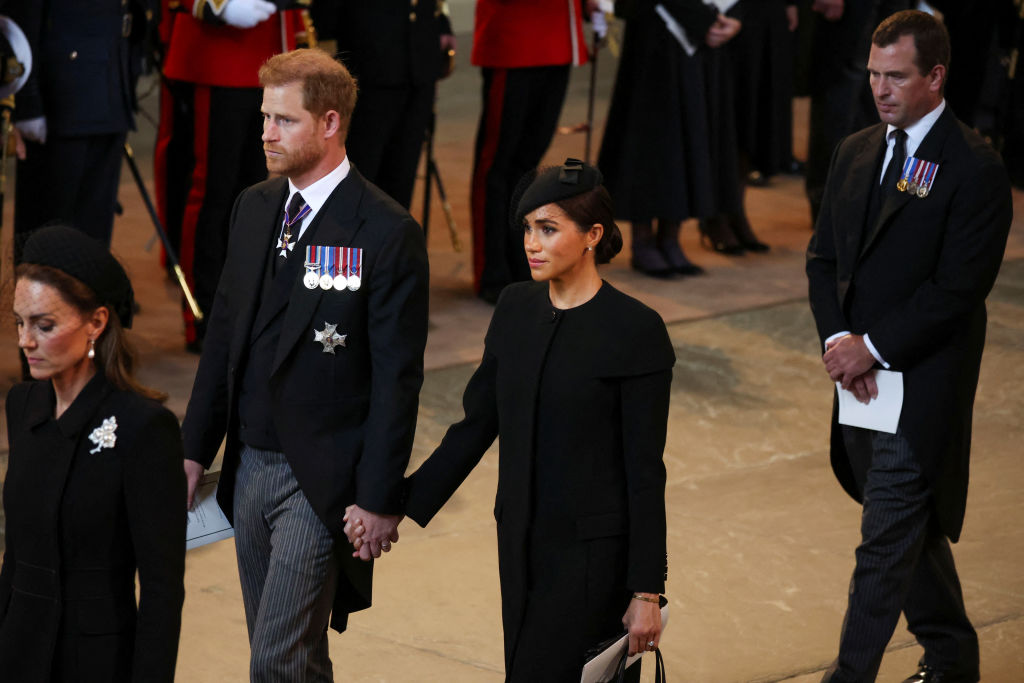 In the service held at Westminister Hall, which was the Queen's last time leaving Buckingham Palace, the Duchess of Sussex seemed to have drawn inspiration from her sister-in-law.
The Princess of Wales wore pearl drop earrings that were once worn by Princess Diana, and a brooch that once belonged to the Queen, Meghan kept her jewelry similar. She wore a classic pearl and diamond studs which were given to her by the Queen herself. Since a lot of pictures of the Royal Family were to be taken in cars from the shoulder up, it was important to wear earpieces that meant something.
READ MORE
Meghan Markle has not had the best reputation with The Firm, especially after she and her husband publicly disassociated with their official duties in the Royal Family.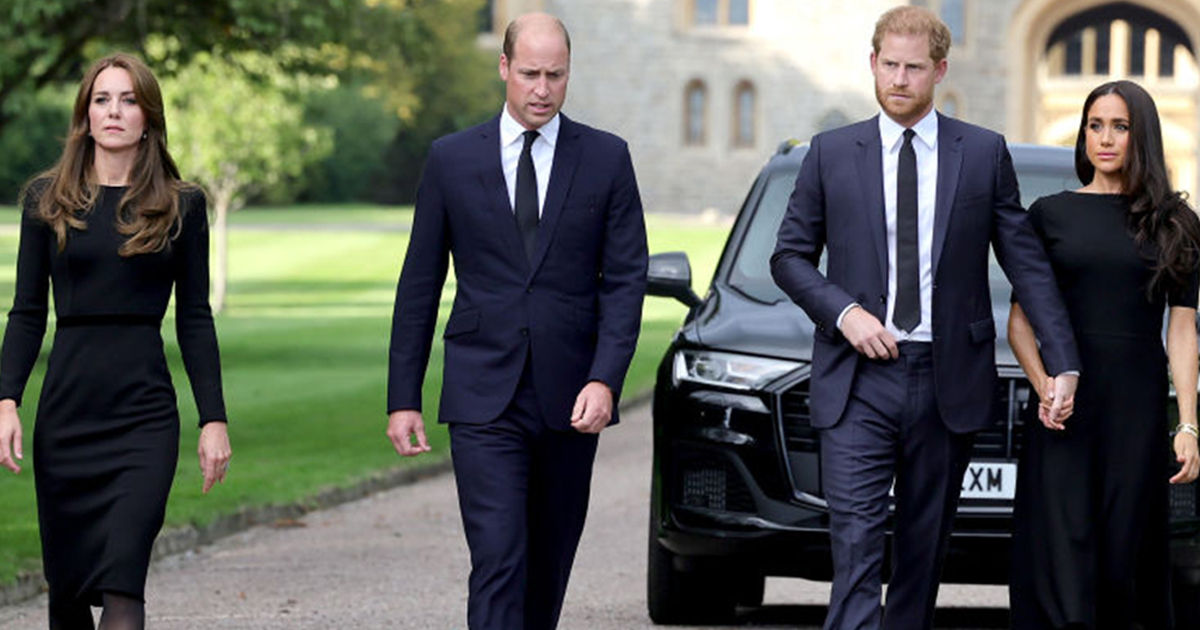 But during the royal period of mourning, she has been incredibly supportive and has been playing her role. Meghan is also seen continuously supporting her husband, as he goes through this tough personal time in his life. The Duchess has been wearing black separates and understated jewelry. She has managed to look understated and elegant at the same time.
The entire Royal Family including the Sussexes gathered to receive the Queen's coffin at Buckingham Palace where it was to be adorned with the Royal Standard and the Imperial State Crown before it was taken to the processor towards Westminister, where it will be kept till the funeral on 19th September 2022.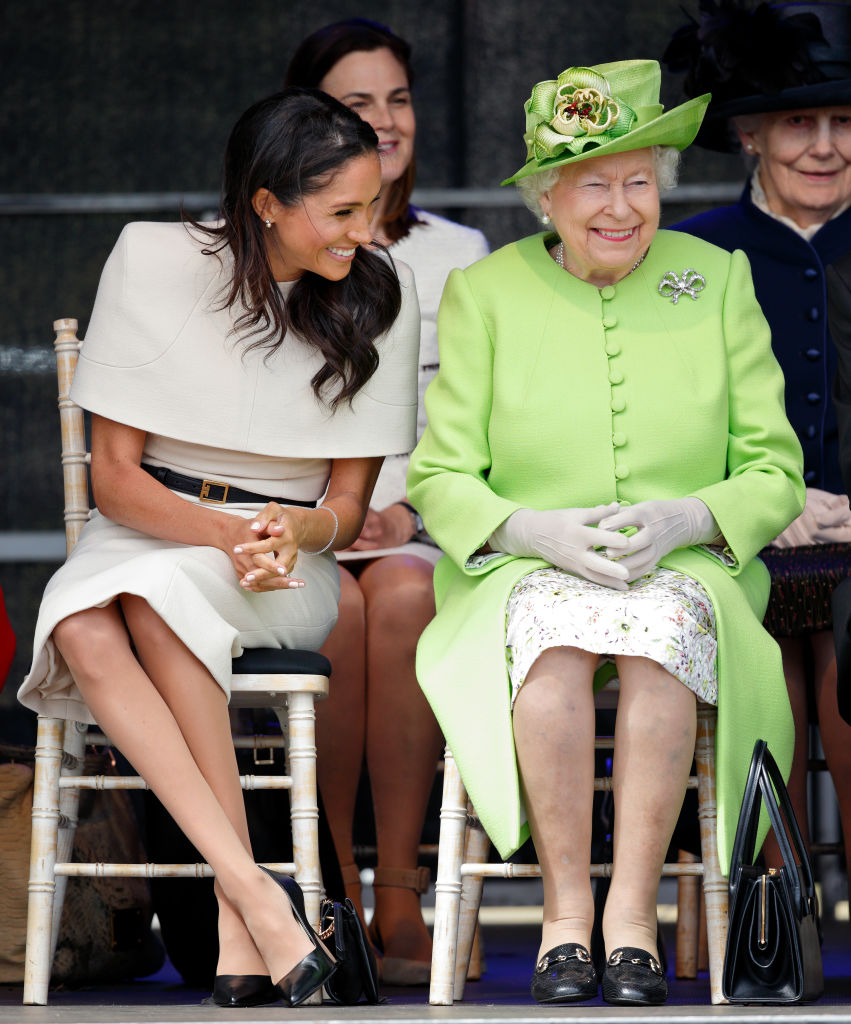 The Duke and Duchess of Sussex have permanently relocated to California. And while they might be out of practice with royal protocol, it seems like it has taken them no time at all to settle back into it.
Meghan had previously worn these earrings during a solo engagement she had with the Queen.
It is heartening to see how supportive Meghan Markle is being for her husband Prince Harry during this period of mourning for him.
Share this piece with your friends and family to show them how Meghan is honoring the late Queen by wearing presents she had gotten from her.