Many rescue dogs have been through a lot, whether it be neglect or abuse from previous owners or simply the emotional toll of being alone for so long. These dogs need special love and care from humans, to reassure them that everything is going to be okay and give them important socialization.
Luckily there are volunteers who step up to fulfill these needs, spending time with the dogs and giving them company. But one volunteer decided to do something a little different, and used his own particularly set of skills to brighten the dogs' lives.
Martin Agee is a professional violinist based in New York City. He's had quite an impressive career: he has performed at venues like Lincoln Center and his upcoming gigs include Hugh Jackman's world tour and the Broadway revival of West Side Story.
He's certainly passionate about classical music, but is also passionate about animals. Two years ago, years after experiencing the death of his own pet greyhound, he decided to get involved with helping local animals in need.
"It was at a point in my life that I wanted to reconnect with animals," Agee told Tenderly. "Volunteering was a good way to be around dogs."
"I took the ASPCA's orientation training and became an adoption counselor."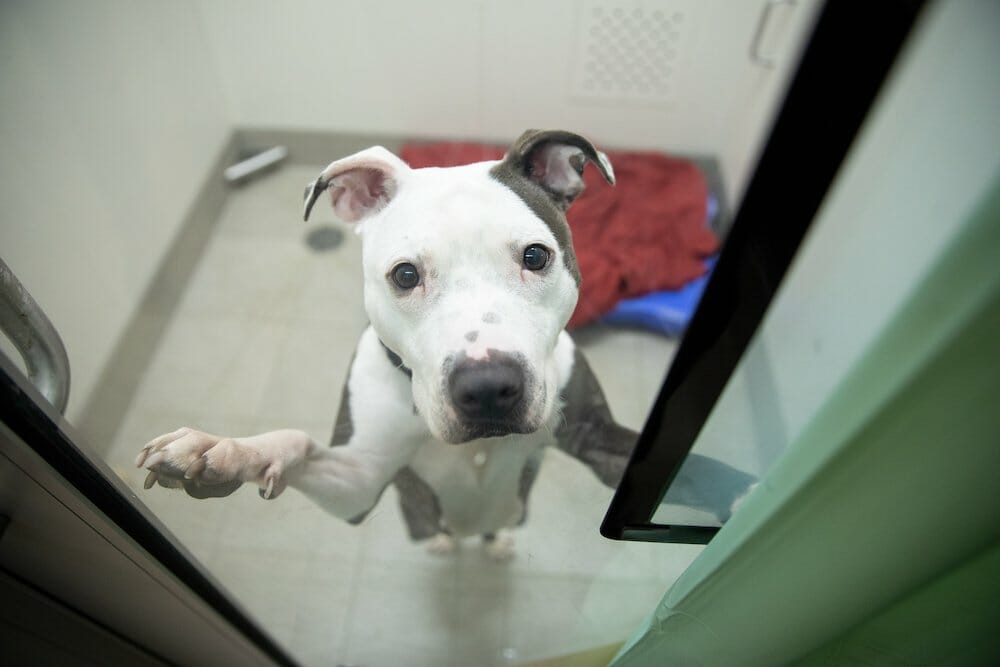 The musician got involved with a program called Storytelling, in which volunteers would read to rescue dogs—specifically, dogs who were recovering from trauma, brought to the ASPCA by the NYPD.
"The dogs often have a wide range of socialization experience, with varying levels of medical and behavior issues," said Kris Lindsay, senior director of ASPCA's Animal Recovery Center.
"We see animals who have endured long term neglect resulting in emaciation and chronic neglected medical conditions," Lindsay said. "We also see animals who have been physically abused and have suffered traumatic injuries such as multiple bone fractures."
While the volunteers usually relax the dogs by reading to them, Agee wanted to try something different: "A friend suggested I should bring my violin and play for them," he said.
"It wasn't done before. I thought listening to the violin would relax them and keep them calm."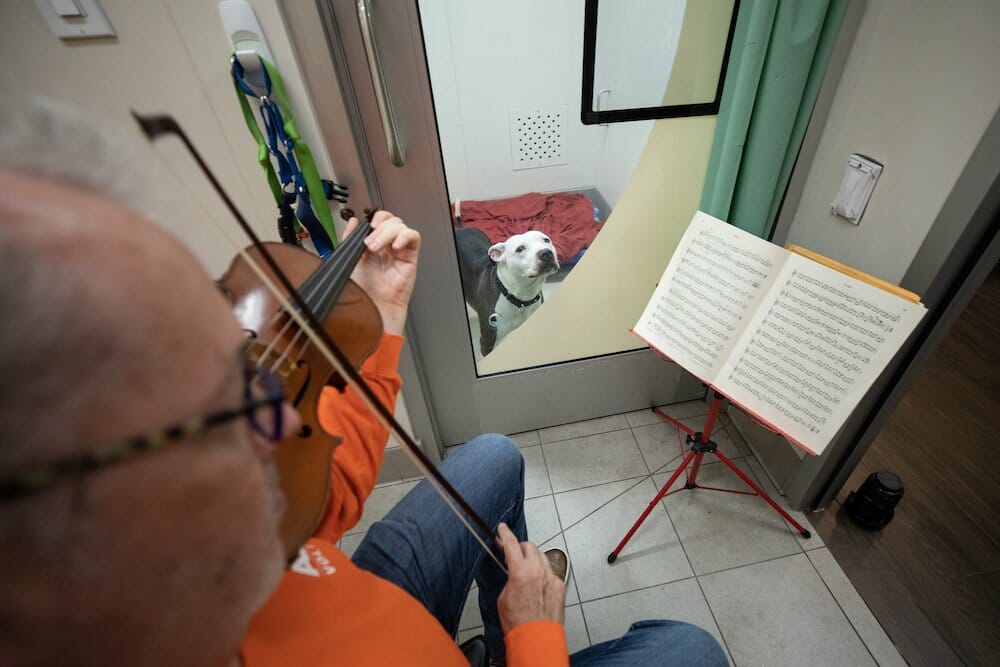 Amazingly, the dogs respond very well to the music. They're as attentive an audience as the crowds at Lincoln Center, quieting down and calmly enjoying the music.
"I get immediate reactions," Agee said. "The barking dies down the minute my bow touches the strings. Some will sing along. I take that as a compliment."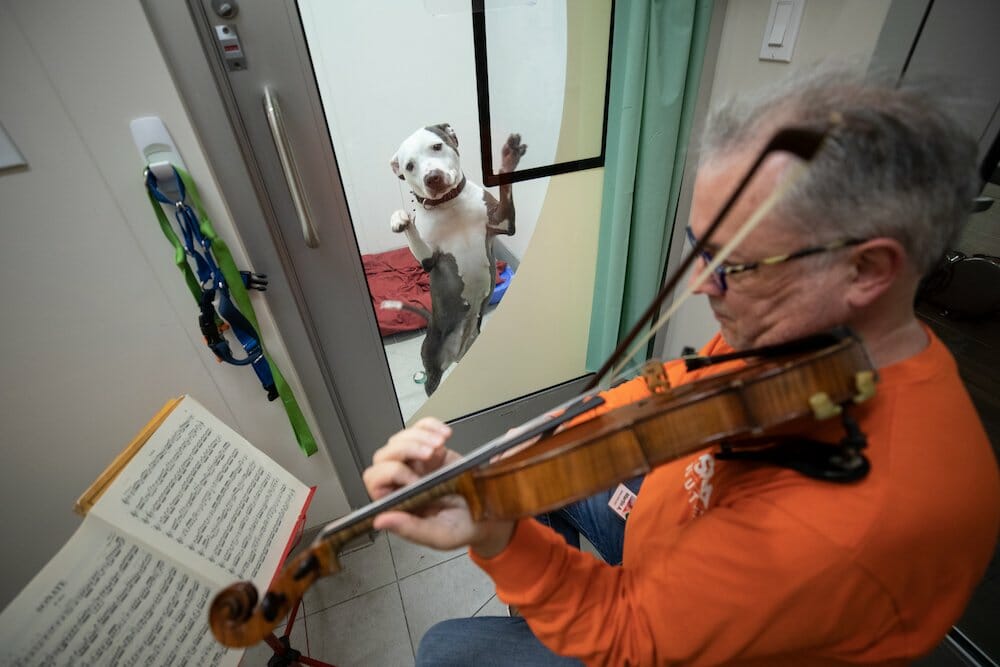 Agee says he now performs for the dogs once a week. He's seen the real effect his music has had on them.
"Many of these dogs have been traumatized," Agee said. "Here they enter a process of recovery. We're being kind to them. Some days, I have to hold back the tears. The dogs I play for, it's at different stages of their recovery, have been injured and/or neglected."
"As many of these dogs aren't even ready to be walked by volunteers, opportunities to socialize through other means are invaluable and help them to trust again," Lindsay said.
"Martin generously donates his time and skill as a performer to our dogs that need the most love, and it's incredible to see these animals transform into loving pets through our work and the help of socialization activities."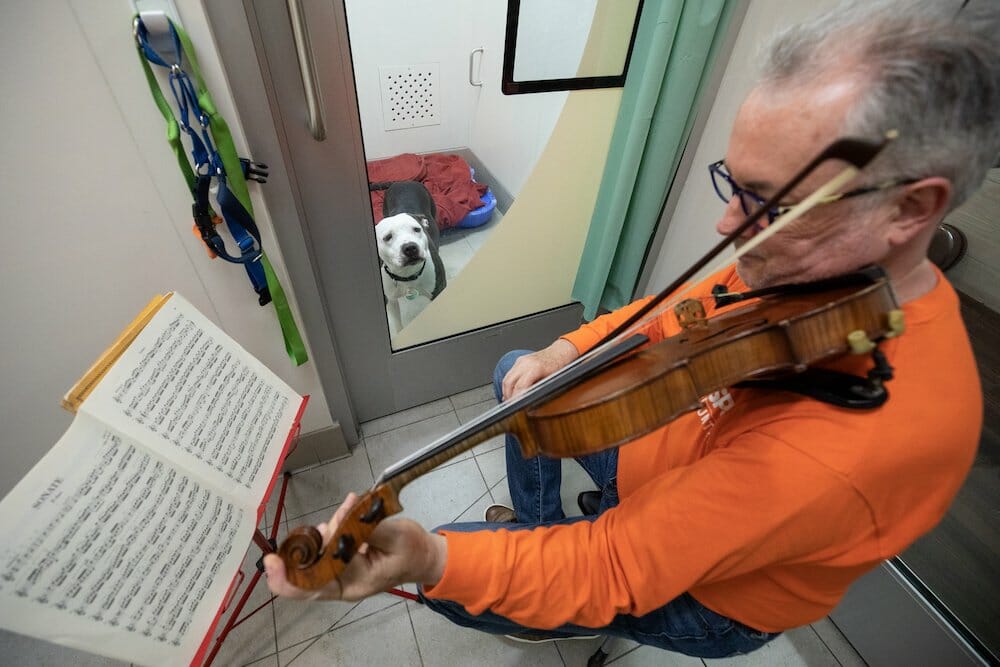 And Agee gets to see the results of his volunteer work: the recovered dogs get adopted, thanks to his help in readjusting them to people.
"I feel great playing for them," he says. "I get attached to a few and [I feel] happy when they're moved out because that means they're better."
Let's thank people like Martin Agee who donate their time to animals, and finding new ways to help them. Share this story!
New story on a pro-violinist who volunteers at the ASPCA – playing Bach to abused dogs. <3 https://t.co/rsttUJH9oH pic.twitter.com/sJWbwU4VXn

— Tenderly (@tenderlymag) August 19, 2019