Legendary singer Tony Bennett returned to the stage one last time on his 95th birthday to perform with Lady Gaga at New York's Radio City Music Hall and there wasn't a dry eye in the house.
Just six months after his family revealed the multi-Grammy award-winning singer had been diagnosed with Alzheimer's Disease in 2016, Bennett performed on the historic stage to a sold out audience.
But Bennett didn't miss a beat as he sang classics such as "I Left My Heart in San Francisco" and "Fly Me to the Moon" in a TV special, "One Last Time: An Evening With Tony Bennett and Lady Gaga," which aired Sunday.
The two-concert series, recorded on the star's birthday August 3 was billed as his final New York performance.
Bennett also performed standards like "Steppin' Out With My Baby" and duets with Lady Gaga including "Love For Sale" and "Anything Goes."
Lady Gaga, who sang 'Happy Birthday' to her friend and fellow singer, said she found it hard to hold it together when he introduced her on stage by her name.
"For the first couple of weeks that I saw Tony since COVID, he called me 'sweetheart,' but I wasn't sure he knew who I was," she said in an interview with Anderson Cooper for "60 Minutes."
But on the day of the performance Bennett introduced her by her name.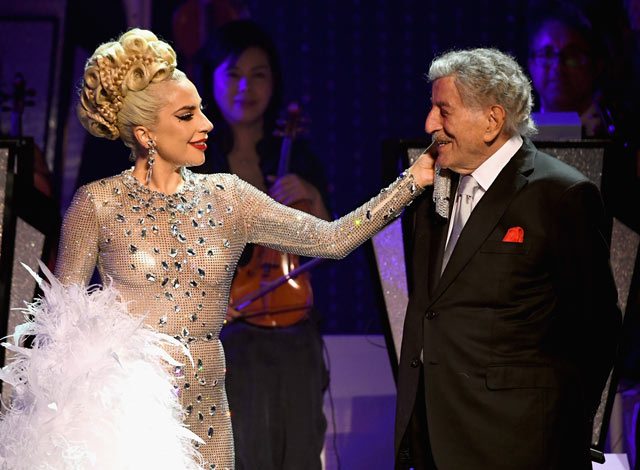 "That's the first time that Tony said my name in a long time," she recalled. "I had to keep it together because we had a sold-out show and I have a job to do. But I'll tell you when I walked out on that stage and he said, 'It's Lady Gaga,' my friend saw me. It was very special."
Despite his family saying that the singer often doesn't know where he is, Bennett wowed the crowds with his medley of hits that spans generations.
Belting out "New York, New York" before Bennett took the stage, Lady Gaga teared up when she paused to talk about him.
"He's my friend. He's my musical companion. And he's the greatest singer in the whole world. And I'm counting on you, New York, to make him smile. So you better cheer. You better yell. You better laugh. You better cry. You better give your soul."
The crowd didn't disappoint after giving him his first standing ovation before he even started.
Bennett's family admitted in the interview with "60 Minutes" that they weren't sure what would happen in the show, but his wife Susan Benedetto said that once she saw him onstage that night she knew everything would be alright.
"He became himself. He just turned on. It was like a light switch," she told "60 Minutes."
Bennett, whose career spans eight decades released his first album with Lady Gaga in 2014. Their latest collaboration, a Cole Porter tribute album titled "Love For Sale," was released in October.
The singers were nominated for six Grammy Awards for their "Love for Sale" album.
Speaking to BBC Radio 2's "The Zoe Ball Breakfast Show" the House of Gucci star said she was "floored" by Bennett's ability to perform despite his diagnosis.
"If you are with that person that you love, play some music from their childhood and I promise you that they will come to life in a way that is not expected, and not everyone you know, every case is different and everybody's different, but they're still there and my heart goes out to you and this album was made while he had Alzheimer's and we sang it while he had Alzheimer's and he was still able to do it, I am just floored by him."
After the successful Radio City Music Hall shows, Bennett canceled future tour appearances. His son and manager Danny Bennett told Variety those New York concerts would be his last.
Lady Gaga told "60 Minutes" she learned a powerful message in Bennett's last Radio City Music Hall performances, as per WLWT.
"It's not a sad story. It's emotional. It's hard to watch somebody change. I think what's been beautiful about this, and what's been challenging, is to see how it affects him in some ways, but to see how it doesn't affect his talent," she said. "I think he really pushed through something to give the world the gift of knowing that things can change, and you can still be magnificent."
Watching this legendary singer perform it's hard to believe he's 95 years old and suffering with Alzheimer's.
He's such an incredible performer who will go down in history. The world is honored to see him in this show one last time.
Please share.