The video is extremely difficult to watch, yet it's almost something you wouldn't believe unless you saw it.
On Monday afternoon a small plane crashed into an SUV that was driving through a neighborhood in Pembroke Pines, Florida. The two people onboard the plane were killed, and a young boy who was inside the vehicle was also killed.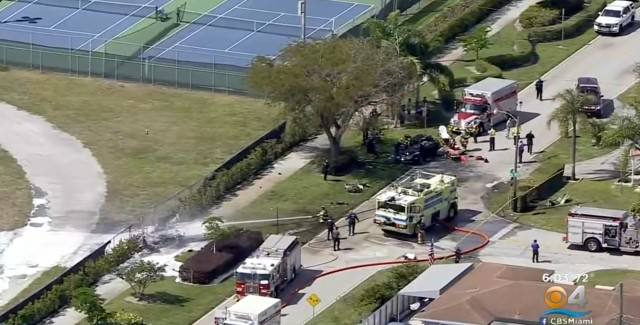 According to reports, the single-engine plane crashed shortly after takeoff around 3 p.m. The Sun Sentinel reports that a mechanical issue may have played a part.
The crash was captured on a nearby Ring camera.
"We went out and saw the fire; everything was on fire outside," Anabel Fernandez, whose camera captured the fatal moment, told the Miami Herald. "It was like a bomb."
The plane hit the SUV and then crashed into the nearby airport fence before exploding.
Warning: Some may find the images disturbing.
The driver of the SUV was able to climb out, however the boy, later identified as Taylor Bishop, 4, was left trapped inside and had to be rescued. Both were transported to the hospital where the young boy later died from his injuries.
The boy's mother, Megan Bishop, was transported in serious condition, according to WPLG.
Salah Elshaer, who had left his house moments before the accident, said he called 911 and couldn't stop thinking about the families of those involved.
"I just felt bad thinking about the pilot's family, and the people over in the car who were hurt," the 17-year-old said. "It's sad because this is not the first time this has happened here in this residential area."
This is the first major incident that has occurred at North Perry Airport since May 2020. Four of the five incidents were fatal.
The FAA and NTSB are currently investigating the crash.
May those who lost their lives rest in peace, and may those who lost a loved one be able to find some peace as time moves forward.