Dramatic images have surfaced from the FINA World Aquatic Championships in Budapest, Hungary after Anita Alvarez lost consciousness during the end of her free solo routine.
Her coach, Andrea Fuentes, jumped into the pool as soon as she saw the 25-year-old artistic swimmer sink to the bottom of the pool.
According to Reuters, Alvarez received medical attention on the pool deck before being taken away on a stretcher. She is said to be doing "okay" following the terrifying incident.
Fuentes, a four-time Olympic medalist in synchronized swimming, told Spanish newspaper Marca that she jumped into the water because when Alvarez began sinking the lifeguards didn't react fast enough.
"When a swimmer finishes their routine, the first thing they want to do is breathe and so I saw that instead of going up, she was going down and I told myself, 'Something is going on,' and I called for the lifeguards, like, 'Go into the pool, can't you see she's going down in the water?'" she said during an interview with Spanish broadcaster Cadena COPE.
"I don't think I've swum as fast ever before, even when I got Olympic medals and well, in the end, I was able to get her up and she wasn't breathing … In the end, everything came out OK."
This wasn't the first time Fuentes rescued the two-time Olympian from the swimming pool. During a 2021 Olympic qualifying event, a fully clothed Fuentes jumped into the water when Alvarez briefly lost consciousness at the end of her routine with partner Lindi Schroeder.
Alvarez received medical attention on the side of the pool for several minutes before being taken away by medical personnel. Although she was later cleared to compete, she was still shaken from the event and an alternate took her place for the remainder of the competition.
While the images are harrowing, Fuentes explained artistic swimming is just like any other high intensity sport.
"We sometimes forget that this happens in other high-endurance sports. Marathon, cycling, cross country," she wrote in a statement published on Instagram. "We all have seen images where some athletes don't make it to the finish line and others help them to get there."
"Our sport is no different than others, just in a pool, we push through limits and sometimes we find them."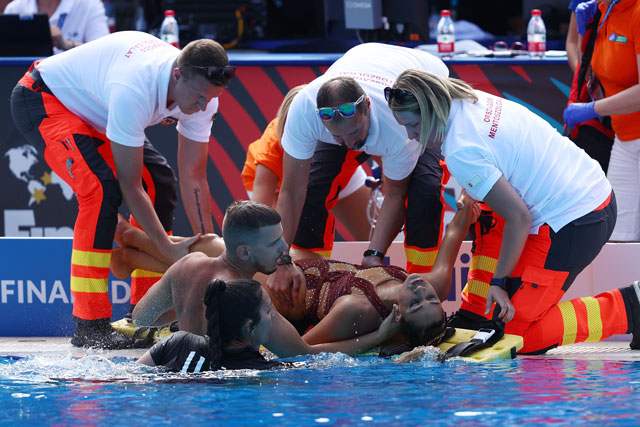 Alvarez received treatment by medical personnel and was scheduled to meet with her doctor Thursday to determine if she could compete on Friday, but was said to be doing okay following the potential drowning.
"Watching yesterday's medical emergency of 2x Olympian Anita Alvarez and subsequent rescue by coach Andrea Fuentes was heartbreaking for our community," USA Artistic Swimming told The Associated Press in a statement. "She gave an exceptional solo performance and competed brilliantly in four preliminary and three final competitions across six days."
She finished seventh during Wednesday's competition.
These images need to be shared with everyone because it just goes to show that even an experienced swimmer can potentially drown. Thank goodness Andrea was alert and immediately jumped in.
Please share.