Ten days after a gunman murdered 10 people and injured three more at a grocery store in Buffalo, New York and nine days after a gunman invaded a place of worship killing one and injuring several others, the United States found itself dealing with yet another mass shooting.
This time the suspect entered an elementary school in Uvalde, Texas and murdered 19 children and two teachers.
Almost immediately upon hearing the news, "thoughts and prayers" for the victims and their families began appearing online, but many are fed up with the expression that has become an all too familiar phrase in our lives.
"I'm fed up. I've had enough."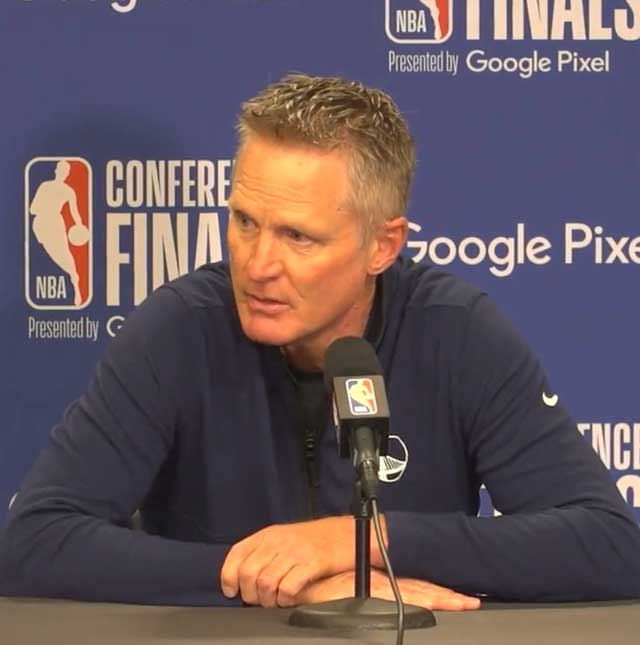 Prior to the Golden State Warriors Game 4 Conference Final against the Dallas Mavericks, the Warriors' head coach Steve Kerr made an impassioned speech condemning the shooting.
He warned reporters at the press conference he was not going to be talking about basketball or the team, but about something much more important. The head coach then launched into an emotional speech.
"Since we left, shootaround, 14 children were killed 400 miles from here, and a teacher. In the last 10 days, we've had elderly black people killed in a supermarket in Buffalo. We've had Asian churchgoers killed in Southern California. Now, we have children murdered at school."
"When are we going to something?"
"I'm tired, I'm so tired of getting up here and offering condolences to the devastated families that are out there. I'm tired of the moments of silence. Enough," he said.
At last night's game the Mavericks held a moment of silence for Coach Michael Coyne, who lost his life after returning home from a Mavericks game on Sunday, and for the victims of the school shooting at Robb Elementary.
Kerr, whose father was fatally shot by a gunman while serving as the president of the American University of Beirut, continued his emotional speech by calling out the senators who have refused to vote on HR-8.
"There's a reason they won't vote on it: to hold onto power."
The Warriors head coach said while they were still going ahead with the game, he wanted everyone to think about their own family members and wonder how they would feel if their lives were suddenly changed as the result of a mass shooting.
"We can't sit here and just read about it and go well, let's have a moment of silence."
Kerr has previously spoken up about gun violence including following the 2021 shooting in Boulder, Colorado.
We have had enough. We cannot keep living in a world where these tragedies continue to happen and then the only thing that occurs after is a moment of silence for the victims.