Ever since Beth Chapman died on June 26, her family has been grieving hard. The loss has taken a heavy emotional toll on everyone, including Duane "Dog" Chapman, who says he's lost 17 pounds since his wife's death.
Amidst all this mourning, Bonnie Chapman is facing a bizarre rumor that she isn't actually her daughter—and now she's fighting back online.
Bonnie is the youngest daughter of the late bounty hunter/reality star. After her mother's death last month, the 20-year-old opened up on social media with a heartbreaking photo of her at her mother's bedside:
She also wrote a tribute to her mother on Twitter: "You were such a strong woman, and you taught me to always be strong."
I'll never forget you, mama. You were such a strong woman, and you taught me to always be strong. You were strong for everyone, and you taught me it's okay to let go.

— Bonnie Chapman (@Bonniejoc) June 26, 2019
But now she's following her mother's example, standing strong in the face of inexplicable rumors about her identity.
On Instagram, Bonnie caught a commenter claiming that Bonnie was actually Beth and Duane's granddaughter, who they raised after her actual mother passed away. It was a strange rumor, and Bonnie asked her followers where that falsehood may have come from.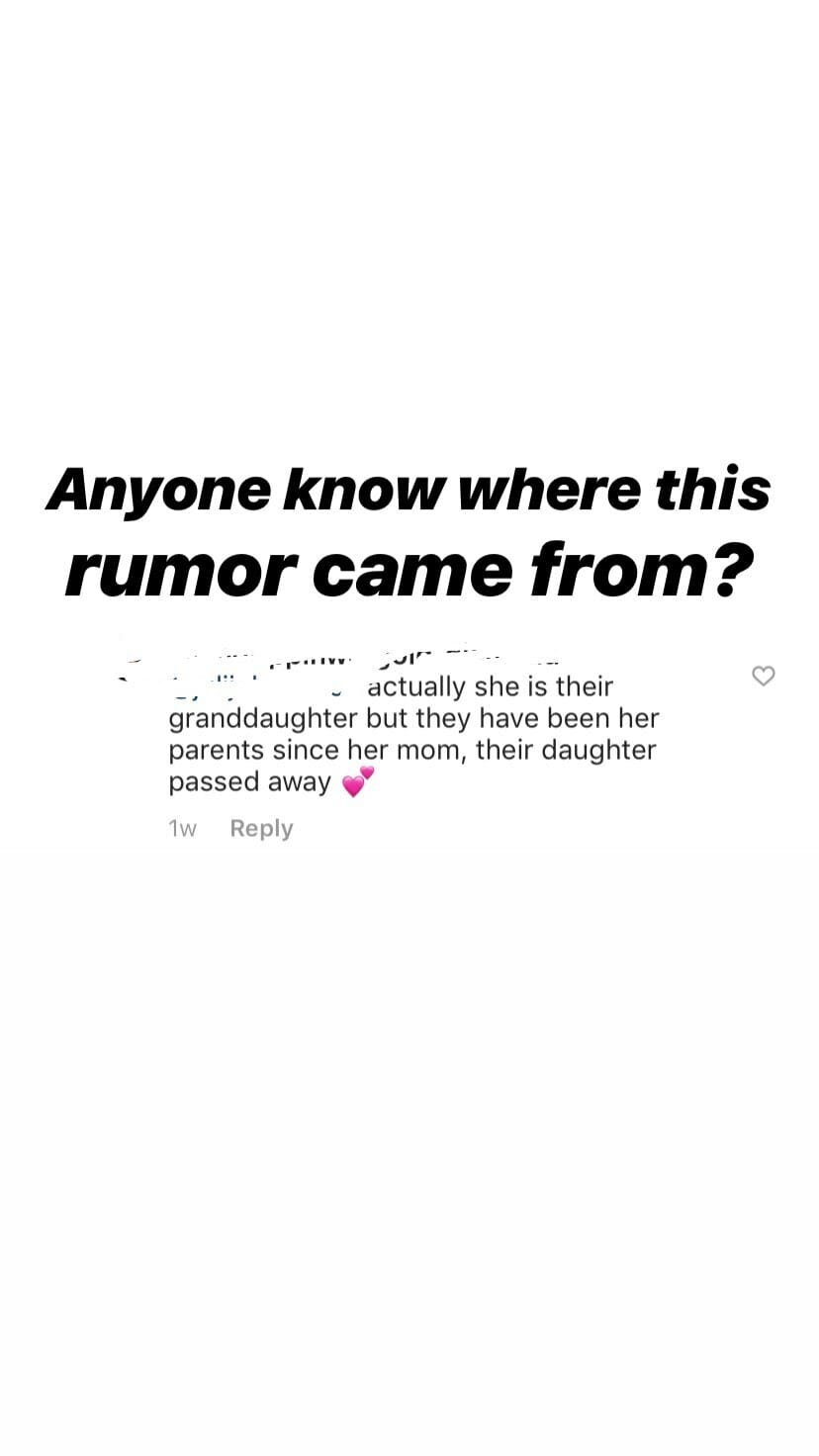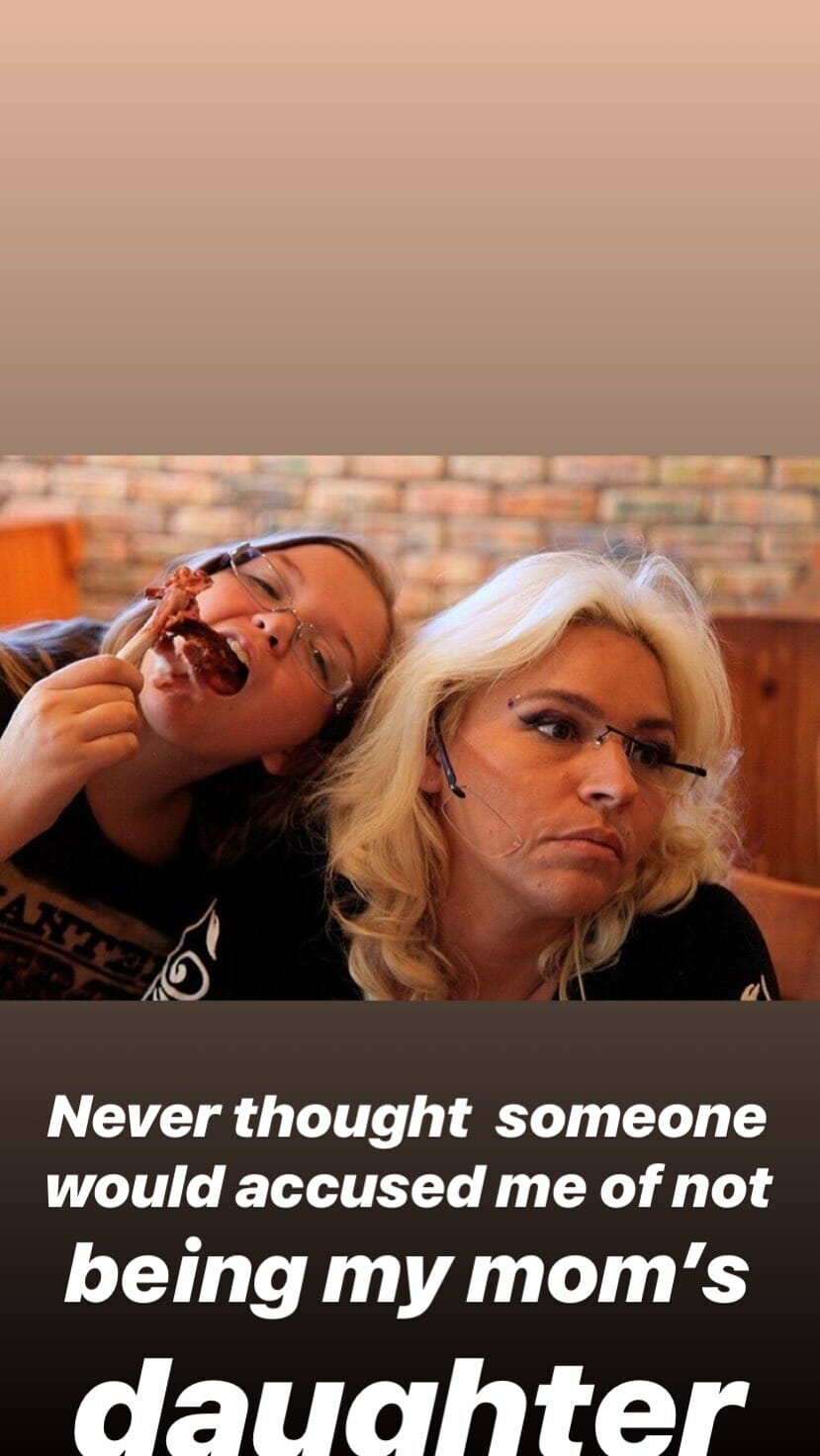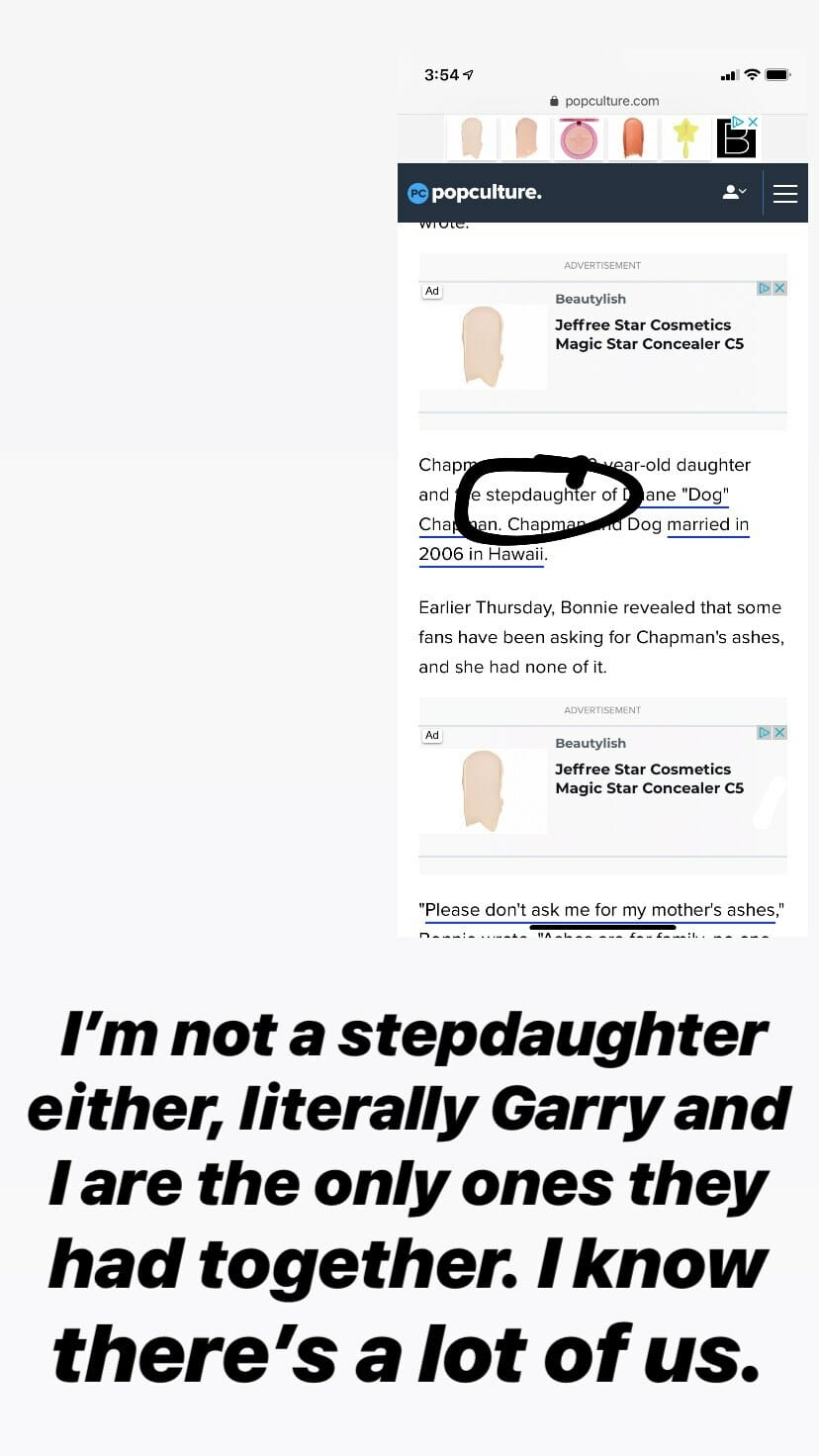 But Bonnie didn't let it go or allow the lie to spread further. In a Twitter threat posted early this morning, Bonnie shut down the rumors and insisted once and for all she was really her parents' daughter.
I never thought the day would come when people would doubt who my mother is. It's 4 am and I can't stop crying. This rumor is making me sick, I wish I could just sleep.

— Bonnie Chapman (@Bonniejoc) July 19, 2019
I shouldn't have to deal with this right now.

— Bonnie Chapman (@Bonniejoc) July 19, 2019
In fact, she was following her mother's example. She wrote that Beth would've pulled out every stop to make sure the rumor was shut down, and would give "hell on earth" to anyone who had it wrong.
For those wondering why I am talking about this, it's because my mom wouldn't let this happen. She'd call up every news source that got anything wrong and correct it immediately. If this happened while she was still here it'd be hell on earth for anyone with incorrect information

— Bonnie Chapman (@Bonniejoc) July 19, 2019
My mom would correct this, that's why I'm doing it. My mom taught me not to stand by and let rumors spread, so I correct it. She taught me to stand up for what I love, and I love her, so I will stand up for her when she can't be here.

— Bonnie Chapman (@Bonniejoc) July 19, 2019
Topping off the emotional thread (which Bonnie says were posted at about 4 in the morning) she posted a photo of the whole family.
Now, I'm going to try sleep. Here's a photo I love, it's rare to get one with dad in it! Love you mama, I really wish I could call you right now. pic.twitter.com/Ix3d88oSVP

— Bonnie Chapman (@Bonniejoc) July 19, 2019
Bonnie also posted on her Instagram stories messages from friends about the rumor, suggesting that it may have originated from a since-corrected article about her mother, which claimed she and her brother Garry were adopted.
Hopefully Bonnie cleared the air and settled the rumor once and for all. This is just the latest strangeness she has had to deal with since Beth's death—she's also been fending off obsessive fans trying to get hold of her mother's ashes during her memorial services.
"Please don't ask me for my mother's ashes," Bonnie wrote on Instagram, according to Yahoo. "Ashes are for family, no one else. No exceptions."
Hopefully Bonnie and her family will now be able to mourn in peace during this difficult time.
Send your best wishes to the Chapman family. Share this story!