There were a lot of special moments during last night's Oscars, but perhaps the most heartwarming came when the entire audience sang "Happy Birthday" to one of the winners.
James Martin, an Irish actor whose previous gigs include some work in TV and a job at Starbucks, took the stage when the film he starred in, An Irish Goodbye, won Best Live-Action Short. He was joined by his co-star Seamus O'Hara and the film's directors, Ross White and Tom Berkeley.
"This award is actually the second most important thing about today, because it's this man's birthday," Berkeley said while hugging Martin onstage. "He's out here in Hollywood, wearing a leopard-print suit jacket. We'd love to use the rest of our time up here to sing to James."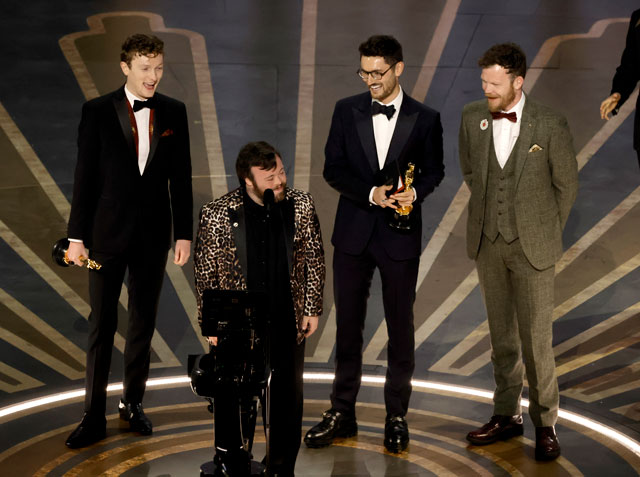 The directors began singing "Happy Birthday" to their film's star, and the audience quickly joined in.
Everyone stepped back and allowed Martin, who lives with Down syndrome, to have his moment in front of the crowd.
An Irish Goodbye tells the story of two estranged brothers who reunite following their mother's death. Martin plays a character in the film who lives with Down syndrome.
Prior to becoming an Oscar winner Martin was working at a Starbucks in Ireland, and though he now is the proud owner of an Oscar and a a BAFTA – the film previously won for Best British Short Film – Martin plans to return to Starbucks.
"I'm the first person with Down's Syndrome not just getting a BAFTA but also getting an Oscar, especially in the time of my birthday – it's just fantastic," he said.
READ MORE:
Can you think of a better way to celebrate your birthday? I know I can't!
Happy birthday, James, and congratulations on your win!
Please share this story.