Graduating high school is a milestone worth celebrating. The majority of people graduate in their late teens, though every so often we hear stories about people receiving their diplomas years, even decades later.
But one Pennsylvania student is celebrating his high school graduation a little early… nearly 10 years early.
Nine-year-old David Balogun recently received his diploma from Reach Cyber Charter School in Harrisburg, Pennsylvania after completing his coursework online.
Both of David's parents have advanced degrees, but even they have found raising a highly intellectual son can be difficult.
READ MORE:
David began taking online classes at the charter school when he was in third grade.
"I wanted to do it because I had the ability to do it," David told FOX43. "So why not use those abilities for the greater good?"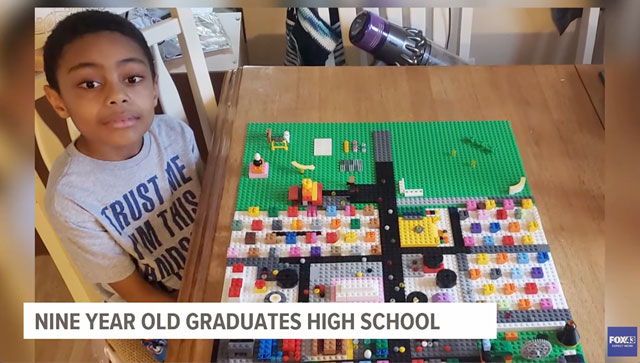 "He's a 9-year-old with a brain that just has the capacity to understand and comprehend a lot of concepts that's beyond his years and sometimes beyond my understanding," Ronya Balogun, David's mother, said.
In addition to becoming one of the youngest high school graduates, David is a member of Mensa.
While he won't receive his official diploma until June, he's already begun taking college-level courses and plans to major in engineering, chemistry, or software development.
"I want to be an astrophysicist and I want to study black holes and supernovas."
When he's not pursuing a higher education David puts all his effort towards earning a black belt in martial arts.
"I hope I can use this opportunity to show that I'm not the only one who can do this."
Such an incredible accomplishment! David, you are an inspiration to many. May you always have the curiosity to learn.
Please share this story of an inspiring 9-year-old student!