For two years Nancy Mattern has been unable to decorate for Christmas. Illness has made it impossible for the 77-year-old to display 40 years worth of decorations, but this year she got a surprise from a group of local high school students.
"It's what Christmas is about, it's about giving," Nancy said. "And to be able to have my Christmas decorations up is something I thought was over and done with, but these kids, with their big hearts, are making it happen."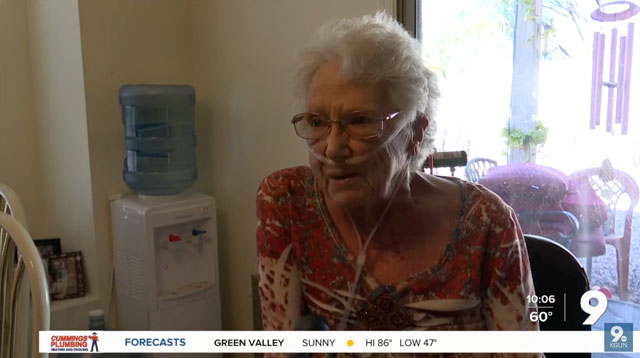 Mattern, who is in hospice care in Tucson, Arizona, loves decorating for Christmas, but ever since she got COVID, she hasn't been able to decorate for her favorite holiday.
"It put me in this position, it affected my heart and my lungs," she told KGUN. "And to be able to do the little things now is really hard."
But this year, her decorations went up thanks to the Dreamcatchers at University High School. The Dreamcatchers are a group of high school students who grant wishes for people in hospice.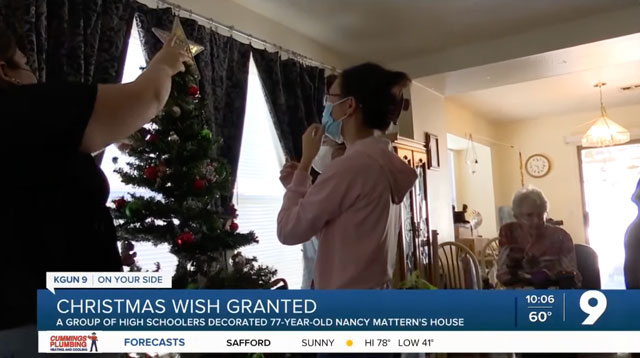 Over the weekend, a group of students granted Mattern's wish and decorated both the inside and outside of her home with Christmas decorations.
They also came bearing gifts and baked some of her favorite holiday treats.
"It is just an overwhelming, very emotional feeling to have our hospice patient be given this gift. It is a gift because there's so many misconceptions about hospice," said Belinda Brauer, volunteer coordinator for Agape Hospice.
"The greatest gift they could give me is putting up my decorations," she said.
This story makes me so happy. To hear that there are others out there who are willing to help those who need a little hand, it gives me hope.
Please share this uplifting story with your family and friends on Facebook.