Whether you call it divine intervention or a stroke of luck, an 87-year-old priest is counting his blessings after walking away unscathed from what could have been a deadly accident.
Father John Bok was on his way to celebrate Mass on October 2 at St. Andrew Catholic Church in Milford, Ohio when an SUV literally flew over his car.
Neither he nor the driver of the other vehicle were seriously injured.
"It's a miracle," he told the Catholic News Agency.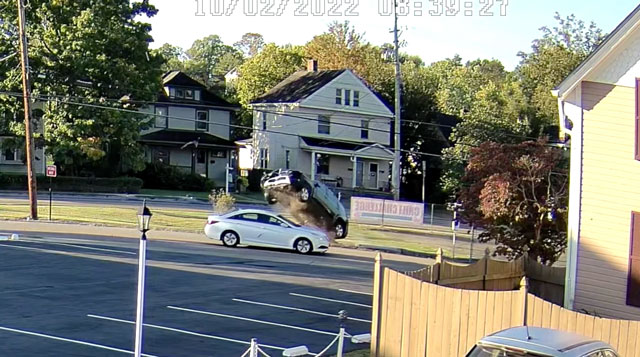 Bok was nearing the church around 8:40 a.m. when a 17-year-old in an SUV on a nearby street suffered a seizure and passed out. The teen's vehicle went off the road and became airborne, narrowly missing Bok's car.
The priest was clueless about the potential disaster.
"I sort of saw something out of the corner of my left eye fly by the back of me. I was born with a lazy left eye and have very limited vision out of it. I thought maybe it was a large bird or something and continued on my way to have the Mass."
It wasn't until several hours later when he was dining at a local restaurant when he was informed about the incident.
A police officer who is friendly with Bok approached him and showed him a video he had obtained from a funeral home located near the crash.
"I couldn't believe what happened," Bok said after watching the clip.
READ MORE:
How did it happen?
Bok, a former physics teacher, was perplexed. How did the teen's SUV manage to hit a pole and fly at the exact height needed to clear his car?
"Why was the pole standing in that exact spot attached to nothing? By what laws of physics did it lift the boy's car almost 5 feet in the air and send it over my car? So many questions."
Although Bok could spend hours upon hours racking his brain trying to figure out how he managed to escape unharmed, he said he'll just "continue to wonder how much God and how much the laws of science played in the experience. And I continue to be amused by the fact that I was oblivious to what happened until I saw the video in the restaurant."
One thing to note is that day just so happened to be the feast of the Guardian Angels. It's obvious both Bok and the teen had someone looking out for both of them that day.
"I'm happy I'm still here and it's a mystery why I am when you look at that darn video," Bok said. "When I see it, I just scratch my head and say, 'Thank you, Lord.'"
It's almost impossible to believe no one was seriously injured! Thank the Lord.
Please share this story.