Like millions in the United States who are currently unemployed and waiting for their unemployment benefit payments, Dorea Williams of DeKalb County, Georgia was in need of money.
She lost both of her jobs due to the COVID-19 pandemic and had yet to receive any payments from unemployment.
But then she received a mysterious card in the mail.
"I was like wait a minute. I started breathing hard. I'm like, maybe these are not real," Williams told FOX 5 Atlanta.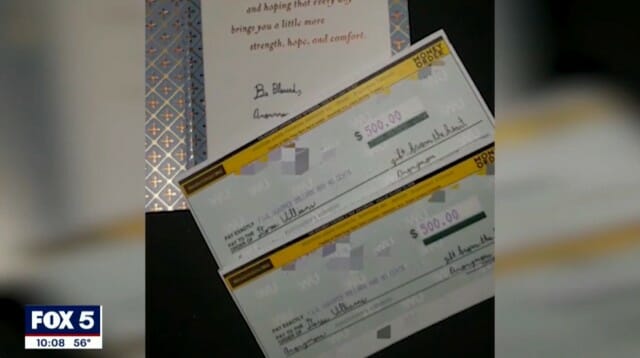 Inside the card were two money orders. Each one was for $500. While the card was addressed to her, there was no return address.
Was this for real?
Hoping they were real, though skeptical, she went to Publix, where the money orders were from. An employee and a phone call to Western Union told her all she needed to know, the money orders were real!
"It means a lot. I'm so grateful and it's just a big, big blessing,"
Even though Williams doesn't know who sent her the $1,000, she's forever grateful for the help.
"I don't know what I did or what impact I might have made on their life at some point for them to want to do something like this or maybe God just spoke to them and told them to do something like this for me,  but I'm very, very grateful. Thank you so much," she said.
We're all hurting right now. If you're able to help a neighbor, even in a small way, please consider doing so.
Share this story on Facebook.