When Frank Grasberger received a handwritten letter from a third grade student more than a decade ago, he had no way of knowing the impact it would have on his life.
In fact, he was moved moved by the note, which contained only a few sentence, he wanted to meet her to express his thanks.
Finally, that meeting took place this summer. The WWII veteran met the now 21-year-old woman who wrote him a thank you note 12 years ago.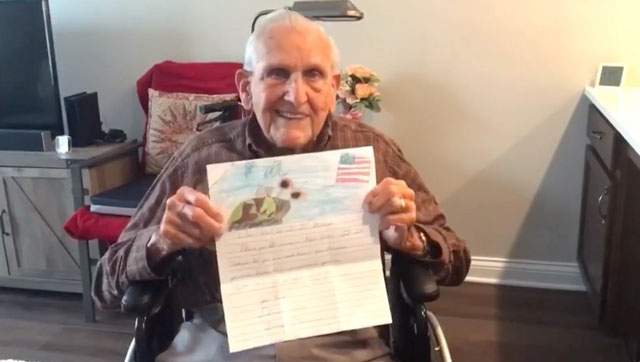 Grasberger, 95, said he received the letter from a then 9-year-old DeShauna Priest while on an Honor Flight to Washington D.C.
"I could not understand how a young girl could write a letter to a veteran when she — I don't think she had any idea what a war was," he told People. "And she wrote a letter, and what tore me up is how she wrote it and showed flowers coming out of a helmet."
Grasberger was incredibly touched by the gesture. He wanted to meet her, but with no way he settled with writing his own thank you note and had his wife Dolores sent the letter to DeShauna's school.
He never knew if she received it.
This summer Grasberger shared his story with staff at Vitalia Senior Residences in Strongsville, Ohio.
When Jill Pawloski, the resident services director, learned of his story, she set out on a mission to find Priest.
It wasn't long before Pawloski located Priest and arranged so the two penpals could finally meet.
Priest, who now serves in the U.S. Army National Guard, brought a bouquet of roses and the letter Grasberger sent her 12 years ago.
Just as he had kept her letter all these years, she had kept his letter all these years.
"He didn't know anything about her. That letter, it was an act of kindness, is what it was," Grasberger's wife said.
How sweet is it that they both kept the letters they received from each other? And for DeShauna to have grown up and gone into the military as well?
This is such a heartwarming story.
Please share.