Queen Elizabeth has presided over many a problematic issue during her long reign as British monarch, but few periods will have been more trying for her than the one she finds herself in now.
Unless you've been living under a rock, you'll know that Prince Philip passed away aged 99 earlier this month, on April 9. The longest reigning consort in British history, Philip had been previously described by the Queen as her "strength and stay".
The Duke of Edinburgh, who died just two months shy of his 100th birthday, had been in and out of hospital for years, but though the Royal Family could have perhaps foreseen his death, accepting it and moving in is another thing entirely.
Especially so where Queen Elizabeth is concerned. She and Philip had been together for a remarkable 73 years, and though the late prince wasn't everyone's cup of coffee, there can be no doubting his importance to the Royal Family and their way of life.
On Friday, April 9, Buckingham Palace released a statement that sent shockwaves around the world.
"It is with deep sorrow that Her Majesty The Queen announces the death of her beloved husband, His Royal Highness The Prince Philip, Duke of Edinburgh," the Palace tweeted.
"His Royal Highness passed away peacefully this morning at Windsor Castle.
Further announcements will made in due course.
The Royal Family join with people around the world in mourning his loss."
Prince Philip had been hospitalized in February but then released after a month-long stay in March. A royal source told the New York post that Philip wished to pass away in the comfort of his own home – something that was realized.
"It was the Duke's fervent wish to die peacefully at home," the royal source said. "We knew that when he was taken home it was to die on his own terms, not in a hospital bed, but in his own bed.
"Philip didn't want any fuss. He wanted to do things his way until the end," the source added.
And do it his own way, he did. That much can also be said about his funeral, which took place just over a week after his passing, on Saturday, April 17.
According to the Daily Mail, Philip oftentimes told his beloved wife, Queen Elizabeth, that he wanted his final journey to be "stuck" in the back of the Land Rover, and then "driven to Windsor".
The Land Rover that carried him on his final journey, a modified "Defender 130 Gun Bus", was designed in part by Philip himself. "Just stick me in the back of a Land Rover and drive me to Windsor," he once told the Queen when discussing his funeral.
Prior to the service itself, Queen Elizabeth and her and Philip's four children – Charles, Anne, Andrew and Edward – formed a solemn procession alongside Prince William and Prince Harry, as well as Peter Philips – Prince Philip's eldest grandchild – Vice-Admiral Sir Tim Laurence, and the Earl of Snowdon.
Though Prince Philip's funeral ended up being a relatively close-knit affair (30 guests were allowed to attend instead of the 800 planned for years ago), the TV cameras were, of course, on and capturing every moment.
That meant that Queen Elizabeth's grief was put on show for the world, with a number of heartbreaking pictures quickly going viral showing her sitting alone in St. George's Chapel due to COVID-19 protocol.
As per reports, the Queen had left a handwritten note for Philip on a card edged in black. This was placed in a wreath featuring white lilies, small white roses, white freesias, white wax flowers, white sweet peas and jasmine.
In the wake of saying goodbye to the love of her life, Queen Elizabeth will reportedly remain in an official mourning period until April 22, though it's said that during this time of reflection, the Royal Family will try to support her in every way they can.
A former senior aide told People: "Her family will step up and be by her side, but she will carry on. She understands that she has a job to do, and [Philip] would have wanted her to crack on. She did do so when he retired from public life."
A source told the Daily Mirror, meanwhile: "The Duke of Edinburgh is irreplaceable and the Queen's dedication to duty is undiminished.
"But senior officials and members of the family have long had an eye on ensuring she is more supported in the future and it seems sensible to start employing this now."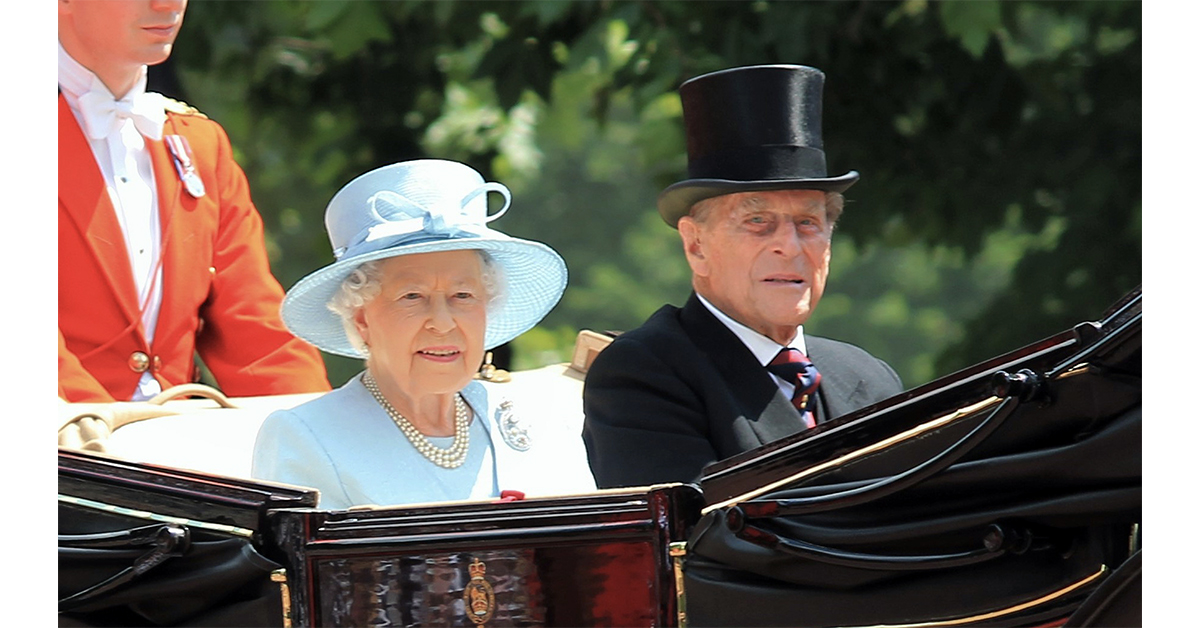 Even so, despite the support of those around her, the Queen now has to come to terms with life without her Philip by her side. That, sadly, includes celebrating her 95th birthday on April 21.
As per reports, the legendary monarch will mark turning 95 with a small, scaled-down get-together that will include the closest members of her family.
A new birthday portrait of the monarch will not be released in light of Philip's passing – as she's still in the aforementioned official morning period – and neither will there be a traditional gun salute.
Instead, the Telegraph reports that Queen Elizabeth will have a "quiet lunch" today with her inner-most family members at Windsor Castle. Prince Harry, though, will not be among them, since he's already returned to the U.S. to be with Meghan Markle.
I don't know about you, but my heart bleeds for Queen Elizabeth, a woman who has served her country so well and has now suffered a terrible loss.
We're sending the Queen birthday wishes and prayers for her continued health.
Share this article on Facebook to join us in wishing Queen Elizabeth a happy birthday!