With the recent crime wave all over the country, it is only natural to worry about the well-being of our children. This little boy thankfully was prepared and made a decision that might have just saved his life…
It was just another day for 10-year-old Sammy Green from Pottstown, Pennsylvania. He was walking his usual route home from school when he noticed something off…
He noticed that a woman seemed to be following him. His father Sam Green talked to the media, relaying what had happened. He said, "Started walking with him and asking him where his family was, asking where his dad was."
Young Sammy was sure he did not know the woman. However, she kept insisting that she knew his family and that he was supposed to go with her.
"She said she probably knew me and was going to Wawa and that he was supposed to go with her and he could get anything he wanted," little Sammy remembered.
The 10-year-old child felt weird about this interaction and started to think of what he could do. Suddenly he spotted a familiar store and decided to take his chances and enter it for help.
He walked into the store Dani Bee Funky and rushed towards the cashier, knowing this was his only shot at getting help. He got up to the cashier and quickly whispered something into her ear which immediately prompted her into action.
Sammy's dad said, his son said to the cashier, "He said to 'act like you're my mom, this lady is following me.'"
READ MORE
Surveillance video of the entire incident showed that once the cashier heard Sammy, she immediately jumped up to get in between him and the woman. The woman meanwhile had come to the store and was standing at its door.
The cashier approached the door of the store, and closed it, leaving the woman outside and then proceeded to lock the door.
The store owner Dani Small talked about the incident and praised her employee for helping the little boy and for her quick actions. Small said, "I am very proud of her. Hannah is a 17-year-old young lady. She did everything correctly."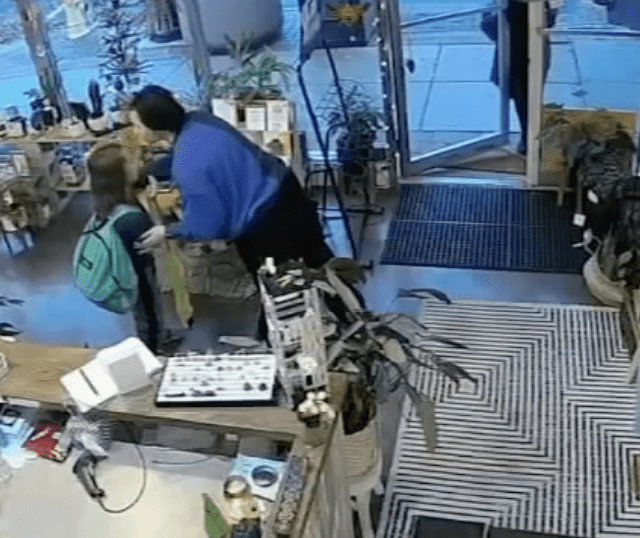 It could not have been an easy situation for the 17-year-old employee to encounter or take charge of but she rose to the occasion and kept the little boy safe!
The woman who was trying to lure little Sammy away has been arrested by authorities and is being referred for mental health help.
We want to appreciate the young woman who helped this little boy escape from harm's way. What an amazing way to help someone in need!
Make sure to share this article so others can be inspired to help those around them as well!