On Monday, Gloria Williams, the mother who has been accused of leaving her three children to live with their sibling's decaying corpse, appeared in court.
During the hearing even more disturbing details were brought to light.
The 35-year-old has been charged with injury to a child by omission and tampering with evidence, while her boyfriend, Brian Coulter, has been charged with beating William's 8-year-old son Kendrick Lee to death.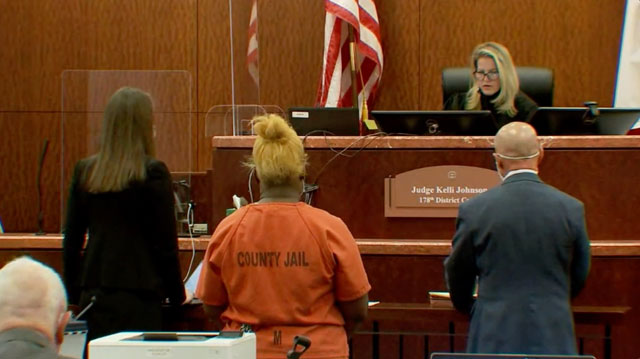 During the arraignment hearing, it was revealed that Williams and Coulter lived with her son's body from approximately November 2020 to March 2021.
It's believed that Coulter beat Williams' 8-year-old son somewhere between November 20 and November 29, 2020, according to ABC 13.
The two younger siblings said Coulter repeatedly punched their brother until he stopped moving. He then placed him under a blanket.
The following day their mother found her son deceased lying under a blanket.
Williams didn't know what to do
Despite knowing her son was dead, she claimed she didn't know what to do with his body and did not notify police because her boyfriend said not to.
She was afraid her children, who have been described as "special needs children," would be taken away and she would go to jail.
Williams and Coulter continued living in the apartment with her children and dead child for several months until March 2021, when they moved out and left her three children behind.
According to the prosecutor, Williams sent groceries to the apartment once a month. She also continued paying rent for the apartment.
"This case has shocked the conscience of our community, as well as the nation, and we need to make sure we find answers as to how a mother could allow this to happen to her children and to find her accountable," Prosecutor Andrea Beall said, according to Fox 26 Houston. 
Williams' bond has been set at $900,000, and Coulter's bond has been set at $1 million.
It is sickening what these children went through. I hope they are now getting the love and support they desperately need, and I hope those who are responsible for putting them in this situation are held responsible.
Please share if you agree.