Kamala Harris became the first woman, first South Asian, and first Black vice president of the United States on inauguration day, January 20, 2021.
Following a long career in politics, she's now the 49th vice president in U.S History. But how did she get there?
This is the story of Kamala Harris, and the reason why the pearls around her neck have a very special meaning to her.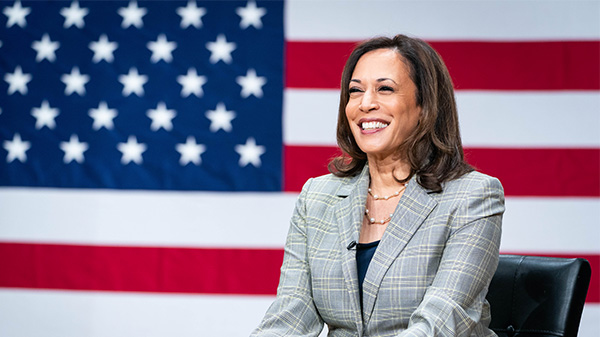 Kamala Harris has always made sure to pay tribute to people that have helped her along the way to becoming the vice president of the United States. During the inauguration, of course, she kept the tradition going.
"We not only dream, we do, we not only see what has been, we see what can be," Harris said of Americans. "We shoot for the moon and then we plant our flag on it, we are bold, fearless, and ambitious."
She added: "We are undaunted in our belief that we shall overcome, that we will rise up."
Kamala Harris – vice president
Harris was sworn in by Supreme Court Justice Sonia Sotomayor, the first Hispanic and Latin person, as well as only the third woman, to serve on the court.
"While I may be the first woman in this office, I will not be the last," the former U.S Senator from California said in her November victory speech. "Because every little girl watching tonight sees that this is a country of possibilities."
While the world watched, Kamala Harris took the oath of office on two different bibles. The first one belonged to Thurgood Marshall, who was the first African American Supreme Court justice, as well as Harris's political role model. The second bible belonged to her childhood neighbor, Regina Shelton, whom Harris earlier has called a second mother to her and her sister Maya.
"It's a reminder that Kamala continues to stay grounded in her upbringing and the things instilled in her and the strong women she grew up with," Saniyyah Smith, the late Regina Shelton's eldest granddaughter, told Mercury News.
"I'm just so proud of her and so grateful to be able to see how she continues to honor my grandmother's legacy."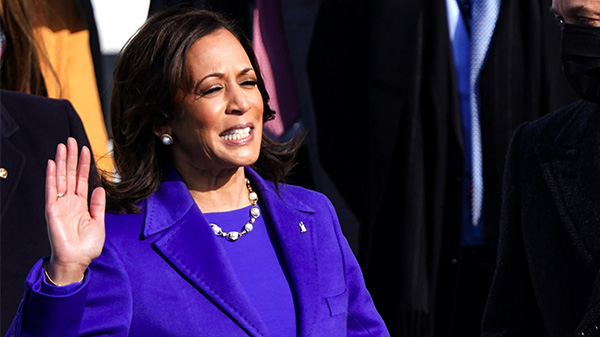 So where did Kamala Harris start her journey towards the White House ?
Kamala Harris – childhood
She was born on October 20, 1964 at the Kaiser Hospital in Oakland, California to Indian-American immigrant Dr. Shyamala Gopalan – who works as a breast cancer researcher – and Jamaican-born Donald Harris – an emeritus professor of economics at Stanford University.
Her parents met while studying at the University of California, Berkeley in 1962, and married just a year later.
Two years after the marriage, Kamala Harris arrived. The name Kamala means "lotus" in the language of Sanskrit, and her middle name, Davi, translates to "goddess". It was all in all a tribute to the Hindu religion.
"A culture that worships goddesses produces strong women," Harris' mother told the Los Angeles Times in 2004.
When Kamala Harris was in elementary school, her parents divorced. Their mother raised her and sister Maya, while they saw their father on weekends, holidays and in the summer.
Harris recalled her upbringing being a lot of discussions around the dinner-table, many about the civil rights movement.
"When we were growing up the notion of justice and public service and a commitment to civil rights were not abstractions," Harris said. "They were completely a part of our lives, of who we were and who we are."
During her upbringing, their mother Shyamala travelled all over the world with the girls. They frequently visited family in India, Europe and the Caribbean.
Work as a prosecutor
Harris and her sister were taught early on about education, family values and public service. They weren't allowed to watch TV unless they were doing something else at the same time.
"This whole thing of multi-tasking was ingrained early on," Harris explained, laughing.
"I was raised that, when you see a problem, you don't complain about it, you go and do something about it," Harris said in a Good Morning America interview.
Following her high-school studies in Montreal, Kamala Harris moved on to earn a B.A. in political science and economics from Howard University in 1986.
Three years later, she got her law degree from Hastings College. She moved on to start her career in the Alameda County District Attorney's Office. Harris earned a reputation for being a skilful, hard-working prosecutor. In 2003, she became the top prosecutor for San Francisco.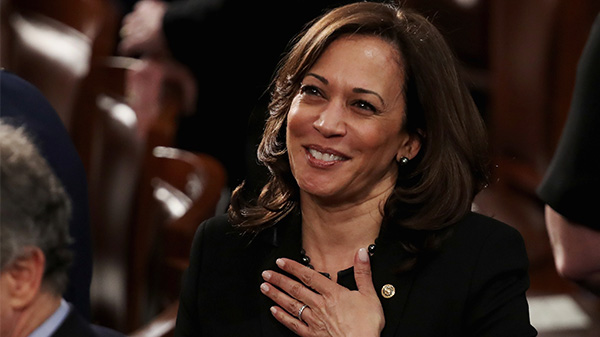 Kamala Harris continued her work in California. In 2010, she was elected the first woman, as well as the first black person, to serve as California's attorney general.
Running for Office
She was then re-elected to the post four years later. Around the same time, her position inside the Democratic party was strengthened. In 2017, Harris was elected as a California U.S. Senator.
"Whatever the results of the presidential election tonight, we know that we have a task in front of us. We know the stakes are high," Harris told the crowd inside Exchange LA at election night in 2016.
"When we have been attacked and when our ideals and fundamental ideals are being attacked, do we retreat or do we fight? I say we fight!"
Harris was building a political base and decided to run for President in the 2020 election. She clashed with Joe Biden at a Democratic debate in the summer of 2019, then later that year decided to drop out of the presidential race.
When it became clear that Biden was the Democratic Presidential Candidate, he chose Kamala Harris to be his running-mate for vice president.
Once rivals, Biden and Harris were now running for office together.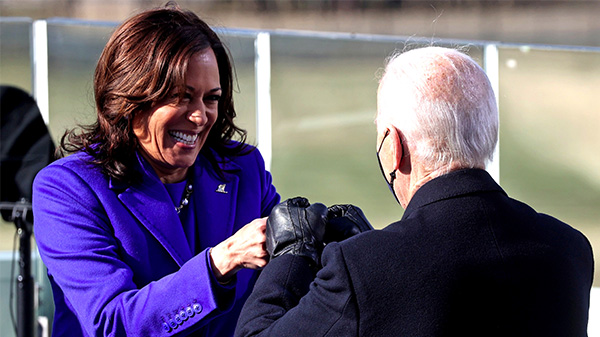 Harris wrote on Twitter that she was "honored" to join Biden, and pledged to do "what it takes to make him our Commander-in-Chief."
"She understands what it takes to stand up for working people, fight for health care for all, and take down the most corrupt administration in history," Bernie Sanders wrote on Twitter.
History in the making
Harris was sworn in as the next Vice President of the United States, and became the first woman, first South Asian, and first Black vice president on inauguration day, January 20, 2021.
On November 7, when giving her victory speech, she said: "But while I may be the first woman in this office, I will not be the last."
"Dream with ambition, lead with conviction and see yourselves in a way that others may not simply because they've never seen it before," Harris told the young girls watching.
Throughout her private and political career, Kamala has had many supporters. Among them, friends and family, as well as millions of American voters. She's since thanked them tens of tens of times for their support.
But there is one special tribute that she consistently shows – and actually wears.
Kamala Harris has an ever-present pearl necklace that bears strong symbolism. And it shows who's been probably her most loyal supporters throughout her political career.
Kamala Harris – pearls meaning
So what does the pearl necklace mean? And who is it a tribute to? Actually, it's all about her sorority sisters.
When Kamala Harris studied at Howard University, she joined the sorority of Alpha Kappa Alpha. It was the first African-American Greek-letter sorority in the country. The sorority's founders were known as the "Twenty Pearls", and Harris wears the pearls in solidarity with her sorority sisters at almost every important and big life occasion ever since graduating from college.
As of today, Harris no longer wears what you could call classic pearls. Now, she's had her pearls designed by designer Wilfredo Rosado. He is, just like Harris, the son of immigrant parents.
Rosado explained that he was approached by Harris in September of last year. However, he didn't know that the pearls he was going to design would end up around the neck of the vice president for inauguration day.
He felt honored and proud.
"I always admired Kamala, especially when I watched her as a senator questioning the Supreme Court justice nominee Brett Kavanagh," Rosado said. "I loved her sass, I loved her approach, and was she very relatable to me."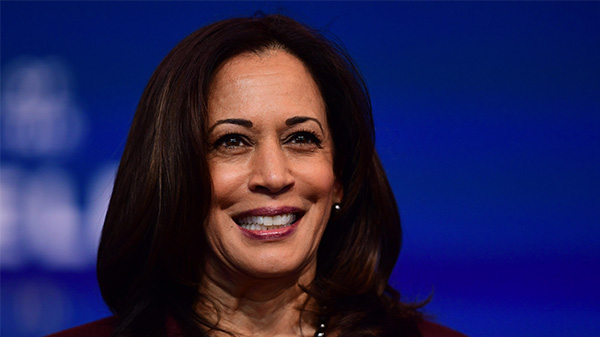 Rosaro wanted to make the pearls modern, representing Harris as the powerful and tough woman she is. Pearls oftentimes represent preciousness and femininity.
Tribute to sorority sisters
But this time, Rosado was inspired by hip-hop and street culture.
"When I think of hip-hop style, the artists are always wearing heavy chain links, and I decided to combine that with pearls," Rosado explained.
At the same time as he was inspired by hip-hop and street culture, Rosado knew he wanted it to be tasteful. They would, in one way or another, represent the seriousness of being a politician.
Throughout D.C.'s political history, pearls have been a part of many First Ladies jewel cabinets. Both Jackie Kennedy and Barbara Bush were known for rocking pearls at official events. During Abraham Lincoln's inaugural ball, Mary Todd Lincoln reportedly wore a Tiffany pearl necklace.
Rosado had earlier made diamond earrings for First Lady Michelle Obama, with former president Barack Obama falling in love with them and buying the earrings for her 50th birthday.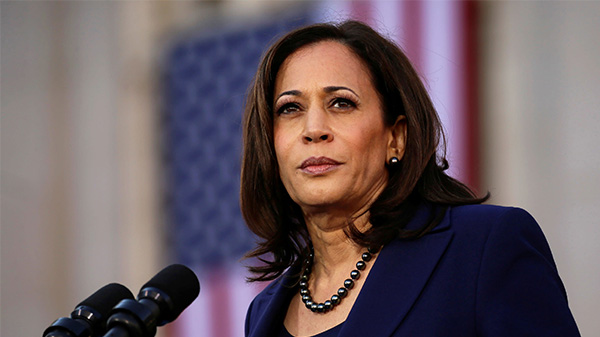 So what about the Harris necklace then? Well, she's got one with a large oval 18k gold link, each with a small diamond, as well as an Australian South Sea Pearl.
Pearl Facebook group
Harris' pearl necklaces became very popular among her supporters. There was even a Facebook group founded called "Wear Pearls on Jan 20th, 2021". It invited women and girls across the world to join Vice President Harris in wearing pearls in solidarity.
Speaking with Today, the Facebook group's founder, Hope Aloaye, said that the pearl necklace showed an "expression of female strength".
"I equated the pearls to women because we go through a lot of things, but we still come out shining," she said. "Pearls are every color, shape, size. It doesn't matter, I just thought that was a beautiful thing."
Kamala Harris has put herself in the history books. Today, more and more young women and girls will see the nation's First Lady being of color. Perhaps they, too, will dream about themselves being in the White House one day.
Hopefully at that point, they'll wear some beautiful pearls as well!
Please, share this story with friends and family on Facebook.