Do you know when you're supposed to let a pedestrian cross the street? Depending on the state you're in, the answer may vary, but one thing is for sure, you should always exercise caution when you spot someone attempting to cross the street.
Alma Soraya Vázquez, her 6-year-old son Ángel García Vázquez, and Ángel's 19-year-old uncle, Jaime Garcia were crossing the street in Oakland, California when tragedy struck. A car hit the three family members and took off.
Alma, Ángel, and Jaime were left in the middle of the street, fighting for their lives.
"Be strong for the rest of my kids," Anselmo Garcia, who ran from their home to the scene of the accident, recalled his wife, Alma, saying. "I saw her, she was crying. That's all I saw from her."
The family members were struck as they attempted to cross 26th Avenue and Foothill Boulevard, an intersection that many in the community have expressed their concerns about.
"This is a very busy street. Something was going to happen sooner or later," Jerry Pong, a neighbor, told ABC7.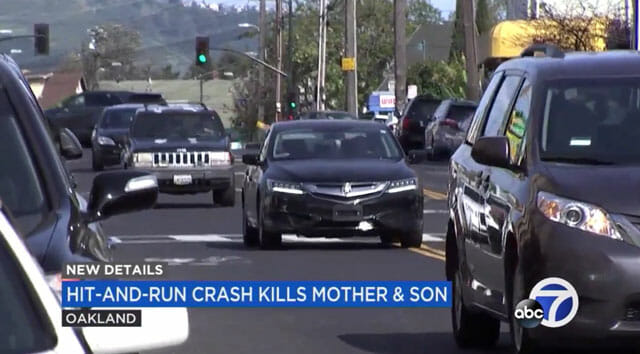 Paramedics arrived on the scene around 7:25 p.m. and attempted to revive Ángel, but they were unable to save the little boy. Anselmo's wife did not survive either. His 19-year-old brother, Jaime survived and according to ABC7 was in critical condition.
"In that moment I ran to my kid, I ran to my wife, I ran to my brother," Anselmo said. "I didn't know what to do."
#ABC7Now | Anselmo Garcia ran out of his house and found his wife, son, and 19-year-old brother laying on the street fighting for their lives after being stuck by a car.

"I'm really broken, my heart. I have two kids left. I lost half of my family. I need help" @abc7newsbayarea pic.twitter.com/PYRnIf59no

— Luz Peña (@LuzPenaABC7) April 15, 2019
While Anselmo, who also has an 11-year-old son and a 1-year-old daughter, grieved the loss of his wife and 6-year-old son, his community worked to make sure the family didn't have to worry about the cost of a funeral.
The principal at International Community Schools, where Ángel was a kindergartner, created a GoFundMe to help the family. In a week, the community has donated more than $50,000.
Although the money will help Anselmo cover funeral expenses, it will not bring back his wife and son.
"I need justice for my family," he told ABC7.
Police have identified a suspect and have enlisted the public's help for information. However, the community still wants more to be done to prevent future tragedies like the one that took Alma and Ángel's lives and left Jaime in critical condition.
"It's a long distance from 28th to 23rd with no lights or stops or anything," Johanna Masis said. "Something needs to happen."
If you believe justice won't be served until something is done to make the intersection where Alma, Ángel, and Jaime were hit safer for pedestrians, share this article on Facebook.