King Charles and his wife, Queen Consort Camilla, will be crowned in less than two months. Of late, the couple have been busy with their royal duties, and on March 13, the royals gathered for the yearly Commonwealth Day service at Westminster Abbey.
King Charles and Camilla were there alongside Prince William and Kate Middleton – the future Queen wore a beautiful blue dress for the occasion.
Yet when Camilla was about to enter the famous Abbey, the wind took hold of her hat and dress. Suddenly, Camilla was living out her own Marilyn Monroe moment. But it turns out this isn't the first time it has happened – nither to her nor a Royal Family member.
READ MORE
For the Royal Family, the Commonwealth Day service was the first major joint appearance of the year. King Charles and the Queen Consort were joined by Prince William and Kate – the Prince and Princess of Wales – Princess Anne and Vice Admiral Sir Timothy Laurence, and Prince Edward and Sophie – the Earl and Countess of Wessex. When King Charles arrived at the service, he received a traditional New Zealand Maori greeting of touching noses.
Still, while those pictures make for interesting viewing – they're nothing compared to what nearly happened to Camilla while she was entering Westminster Abbey.
The Queen Consort had her own Marilyn Monroe moment, but fortunately the dress stayed down. As per reports, this isn't actually the first time it has happened to her.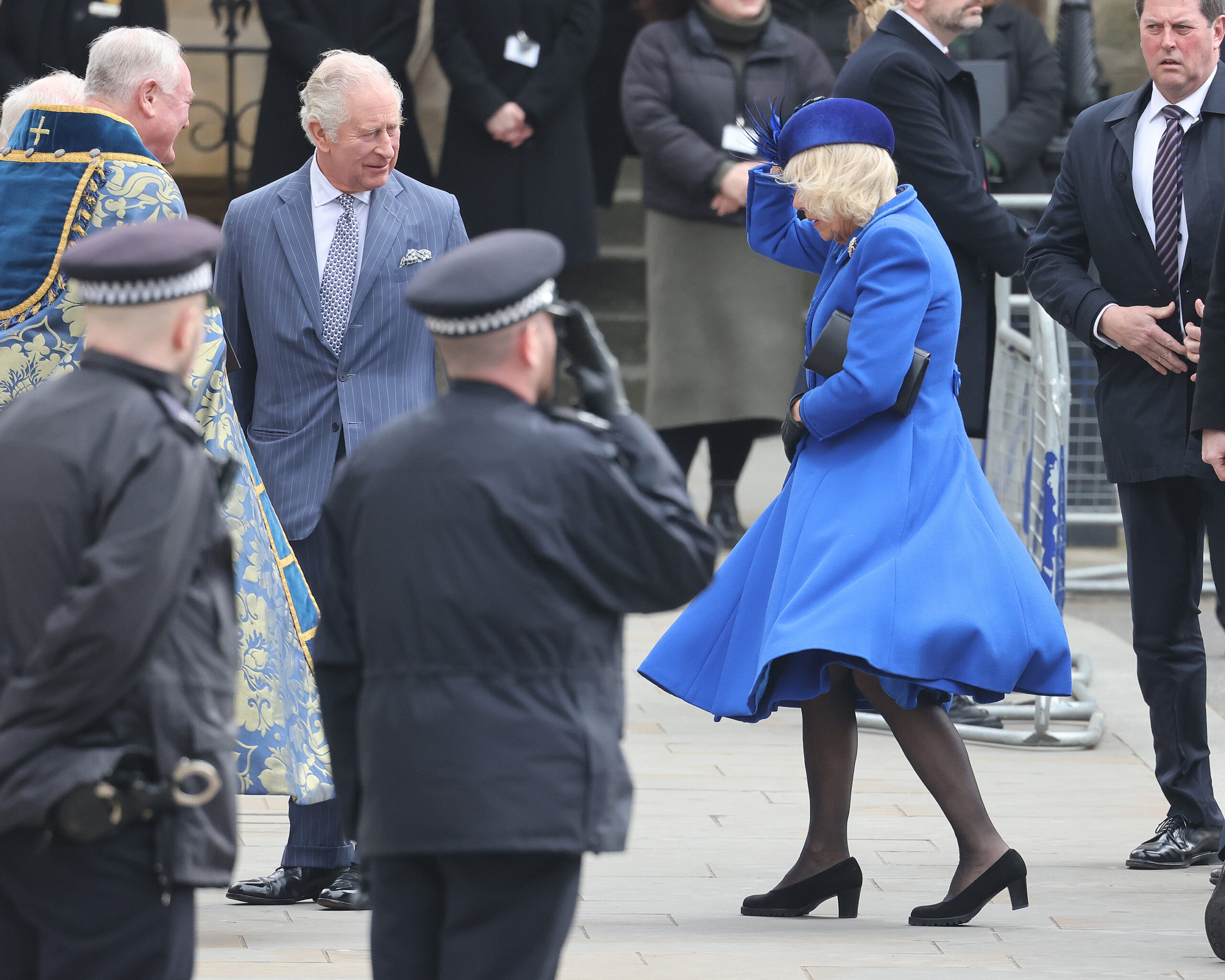 When Princess Charlotte was christened at the Church of St Mary Magdalene in Sandringham, Norfolk, Camilla experienced another Marilyn Monroe moment when a strong gust of wind threatened to lift her dress.
The story of the legendary Marilyn Monroe dress scene
So what's the story behind Marilyn Monroe's famous pose?
The legendary scene from Seven Year Itch was filmed on September 15, 1954, with Marilyn Monroe standing on a subway grate in New York City wearing a white dress and fighting an upward breeze. As reported by The Guardian, it was filmed one hour after midnight on the corner of New York's Lexington Ave and 52nd Street. It became one of the most iconic scenes in film history – Marilyn had to shoot the scene 14 times over the course of three hours.
So why did they have to retake it so many times? Well, between 2,000 and 5,000 spectators and around 100 photographers reportedly surrounded the set – and whenever the skirt blew up, they all cheered loudly. Marilyn Monroe, of course, didn't want to show too much; she made sure to wear two pairs of underwear so as to fully protect her modesty.
Due to the reactions of the gathered crowd, the footage couldn't be used due to the audio quality. The original footage was later used in promotions and ads, but the scene from the movie was re-shot at the Fox studio lot in California.
Designer William Travilla created the legendary Marilyn Monroe dress. Even though he once dismissed his creation as "that silly little dress," no one can deny how iconic it is.
In 2011, the Marilyn dress sold for $4.6 million. Debbie Reynolds first purchased it in 1971 for $200 – it was sadly auctioned off after she went bankrupt.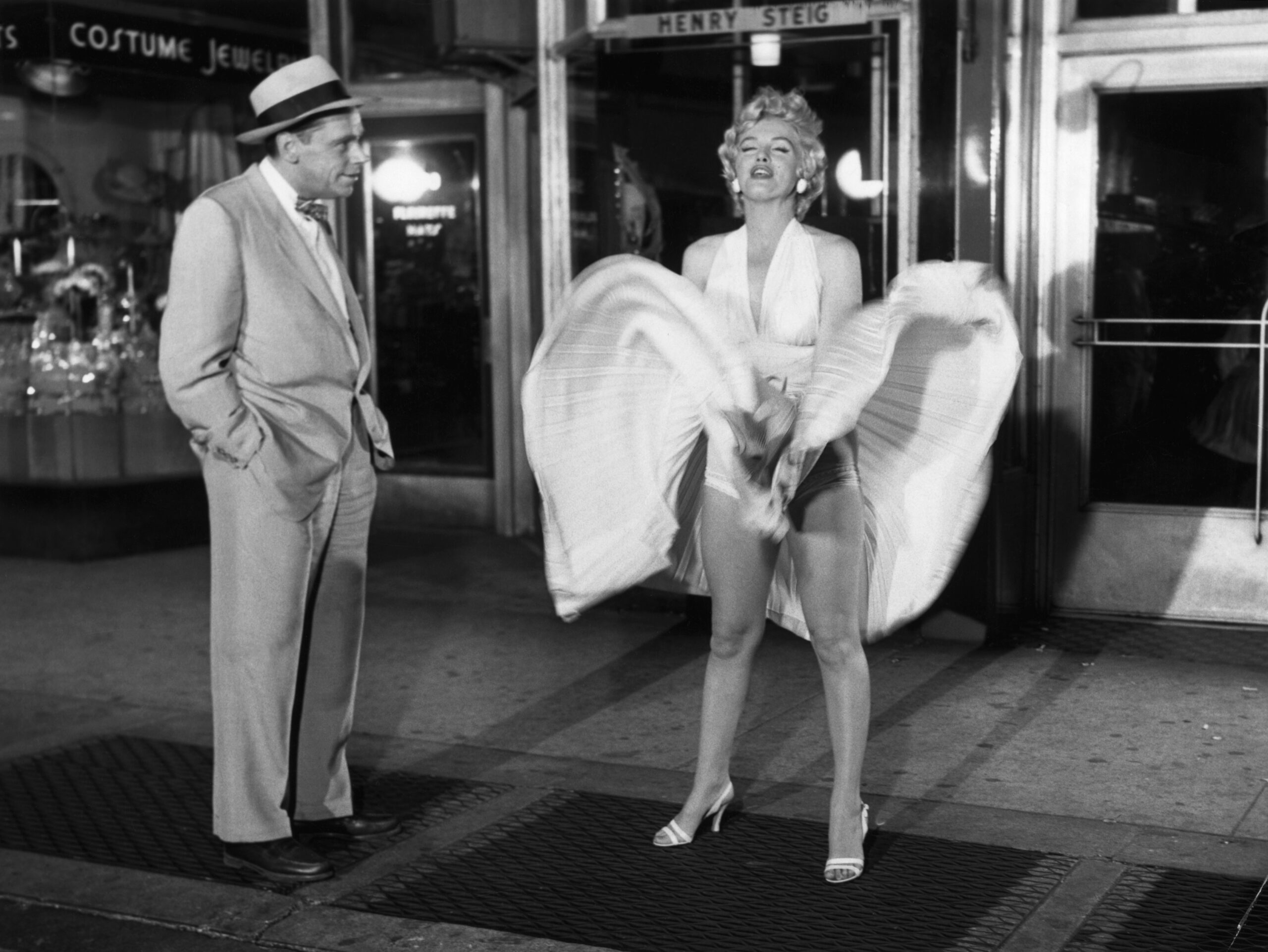 King Charles and Camilla pays tribute to the late Queen Elizabeth II
During the Commonwealth Day Service, King Charles delivered his Commonwealth Day Message from the Great Pulpit. He spoke on subjects such as climate change – and also paid tribute to his late mother, Queen Elizabeth II, and how much the Commonwealth had meant to her.
"In succeeding Her Majesty as head of the Commonwealth, I draw great strength from her example, together with all that I have learnt from the extraordinary people I have met throughout the Commonwealth over so many years," King Charles said.
He added: "Commonwealth Day was an occasion of particular pride for my beloved mother, the late Queen, a treasured opportunity to celebrate our Commonwealth family, to whose service she dedicated her long and remarkable life."
King Charles later hosted a Buckingham Palace reception for the Commonwealth Secretary-General, High Commissioners, Foreign Affairs Ministers, and other members of the Commonwealth community.
The Commonwealth Day Service at Westminster Abbey has been held since 1972 and has a very special place in the hearts of the Royal Family. In recent years, it's taken on even greater greater significance.
The occasion became extra famous for being Harry and Meghan's last formal royal engagement before they stepped down as working royals in March 2020. Moreover, this year's event marks the first Commonwealth Day Service since the Queen passed away, although she didn't attend last year given her ailing health.
Now, as mentioned, Camilla has reportedly had several Marilyn Monroe 'moments', but she isn't the only royal to fall victim.
Dressing accordingly has always been vital for the royals and breaking royal protocol is not always appreciated.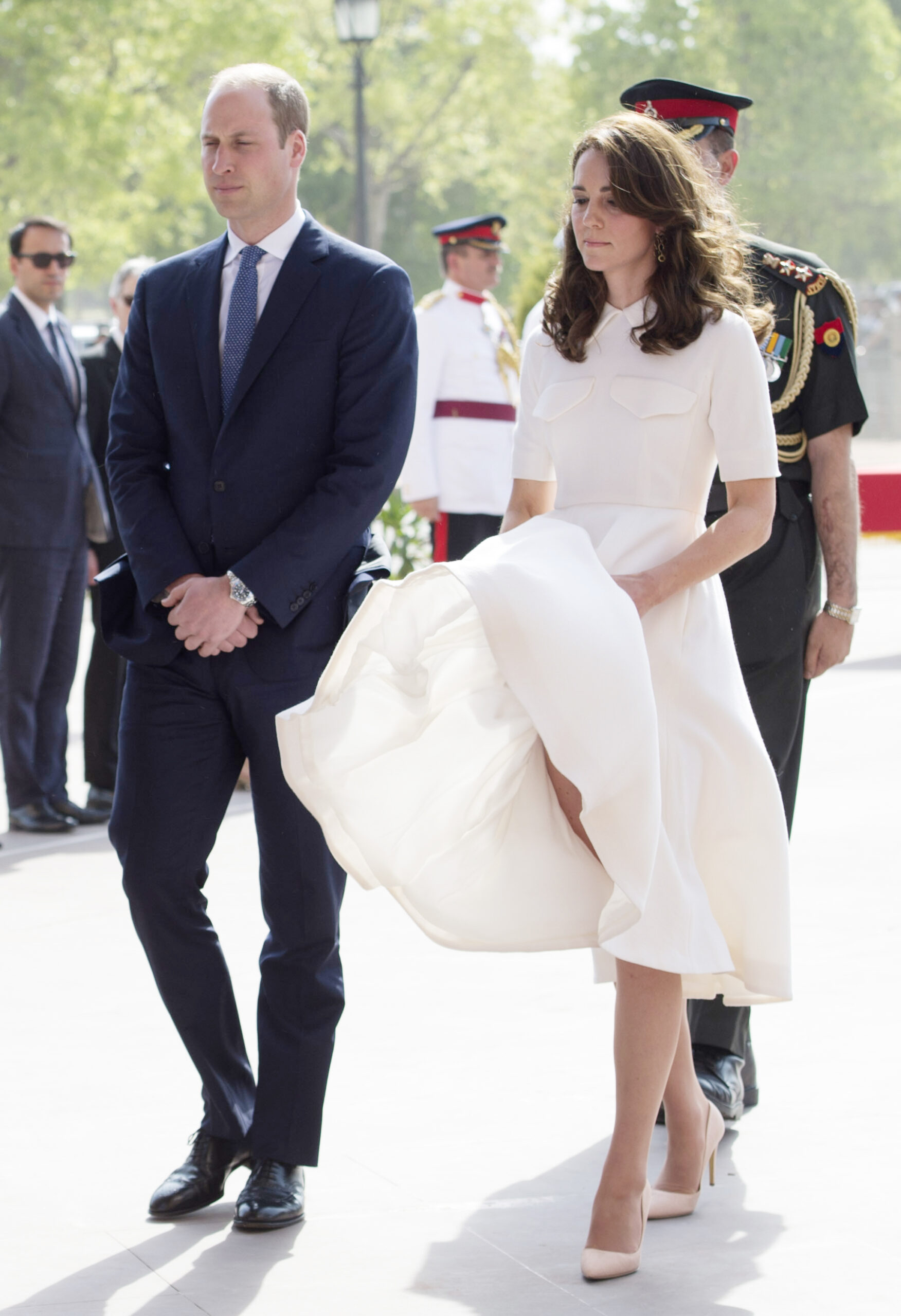 The fact that Kate Middleton decided to do just that reportedly left the Queen "fed up" with her granddaughter-in-law on occasion. Several times, Kate's skirt was said to have flown up while in the process of performing her royal duties.
Kate Middleton's own "Marilyn moment"
In September 2012, she was caught out by a sudden gust as she changed planes in Brisbane, Australia, revealing a bit too much of her back. Moreover, when she and William ended their Canadian tour in 2011, her dress was caught in the breeze, nearly giving fans an eyeful.
It happened once again in 2016 while she was laying down a wreath at the India Gate in the Indian capital of New Delhi. Then again in 2019, while she was doing archery in Bhutan.
Kate's dress had flown up several times during the trip to Bhutan. Apparently, the Queen had always used the clever trick of having curtain weights underneath her skirt to prevent it from happening. Maybe that's something for both Camilla and Kate Middleton to consider as well?
READ MORE
What's more, Her Majesty had reportedly told Kate about the secret weapon. Reports, however, suggested Kate hadn't listened – and the Queen was frustrated as a result.
"The Queen is fed up that Kate hasn't heeded advice to have her hems weighted to prevent her skirts flying up," a Buckingham Palace insider told the Daily Star back in 2019.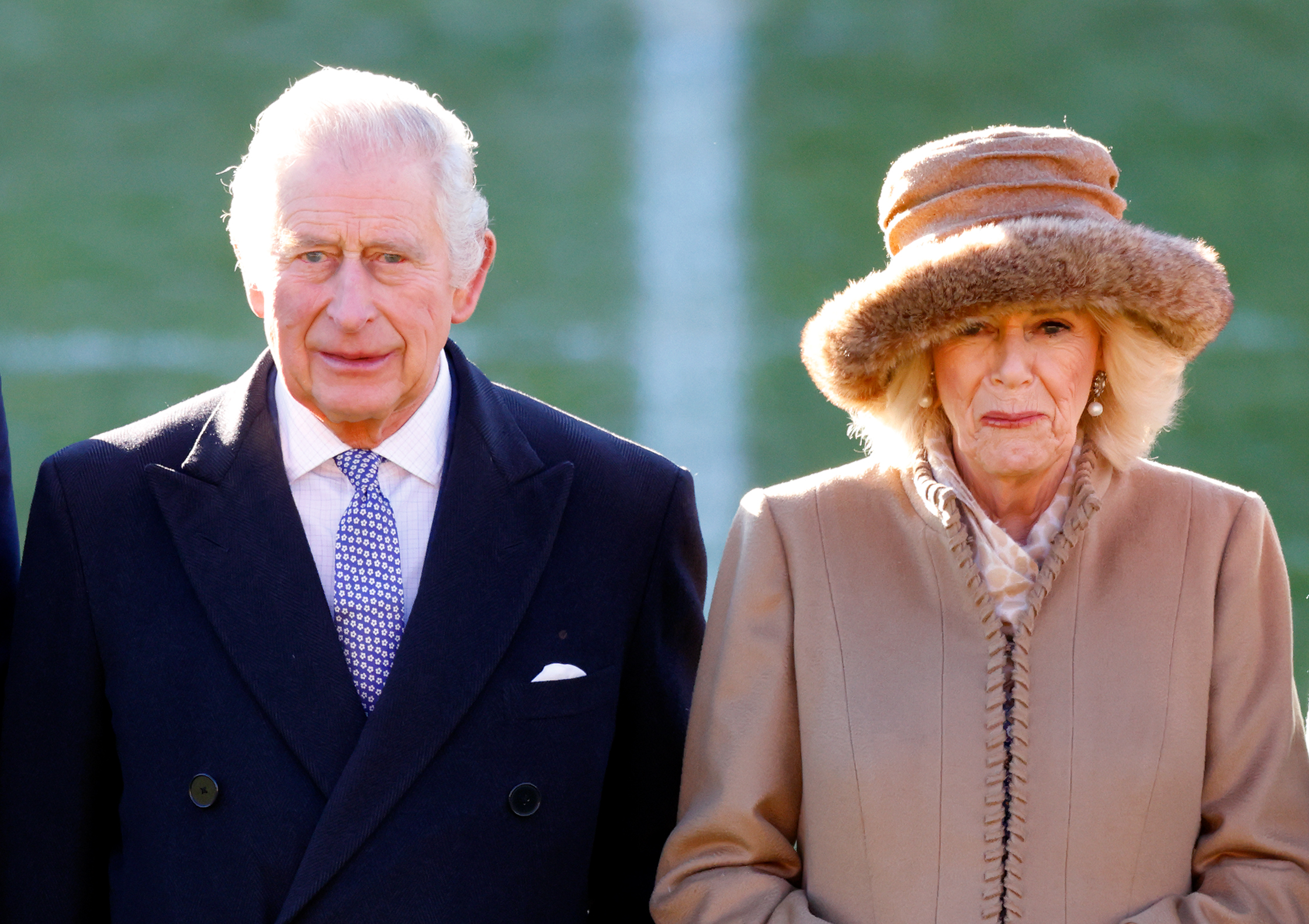 In less than two months, King Charles's coronation will take place in Westminster Abbey. Plenty of royals and celebrities will be in attendance, though the central talking point where the guests are concerned is if Prince Harry and Meghan Markle will be there after the past few months of attacks on the Royal Family.
Camilla's grandchildren to get important role at coronation
It has been reported that Prince George, son of Prince William and grandson of King Charles, will have some sort of role in the coronation. New reports also suggest that Camilla's grandchildren might be involved.
Camilla has two children, Tom Parker Bowles and Laura Lopes. She has five grandchildren; Tom's two children, Lola and Freddy; Laura's daughter Eliza, and twins Louis and Gus. It has previously been revealed that they call her by her nickname, "GaGa."
According to the Daily Star, Camilla has suggested that Lola and Eliza, both 15, as well as Freddy and twins Louis and Gus, all 13, could hold the canopy above her head as she is anointed with holy oil.
However, royal expert Kinsey Schofield says that Camilla might be taking a step too far away from royal tradition by doing so.
Schofield also claims that Camilla's plan for having her grandchildren play a significant role in the coronation might go under the radar, as much of the discourse appears to be about Harry and Meghan.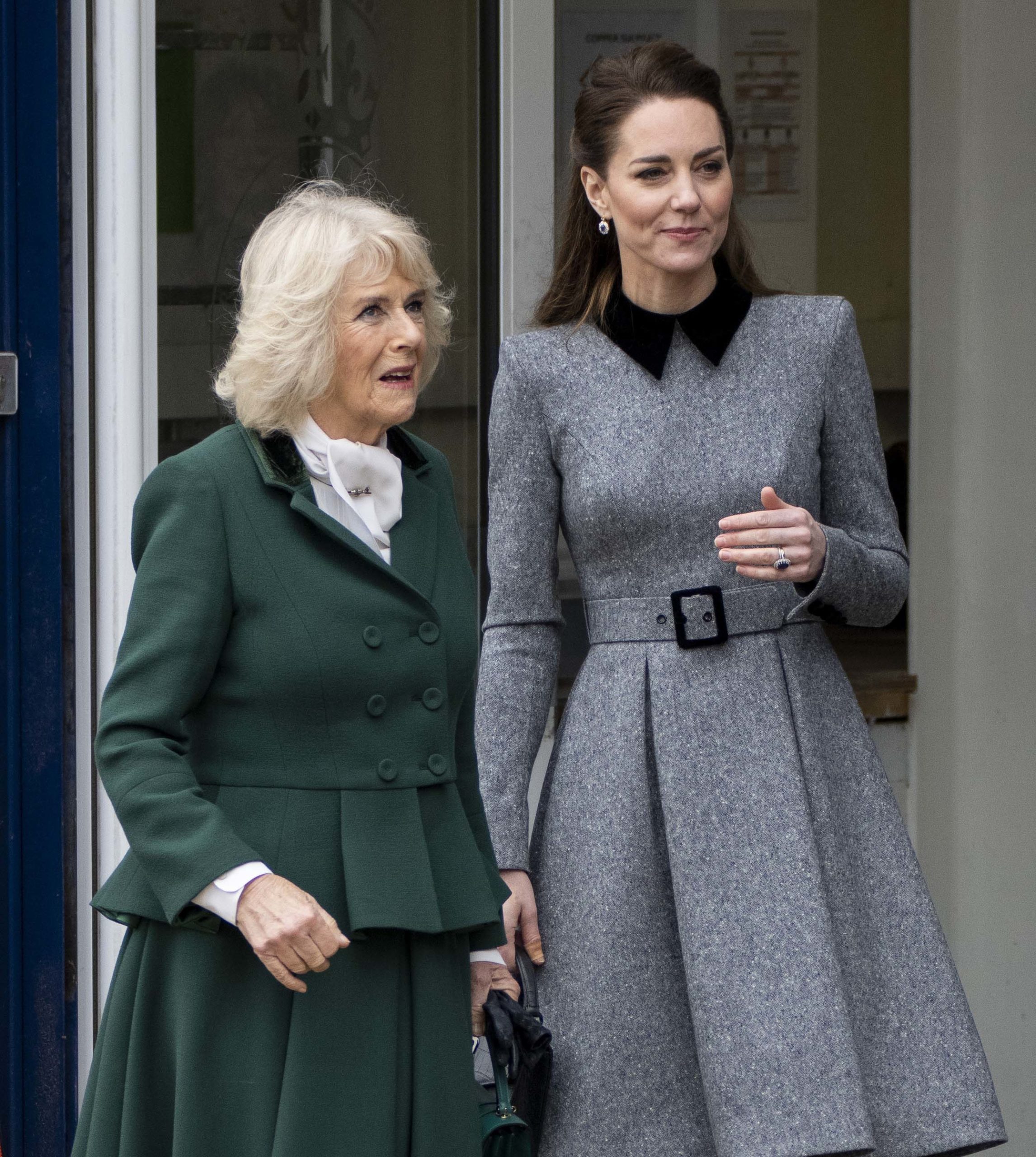 "I can't help but ask myself after reading Spare, if much of the hype surrounding Harry and Meghan's 'will they/won't they' coronation plans is a buffer to distract from stories like dropping the word consort or including Camilla's grandchildren… but not all of the King's," Schofield told the Daily Star.
"You will anger and disappoint a significant amount of people"
She added: "The Royal Family's value is in their traditions. Traditions and ceremonies that the world envies. When they sway too far from those customs, you will anger and disappoint a significant amount of people that feel like those actions strip away at the mystique."
No one yet knows if Harry and Meghan will be at the coronation. They have officially been invited, but word is not yet out whether they will say yes.
Though Camilla's grandchildren have gotten more attention in recent years, Schofield suggests that they won't interest the royal fans watching.
"Camilla's popularity may have increased, but that doesn't necessarily mean there will be any interest in her grandchildren," the royal expert said.
"Nepo babies obviously exist, but if you look at the success of Princess Diana's nieces, Ladies Kitty Spencer, Amelia Spencer, and Eliza Spencer… they all share a striking resemblance to their Aunt Diana, who is universally adored."
Kinsey Schofield concluded: "I think people have come to accept Camilla but likely don't love and respect her the way they did Queen Elizabeth or Princess Diana. I also don't think Camilla cares. She is perfectly content at where she is at in her life. She is happy with her heart."
Please, share this article on Facebook with friends and family if you also enjoy reading about the Royal Family!