Gabby Petito told police she had been assaulted by fiancée Brian Laundrie days before her disappearance, newly-released bodycam footage shows.
The 22-year-old Long Island native was reported missing by her family on Sept. 11. She had been traveling with Laundrie on a cross-country trip but he returned home without her on Sept. 1.
Police have been looking for 23-year-old Laundrie since his parents reported him missing on Sept. 17, three days after he told them he was going on a hike to the reserve.
Gabby Petito's body was found in Grand Teton National Park in Wyoming and the FBI confirmed she died by homicide.
Bodycam footage had been previously released which showed officers stopping the couple following a 911 call from a witness saying he had spotted a domestic dispute in downtown Moab and Arches National Park.
"The gentleman was slapping the girl… they ran up and down the sidewalk, he proceeded to hit her and then they drove off," the male witness told the 911 operator.
In the first video released from one of the officers Gabby is crying sitting in the back of the patrol car while Brian is smiling and calmly talking with the officers.
Now new footage from another officer at the scene, the entrance of Arches National Park in Utah, has revealed more about the incident.
Speaking to the responding officers, Petito alleged she had been struck by Laundrie during an argument on Aug. 12 before quickly backtracking and claiming she struck first, according to Fox News.
Laundrie then said he'd 'pushed away' his fiancé, telling the officer, "She gets really worked up, and when she does she swings and she had her cell phone in her hand. So I was just trying to push her away."
When the officer asked Petito if Laundrie had hit her, Petito, with a visible mark on her face, appeared to take the blame for the incident saying, "I guess… I guess, yea. But I hit him first."
Upon being asked to clarify where Laundrie hit her, Petito said he grabbed her "with his nail" but "didn't like hit [her] in the face" adding, "He didn't like punch me in the face or anything."
She added, "Well he like, grabbed me with his nail, and I guess that's why it looks, I definitely have a cut right here. I can feel it, when I touch it it burns."
Petito told officers Laundrie "got really frustrated" with her, "locked [her] out of the car" and told her to "go take a breather".
She continued, "But I didn't want to take a breather. And I wanted to get going. We're out of water."
The officer asked the 22-year-old if there was "something on [her] cheek", adding, "Did you get hit on the face?", to which Petito says she was "not sure" and that she was just trying to get into the car.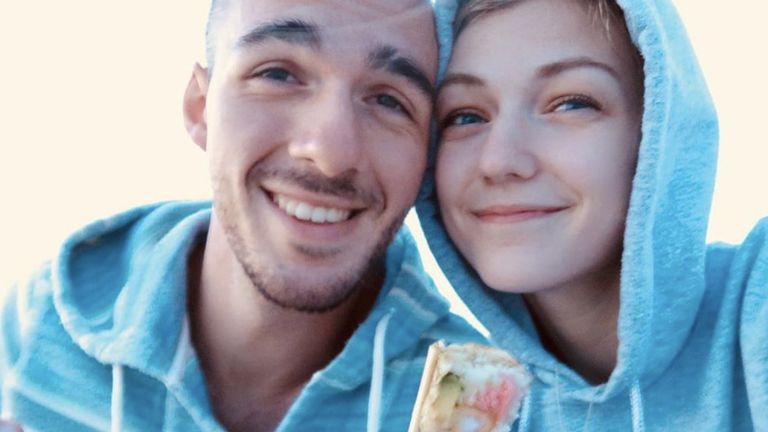 Police filed no charges after the couple portrayed Petito as the aggressor in the incident – a story officers appeared to believe.
Instead, officers decided to separate the couple for the night booking Brian a hotel room in town through a nonprofit for survivors of domestic abuse. It's not known if Brian spent the night in the hotel room.
The FBI has obtained an arrest warrant for Brian Laundrie, on a charge of one count of use of unauthorized access devices — namely a Capital One debit card, according to court papers.
"On Wednesday, September 22, 2021, the US District Court of Wyoming issued a federal arrest warrant for Brian Christopher Laundrie," a statement from the FBI Denver Division said.
The warrant alleges Laundrie used the card "on or about August 30, 2021, through and including on or about September 1, 2021" in Wyoming and elsewhere and "obtained things of value aggregating to $1,000 or more."
The more footage of the police stop that comes out the more tragic this case gets as we see a very frightened and distressed Gabby Petito seemingly trying to protect Brian Laundrie.
I hope Laundrie is found soon. Please share.