A Virginia police officer has been fired after an internal investigation revealed Lt. William Kelly donated and expressed support for Kyle Rittenhouse.
"Chief Larry Boone and I have concluded Lt. Kelly's actions are in violation of City and departmental policies. His egregious comments erode the trust between the Norfolk Police Department and those they are sworn to serve," Chip Filer, Ph.D. City Manager said in a statement.
"The City of Norfolk has a standard of behavior for all employees, and we will hold staff accountable."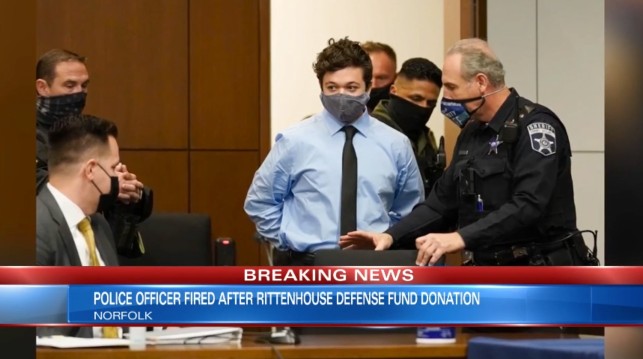 Kelly was initially placed on administrative leave on April 16 after reports surfaced that the Norfolk, Virginia police officer made a donation and expressed his support for Rittenhouse.
Rittenhouse, who was 17 years old at the time, is accused of shooting and killing two people and wounding another during a Black Lives Matter protest in Kenosha, Wisconsin. He is currently facing two felony homicide charges and one felony attempted homicide charge.
According to The Virginian-Pilot, police learned of the donation when a crowdfunding website was hacked and an anonymous $25 donation to Rittenhouse's legal defense was tied to Kelly's work email address.
A comment also reportedly accompanied the donation.
"God bless. Thank you for your courage. Keep your head up. You've done nothing wrong," Kelly wrote allegedly wrote. "Every rank and file police officer supports you. Don't be discouraged by actions of the political class of law enforcement leadership."
"We do not want perceptions of any individual officer to undermine the relations between the Norfolk Police Department and the community," Chief Larry D. Boone said. "I ask the community to continue to support the officers of the Norfolk Police Department as in the past knowing that right now, at this moment, they are continuing to serve and protect them."
This makes me so angry. How could an officer of the law support someone accused of killing two people and injuring another?
I'm glad that the city of Norfolk took action against this officer.
Share if you want to see police officers held accountable for their actions.