Jane Fonda has had a life full of adventures. The legendary actress grew up with her famous dad Henry Fonda, and throughout the course of her own time on this earth, Jane has grown into a true star.
Not only that, but Jane has been involved in many relationships, including three marriages. Now, at age 83, she's single and happy, and doesn't want another sexual relationship.
She went on record recently to explain that there might be one exception. If there's a younger man involved, Jane might reconsider.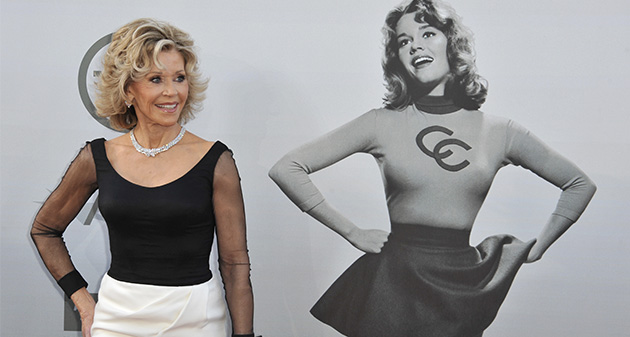 Even though Fonda has stood on some of the world's biggest stages, and is recognized as one of the all-time greats, she's spent large parts of her life helping other people.
She's won many major awards, including Academy and Golden Globe Awards. But at the same time, Fonda has been a quite controversial figure because of her devotion to different social causes, both national and domestic.
Jane Fonda – early life
Lady Jayne Seymour Fonda was born on December 21, 1937, in New York City. As a young girl she was an entertainer who always acted. But Jane Fonda's acting wasn't just about her love for the profession. Rather, it was about fitting in.
"As a child, climbing trees was my thing. At the top of an oak tree, I could hear triumphal music, and I could see myself, like Joan of Arc, leading armies up the side of a hill. I was a conqueror," she told Oprah.
"Then when my family moved to Greenwich, Connecticut, I became this itty-bitty little thing. And all I thought about was being too fat and too shy, and the tomboy turned into someone who was trying to figure out how to fit in and look girlish, and it was horrible.
"So the second part of that first act was about being popular. Being loved. Becoming an actress. Trying to be loved by multitudes if I couldn't be loved by one.My second act was about becoming an activist," she added. "That took me closer to my core. And the third act is about finding my voice. It's about who I really am on my own, not in relation to somebody else or in trying to please somebody."
Jane Fonda's father, Henry Fonda, is recognized as one of the biggest movie stars in history, having enjoyed a career that spanned over five decades. For Jane, though, she didn't get the father she needed, especially after her mother took her own life.
Passing of father Henry Fonda
Besides fighting to get the approval of her father, she also battled bulimia up until her mid-thirties. Henry Fonda passed away in 1982, when Jane was 44 years of age.
"My father didn't verbalize much, but I knew he had regrets, and I don't want to," Jane Fonda says.
"I want to have people around me who really love me, whom I really love. And I know that you can't collect those chips unless you've earned them during your life. What that said to me was that I had one act left to make sure I didn't get to the end with regrets.
"What would I regret the most? My big regret would be if I'd never had an intimate relationship. But if you never grew up with intimacy, if you were never with parents who really loved each other, and you never saw that and absorbed it as a kid, it's hard to know how to do it."
Jane Fonda went to Vassar College, but decided to leave for Paris to study art. Upon coming back to the US, she did some modeling, before joining her father in the acting business.
In 1954, Jane Fonda co-starred with her father in a The Country Girl production. Six years later, she made her film debut in Tall Story.
Acting career
Jane Fonda loved the theater, receiving a Tony Award nomination for her performance in There Was a Little Girl. At the same time, though, she slowly gravitated towards the film business. Once there, she quickly became a super star.
Tall Story was Fonda's breakthrough, and soon after, her career skyrocketed. In 1969, she received her first Academy Award nomination for her performance in They Shoot Horses, Don't They. Two years later, it was Jane Fonda's turn to get up on stage.
She won her first Academy Award for Best Actress in a Leading Role in the thriller Klute, starring alongside Donald Sutherland. Over the next 15 years, Fonda was nominated for an Academy Award an additional seven times, winning her second Oscar statuette in 1978 for Best Actress in a Leading Role in Coming Home, which co-starred Jon Voight.
Fonda continued to deliver strong performances on screen, but at the same time as she rose to fame, she was also involved in political and social activism.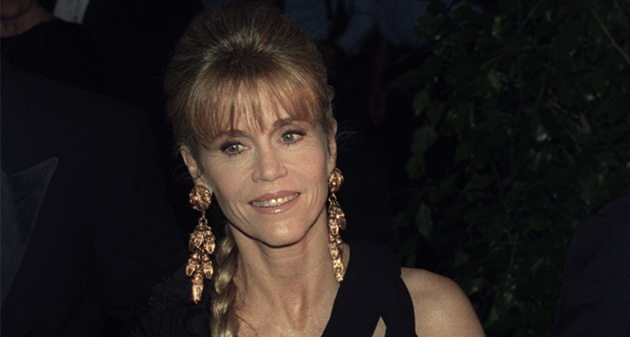 During the Vietnam War, she travelled to North Vietnam during the height of the anti-Vietnam War protests, posing for photos next to an anti-aircraft gun. For this, she was heavily criticized. She later repeatedly apologized for posing for the photos, which gave her the nickname "Hanoi Jane".
Jane Fonda – awards
Fonda has made a big impact off-screen by creating different organizations to support women's equality, as well as prevent teen pregnancy. In 1982, she released a workout video, and was also active on behalf of different liberal political causes.
During her long and celebrated career, Jane Fonda has also won seven Golden Globes. The eighth one, which she took home this past week, was something special indeed.
During the 2021 Golden Globes, Fonda was honored with the Cecil B. DeMille Award, which is given annually to an "individual who has made an incredible impact on the world of entertainment."
Stars like Tom Hanks, Oprah Winfrey, Meryl Streep and Lucille Ball have been honored with the award in the past. Fonda is the 16th woman to receive the award, which is the association's highest honor for a film professional. It has been given out since 1952.
"He would be very proud of me," Fonda said backstage about her father, according to PageSix. "I feel that he is here. I feel his spirit."
Active lifestyle
Jane Fonda didn't only get plenty of attention for her speech. The now-83-year-old once again – like many times before – was praised for her amazing outfit. It turned out there was a reason for her wearing that exact suit.
Instead of just stopping altogether, one should adjust their workouts to be age-appropriate, she claims. Instead of running, one can, for example, walk instead. One can also continue to lift weights, but use lighter weights and move at a slower pace instead.
"Keeping your body active is absolutely critical. If you're in a wheelchair, move your arms," she said.
Jane has proven to have an incredible gusto for life and seemingly limitless amounts of energy. At 83, she's still not ready to retire.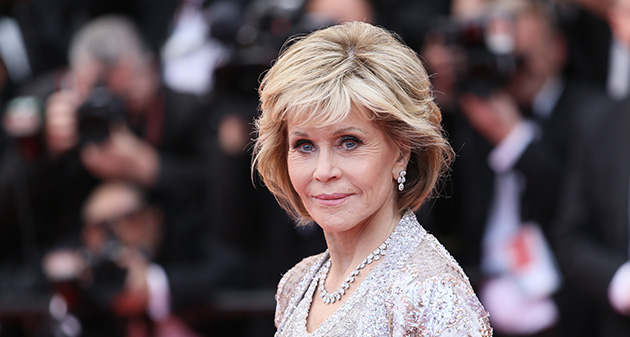 "I support other people besides myself and I need to bring in money. Plus, it's fun. I never would have thought that at my age I could say I've been working too hard to spend time pampering myself, but I'm happy to say that's the case."
Jane Fonda – relationships
However, Jane is quick to point out that she does not take her energy for granted.
"If you had told me when I was 20 or 30 that I would still be acting at 80 on a show like Grace and Frankie, I would have said, 'You're out of your mind,' " she told Ellen DeGeneres. "I didn't think I'd live this long. Every day I get up and I want to pinch myself. I feel very blessed."
Jane Fonda's been married three times. Her last marriage ended in 2001, when she and Ted Turner got a divorce after 10 years together.
Since then, Fonda's been dating music mogul Richard Perry. However, the couple split in 2017. As of today, she's certain she won't be tying the knot again.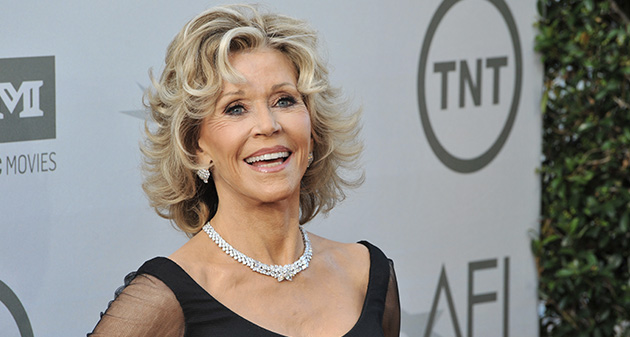 "I'll tell you something that I haven't achieved, which is a successful marriage," Fonda told People. "But the second part of your question is, 'Do you want to?' I don't want to."
Jane Fonda's sexual relationships
Fonda's been enjoying her time on her own, doing things exactly how she wants to do them.
"I'm not threatening anybody. I can watch whatever I want on TV. So I don't ever want to be married again. But it's something I wish I'd been better at," she added.
When you get older, some things are tougher. It might not be as simple as it once was to run and try to catch the bus, or do other demanding things which require some sort of physical strength you had when you were younger.
But relationships, which most times also include sex, will never be exclusively for the younger generation.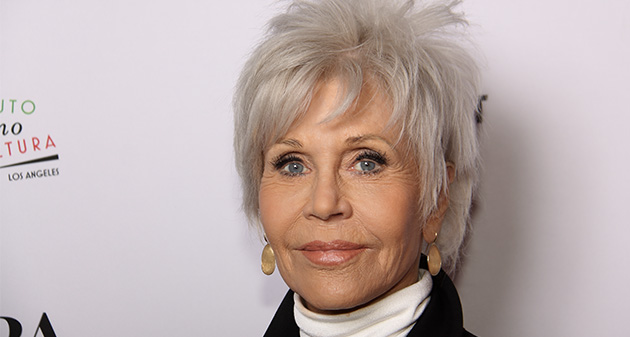 Jane Fonda's turned 83 and she's had her fair share of relationships and marriages throughout the course of her life. Now though, speaking to Harper's Bazaar, the legendary actress says that she is not looking for another sexual relationship.
"I would want a younger man"
But if she were, Fonda would like to find a younger man.
"I don't have that desire," she said. "Do I fantasize? Yes … That I meet a professor or a researcher, somebody in that line who is really capable of loving, of cherishing a woman, so that I could test myself and see if I could show up.
"I think maybe now I could, but the problem is that, like a man, I would want a younger man," Fonda added. "Isn't that awful? It's a thing about skin. I would want a younger man, and I'm too vain."
As mentioned, Fonda has been married three times. Looking back on her marriages, she says she was really not the person who was capable of being intimate.
"It's not them," she told Harper's Bazaar. "It's me. If a guy had come along and said, 'Come on, Fonda, show up,' I would have run away scared. I was attracted to men who never would have done that to me because they couldn't necessarily show up themselves. I didn't know that at the time, but now I know."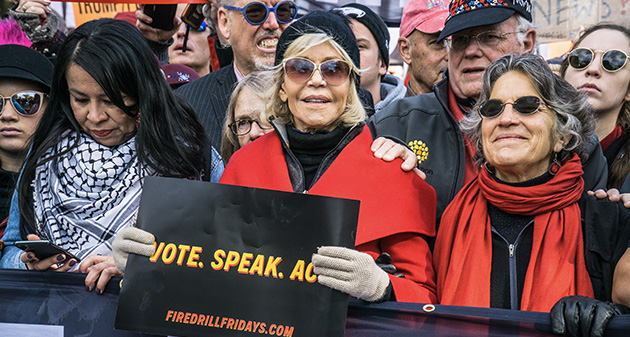 Age is just a number, and for Jane Fonda, that means that she still wants to play her part in making the world a better place.
Moved to Washington D.C
For her, it's about the next generation having a planet to live on.
Fonda's biggest passion is the climate crisis, and in October of 2019, she decided to move to Washington and launch Fire Drill Fridays, together with Greenpeace. For 14 consecutive Fridays, she, alongside other activists, rallied and participated in several acts of civil disobedience on Capitol Hill. Fonda was actually arrested five times because of the rallies
"All of these young people striking on Friday, saying, 'Come on, adults, where are you? We didn't cause this, but it's our future that's at stake. Don't let us fight for this by ourselves,'"Fonda told ABC.
"So I said, 'Right, I'm not doing enough.' I want to be able to put my body on the line and kind of role-model what the next step should look like."
Jane Fonda is a true living legend. It's amazing that despite her fame and net worth, she's still fighting for those in need. We think that's very inspiring!
Please, share this story on Facebook with friends and family to honor Jane Fonda!