As many states begin to reopen or consider the possibility easing stay-at-home restrictions, many residents have begun to express their displeasure with officials who continue to enforce the orders.
Recently, Shelley Luther, owner of Salon a La Mode in Dallas, Texas, reopened her business despite an order for non-essential businesses to remain closed.
"My stylists are not paying their mortgage. They're not able to eat like they're used to. They're having to borrow money. And it's not right," Luther told NBC DFW.
When Luther chose to open her salon, not only did customers show up, but so did local officials who gave her a citation followed by a cease and desist letter.
Despite the citation and letter, Luther opened again the following day. This time, according to reports, customers had their temperatures checked and wore masks.
"I don't want to cause any problems, but when you're out of money someone has to stand up and say that they're not helping us by not letting us work," she told WFAA.
The single mother reportedly lost all three of her jobs and chose to skip paying the mortgage on her home so she could pay the lease for her salon.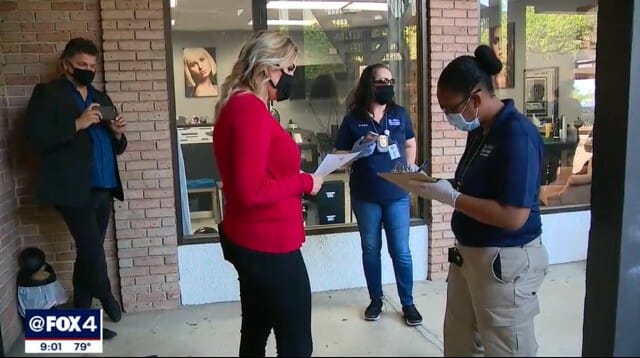 The salon owner also made an appearance at a rally where hundreds demanded Texas Governor Greg Abbott reopen the state.
At the rally, Luther spoke and tore up the citation.
"I'm not anyone special," she said. "I just know that I have rights. You have rights to feed your children and make income and anyone that wants to take away those rights is wrong."
Mimi Hawkins, a hairstylist who owns her own salon, explained that she understood Luther's reason for reopening the salon, but plans to stay home from her own job until it's safe.
"Was this privilege? Or was she moving out of fear, like a lot of people will do, if this persists on?" Hawkins said. "I would love to be able to go back and go into work. But I want to do it so when this is all said and done my license is still in place, my clients are protected and I'm safe."
A city of Dallas spokesperson told NBC DFW that the city was still determining "what enforcement action to pursue."
Abbott announced Monday that the state's current stay-at-home orders will expire on April 30 and some businesses will be allowed to reopen, though they must follow guidelines, beginning May 1.
What do you think? Was Shelley Luther right to reopen her business? Let us know on Facebook.