Being the parent of a child with disabilities is every bit as rewarding as being the parent of one without, but it does come with its own challenges.
Sometimes, those challenges can even extend to having to justify your child's disability. No, seriously. Some parents have to explain to others in what manner their babies are disabled, since some afflictions don't effect they way they appear in the eyes of others.
Mom Rachael Hanley knows a thing or two about this. She was out shopping with her two children at Meadowhall in Sheffield, England, only to be verbally set upon for parking in a disabled bay. To make matters worse, when Rachael returned to her car she found a note attached to the windscreen that said it hoped her car "is clamped".
Her response, written via a post on Facebook is taking the internet by storm …
Confrontation
When Rachael Hanley parked in a disabled bay at Meadowhall shopping center, Sheffield, she was forced to defend her actions after being told her daughter wasn't disabled.
Then, upon returning to her car later on, Rachael discovered someone had left a note pinned to her windshield.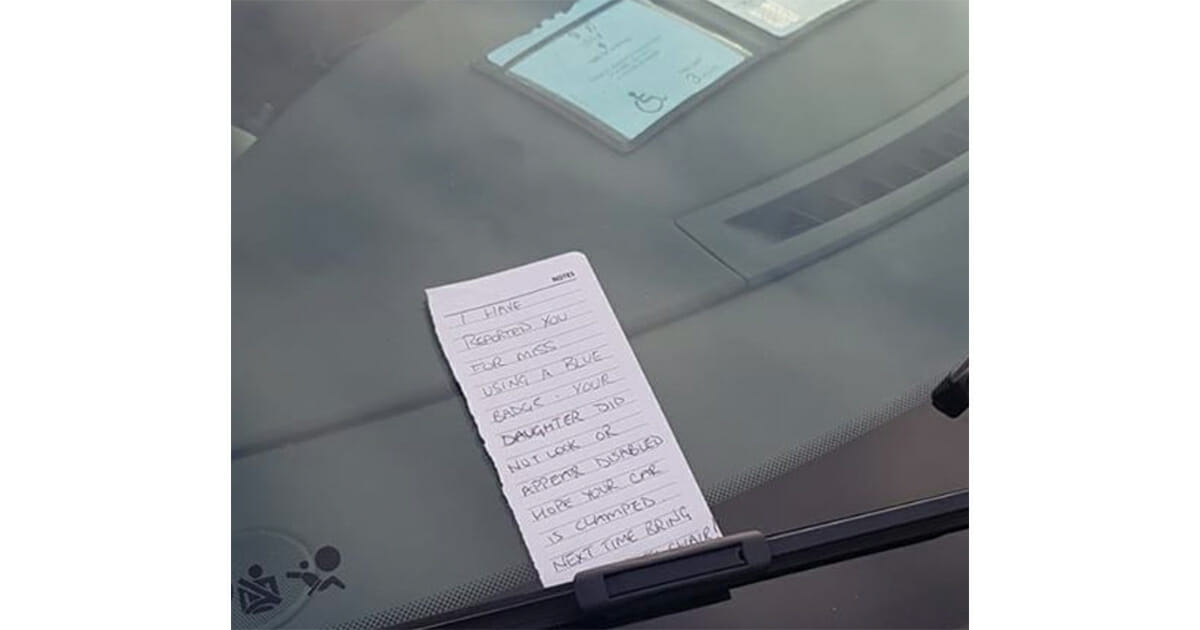 The note reads: "I have reported you for miss using a blue badge – your daughter did not look or appear disabled. Hope your car is clamped. Next time bring a wheelchair!" 
Rachael's revenge
Rachael was left understandably frustrated with the note, for her daughter suffers from a disability that isn't necessarily visible to the naked eye.
She took to Facebook to vent her anger, and her response has garnered plenty of attention.
Detailing her morning, she wrote: "ABSOLUTELY FUMING! To the person who put a note on my car this morning whilst I was at Meadowhall with my two children. Not only did you verbally abuse me when I got out of the car and was putting my son in his pram, when I returned to my car two hours later you have placed a note on my windscreen.
I had already took the time to explain why we had a blue badge (mainly to educate you that not all disabilities are visible). But had you of been at my car when I returned you would have witnessed why we have a blue badge, you would have seen Evie-Mae collapse to the floor fitting whilst vomiting and needing basic life support and then her oxygen administering. 
You would have seen she was only a few more seconds away from needing an ambulance. She may not look "disabled" or have a wheelchair but she does have additional needs. How dare you ruin our morning!"
It appears that Rachael certainly has the support of the internet, with many defending her right to feel aggrieved.
What do you think? Let us know in the comments box below!
If you support the rights of people suffering with disabilities, share this article on Facebook.