As Donald Trump stood ready to board the Marine One helicopter and waved goodbye in his last appearance as U.S. President, climate activist Greta Thunberg had the most savvy response for the outgoing president.
Posting a picture of him on her social media the environmental campaigner appeared to respond to the criticism she has faced at the hands or should I say tweets of the 45th president and recycled an old Trump tweet.
The 18-year-old Swedish environmentalist wrote: "He seems like a very happy old man looking forward to a bright and wonderful future. So nice to see!"
The tweet is reportedly a dig at Trump who had mocked Thunberg as a "very happy young girl" after her impassioned speech at the United Nations Climate Action Summit in 2019.
He went on to say in his tweet posted 2019: "So ridiculous. Greta must work on her Anger Management problem, then go to a good old fashioned movie with a friend! Chill Greta, Chill!"
His comments were met with a barrage of criticism with many objecting to him attacking a child who is trying to save the planet.
Actress Mia Farrow tweeted: "Mocking any kid is disgraceful. What an awful example you set. Apparently it bothers you that she represents many millions of children throughout the world – demanding their rightful future."
But Thunberg chose not to respond to his tweet and instead temporarily changed her Twitter bio to: "A very happy young girl looking forward to a bright and wonderful future," showing all her followers that she would have the last word.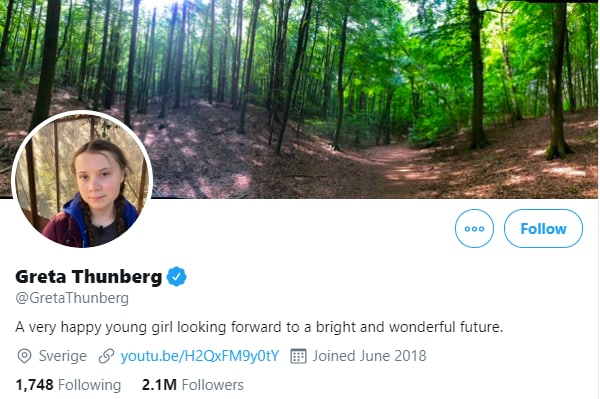 It seems she's done that again on Trump's final day in office and her response has delighted fans around the world.
"Greta you're a legend," one follower wrote, while another said: "Savage Queen."
Speaking at the United National Climate Action Summit in 2019 Thunberg accused world leaders of apathy toward climate change saying: "You have stolen my dreams and my childhood with your empty words and yet, I'm one of the lucky ones.
"People are suffering, people are dying," she added.
Just the day before the summit 4 million people had joined her in her 'School Strike for Climate' movement across 161 countries – the largest climate demonstration in history, which started with her skipping school to protest outside the Swedish Parliament to call for stronger action on climate change when she was just 15 years old.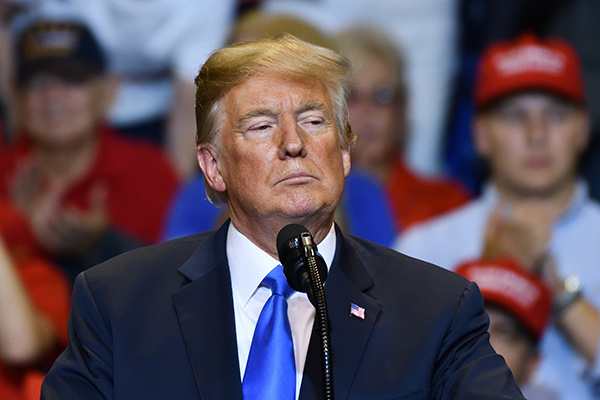 Naming her Time magazine's 2019 person of the year editors said she had "succeeded in creating a global attitudinal shift, transforming millions of vague, middle-of-the-night anxieties into a worldwide movement calling for urgent change."
The teenager from Stockholm, described attacks from people like Trump as "just funny" adding: "Because I mean they obviously don't mean anything," she told BBC Radio 4's Today program.
"Well I guess of course it means something. It means that they are terrified of young people bringing change, which they don't want. But that is just a proof that we are actually doing something. And that they see us as some kind of threat."
With Trump's ban from Twitter nobody knows what his views are on Greta's well wishes for him. Since the ban, which Facebook, Instagram, and YouTube followed, he's been uncharacteristically quiet about his next move as outgoing president.
Some reports have said he's set to start his own social media platform while others have said he will start his own political party.
Breaking with tradition, President Trump chose not to attend president-elect Joe Biden's inauguration on January 20 and instead held his own farewell ceremony at Joint Base Andrews before he flew to his postpresidental Mar-a-Lago residence in Palm Beach, Florida.
Trump boarded the Marine One helicopter waiting outside the White House, bound for Andrews Air Force Base and walked a red carpet up the stairs on Air Force One for the last time.
Delivering his final remarks to the nation Trump said: "It's been an incredible four years."
He added: "We have the greatest country in the world. We were hit so hard by the Covid pandemic but we did something that is really considered a medical miracle, and that was the vaccine. We got it developed in 9 months instead of 9 or 5 years.
"We weren't a regular administration…Job numbers have been absolutely incredible," ending his speech with: "Have a good life. We will see you soon."
Meanwhile, his Vice President Mike Pence joined Senate Majority Leader Mitch McConnell and Republican Congressman Kevin McCarthy as a number of top Republicans who chose not to attend Trump's farewell ceremony.
Instead they attended Mass with Biden at the Cathedral of St. Matthew the Apostle in Washington DC. Pence was due to attend Biden's inauguration in the afternoon, snubbing his boss's farewell ceremony.
Trump's first and only term as president comes to an end on January 20, as Joe Biden prepares to be sworn in as the 46th President of the United States and Kamala Harris as vice president, the first female vice president and the first Asian-American and the first African-American vice president.
At just 18 years old Greta is proving to be a bigger person than the outgoing president Donald Trump.
This Swedish superstar is proving over and over that nothing can deter her from her mission to prompt world leaders to enact meaningful climate change policies.
I hope Biden addresses this extremely important cause and supports her movement. Please share if you agree.