When it comes to beloved Hollywood couples, there are few who can boast the adoration and love of fans worldwide like Kurt Russell and Goldie Hawn can.
The pair, lauded just as much for their individual on-screen exploits as their heartwarming affection for one another, have been together now for almost 40 years – no mean feat in an age where celebrities seem to trade partners like pairs of old shoes.
What makes Kurt and Goldie's relationship so very special – and, we might add, so real in the eyes of the public – is their steadfast dedication to each other. They don't wield their romance as a tool to heighten their celebrity presence, nor have they ever been embroiled in scandals or publicity stunts to hijack the locomotive PR train.
Instead, theirs is a partnership that appears to be a throw-back to a by-gone era, an inspiring and very agreeable union that reminds us all what true love is really about.
Of course, hard as it is to perhaps believe, they weren't always together. No, once upon a time they were dating other people – both, in fact, have children from previous relationships.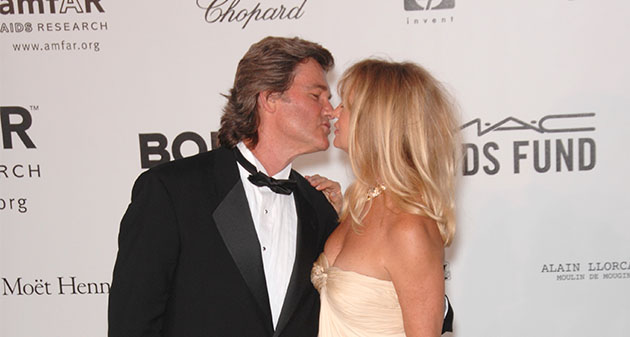 Since it's so rare to take a look back at the lives they led before they fell madly in love with one another (I mean, does anyone really remember a world where Kurt Russell and Golden Hawn weren't joined at the hip?), we decided to do some digging.
It turns out Kurt wasn't the biggest fan of Goldie's former flame, the legendary actor Burt Reynolds. What's more, he wasn't afraid to let his feelings be known.
Ever wondered how Kurt and Goldie got together? Want to know more about the pair's pasts and the circumstances that saw them commit to one another? Don't worry, we've got you covered.
Here's all you need to know about the ins-and-outs of one of Hollywood's most iconic power couples …
Celebrities or no, seeing two people in love who engage in a long and happy relationship always makes me happy.
With this in mind, the high-profile relationship that I arguably appreciate and respect the most is that of Kurt Russell, 71, and Goldie Hawn, 76.
Goldie and Kurt have been together for some 39 years. They've been superstars on the big screen during that period, but at the same time have been able to share a loving relationship and show great devotion to their family.
The couple's admirable commitment to each other is something special, and their love story throughout the years is even more fascinating.
Goldie and Kurt first met while filming The Only and Only, Genuine Original Family Band in 1966. Hawn recalled the meeting in an interview with BBC Radio 4.
"I was 21 and he was 16," Hawn said.
"I thought he was adorable, but he was much too young. Then, years later we met up again, and I remembered that I liked him very much when I first met him. We both said we would never go out with another actor so it just shows you never can tell."
However, they weren't ready to start dating quite yet. And even though one might think that Goldie Hawn was the happiest person in the world at that point, she was actually struggling.
As per reports, she battled depression behind closed doors – something she didn't come out with to the public.
Speaking on the talk show Good Morning Britain, Hawn revealed that her mental health struggles started in her early 20s.
"When I was young, I became depressed. I was 21 and I was rising to success," she said.
"I know it sounds terrible, but it's a very, very difficult thing, I didn't necessarily want that."
Goldie Hawn married actor Gus Trikonis in 1969, though the couple separated after four years. She was granted a divorce in June 1976 and married Bill Hudson just a couple of weeks later, a marriage that lasted six years.
In 1983, Russell and Hawn met again while filming Swing Shift.
This time, the charming and handsome Russell tried to impress Hawn with the pick-up line: "Man, you've got a great figure."
"I was severely hungover and I didn't know Goldie at all outside of having worked with her those many years before," Russell said in a 2017 interview with Conan O'Brien.
"I just didn't have in my mind what I was going to see, and she had a great body. So the first thing that came out was, 'Man, you've got a great figure.' It came out quickly and it could've gone wrong, and she said, 'Why thank you.'"
At the time, Goldie had two children from her marriage with Bill Hudson. Her son Oliver was born Sep 7, 1976, and daughter Kate was born Apr 19, 1979.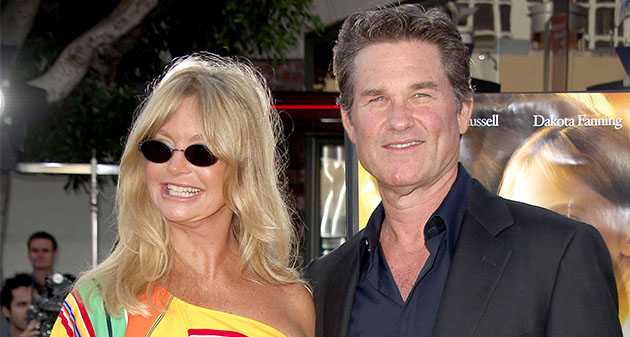 While filming Swing Shift, Kurt and Goldie went out together one night after work. He brought her to The Playboy Club, where they spent hours and hours talking.
Afterwards, they decided to move the party to a new house which Hawn had bought. The only problem? She didn't have the keys, which resulted in the two breaking in.
The police later arrived, but it made for an iconic first date. Following that, nothing could split the two lovebirds.
Today, they've been an item for 39 years, but Goldie and Kurt are still deeply in love.
Yet though deeply in love they may remain, things haven't always been a straight-forward, seamless line.
Hawn dated legendary actor Burt Reynolds for a time before she got together with Russell. They starred opposite one another in the 1982 flick Best Friends, and their on-screen chemistry quickly developed into an off-set romance.
During that time, however, Reynolds carried a reputation for being something of a womanizer. Sadly, Goldie fell victim to a trap that more than a few others had been snared by.
Reynolds later admitted that he was far from proud with the way he had conducted himself.
"I jumped from one to the other, and I certainly could have handled those situations­ better," he said.
Nevertheless, he also told how he was "crazy about" Hawn. Despite the heartbreak she suffered, Hawn admitted she loved working with Reynolds, and often told people what a lovely man he was.
When Reynolds passed away in 2018, Hawn shared photos of the pair on her Instagram account, while her daughter, Kate Hudson, posted a photo of her mother and Reynolds with her as a toddler.
"There is only One Burt Reynolds," Hawn wrote in her post.
"One! I loved our time our laughs and fun. Now your angels will giggle at your silly jokes as they hold you lightly as you rest dear one."
But though the pleutonic relationship between Hawn and Reynolds lasted long after their break-up, there was one man who wasn't nearly so charmed by the Deliverance star.
Kurt Russell was apparently "rude as hell" to Reynolds, and Reynolds himself admitted that he knew his fellow actor didn't like him. He even stated his belief that this was because he was a former boyfriend of Hawn's.
It should go without saying that things were likely icy whenever the two crossed paths, though there can be no doubting Hawn's commitment to her current partner, who she's been with for going on four decades.
Interestingly, Kurt Russell and Goldie Hawn have never married.
According to the couple, this is the reason why their bond is so strong. The kind of love and devotion they have is more than just special. And at the same time, Goldie explains that the key to a healthy relationship is not to spend every single hour together.
"We have done just perfectly without marrying. I already feel devoted, and isn't that what marriage is supposed to do?" Goldie told Woman's Day in 2007.
The couple now share six grandchildren. Via Instagram, they can regularly been seen giving their love to the smallest members of their family.
The grandchildren and children of Kurt and Goldie got to share in an amazing moment in May 2017, when the legendary actors had their names immortalized on the Hollywood Walk of Fame.
I don't know about you, but Kurt and Goldie are one of my all-time favorite Hollywood pairings.
Did you know what Russell didn't like Burt Reynolds? Let us know your thoughts about all the things in this article in the comments box.
Meanwhile, share this article on Facebook so that other fans of Russell and Hawn can read it.