Donald Trump will once again try and become President of the United States. Last week, he announced his bid for the 2024 presidential race with wife Melania at his side.
Like her husband, Melania's time in the White House was marred by its fair share of controversy. As First Lady, there were several incidents she was involved in that provoked reactions from a good many people.
Yet, interestingly, if Donald wins and returns to the White House, she might not opt to join him, according to reports.
Donald Trump announced his 2024 presidential bid at a big press conference in Florida last week. As always, he wore a suit, but it was Melania's outfit that became a huge talking point.
It turns out she didn't just wear what she wore because it looked good. No, rather it appears that there was a hidden meaning.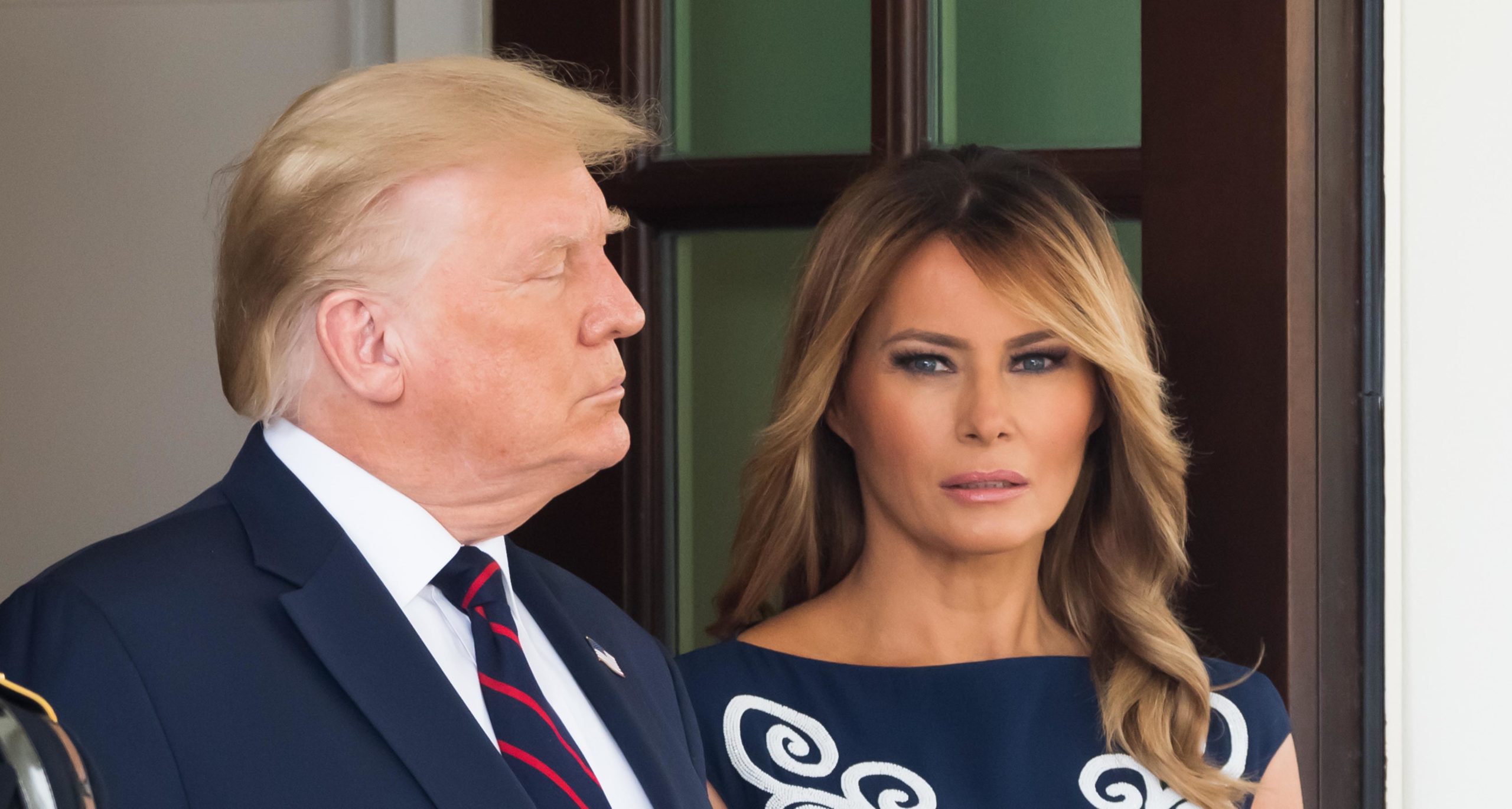 Last week, at a press conference in the ballroom of his Mar-a-Lago private club in Palm Beach, Florida, Donald Trump announced that he's running for president again.
"In order to make America great and glorious again, I am tonight announcing my candidacy for president of the United States," Trump said from his Mar-a-Lago waterfront estate in Florida, where his campaign will have its headquarters.
Donald Trump will run for President
"Two years ago, we were a great nation, and soon, we will be a great nation again. This will not be my campaign, this will be our campaign, all, together."
Trump claimed: "I have no doubt that by 2024, it will sadly be much worse, and they will see clearly what has happened and is happening to our country – and the voting will be much different."
After Donald's press conference, Melania Trump spoke to far-right Breitbart News about his decision to run for president one more time.
"I support my husband's decision to run for president of this wonderful nation," she said. "His achievements during his administration had a great effect on all of us, and he can lead us toward success and prosperity again."
Melania added: "I await the day when my husband returns to lead an America that is characterized by peace, love, and security."
READ MORE
Donald Trump and Melania had their fair share of arguments during their time in the White House. The former president admitted that Melania has had a tough time since they're return to 'normal' lives post-presidency. But he also ensured that she got her moment in the spotlight when he made his announcement last week.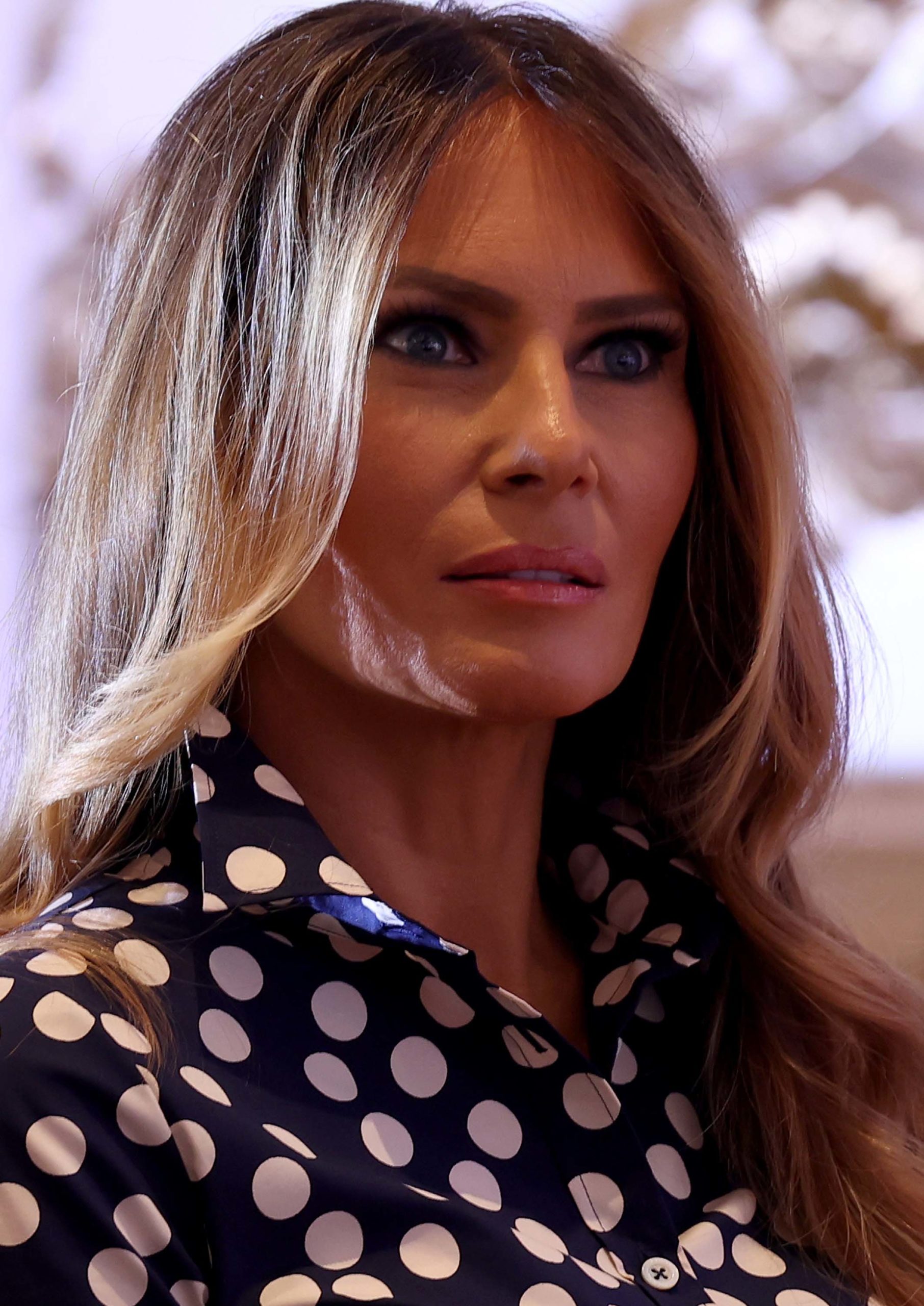 "It hasn't been a joyride for our great first lady. It hasn't been a joy ride," Trump said before welcoming Melania up on stage.
Melania Trump – the hidden meaning behind polka dot shirt
He added: "I go home and she says 'you look angry and upset' and I say 'just leave me alone'… it hasn't been the easiest thing but she has been a great first lady and people love her."
Melania worked as a model before meeting Donald. Over the years, she has developed her clothing style, and sometimes can be seen wearing costly clothes. Perhaps that's not strange, considering that she and her husband have an estimated fortune of more than $3 billion.
For Donald Trump's press conference last week, Melania wore a white pencil skirt and matching white heels. Her top was a white and navy polka dot shirt with three-quarter sleeves and a tie at the waist.
Polka dot shirts have been fashionable for decades, with legends such as Marilyn Monroe and Elizabeth Taylor being just two of many celebrities to have rocked the famous pattern in the past.
But for Melania, there may have been another, more important reason as to why she chose the polka dot pattern? Indeed, according to body language expert Judi James, the former First Lady chose it for a reason.
"The white skirt was a nod to the trait of appearing in white that she used as FLOTUS, which gave a very clean and almost innocent look," James told Express, adding that Melania's outfit was "symbolic."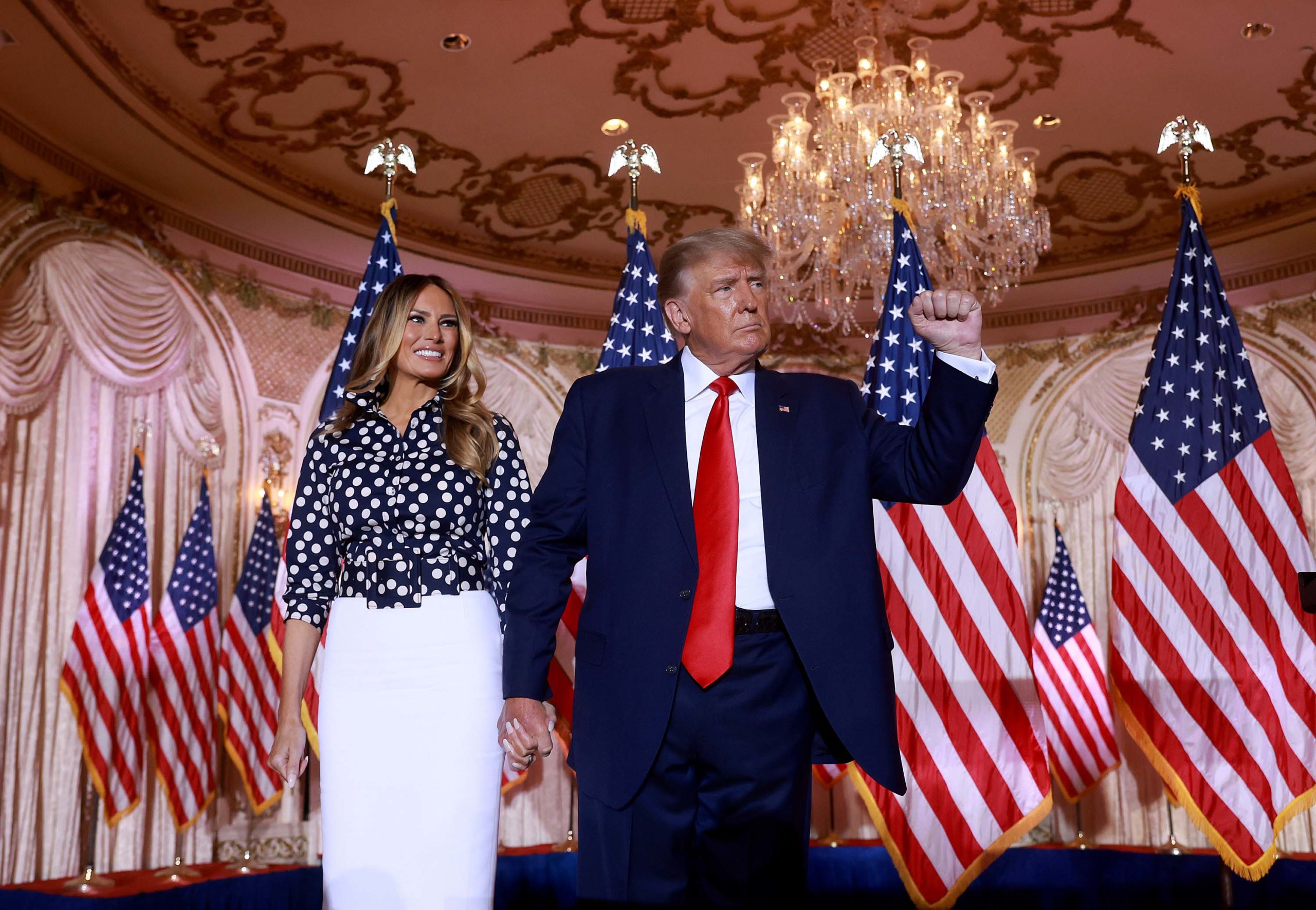 "The large polka dots are attention-seeking to suggest she is not going to be a background wife this time, with the shape of the large spots implying a sense of upbeat optimism."
"It makes you give off a sort of warm feel"
While body expert James says it was symbolic, there might even be scientific proof of its purpose.
When British royal Kate Middleton wore the polka-dotted pattern, color psychologist and director of design, Tash Bradley, explained that someone who wears polka dots wants to "portray a fun-ness, a sort of playfulness."
"When you go for polka dots, it's very playful, it opens up conversation, it makes you give off a sort of warm feel," she said, adding that the classic "color combination of black and white polka dots" display "elegance [and] sophistication." At the same time, the print adds "fun" and makes the wearer "approachable."
And while Melania's clothing supposedly conveys a specific message, her actions before the press conference have also been analyzed.
Back in 2020, while stepping off Air Force One, Melania was filmed appearing to refuse to hold her husband's hand. It sparked rumors about their relationship, especially since it happened several times during Trump's presidency.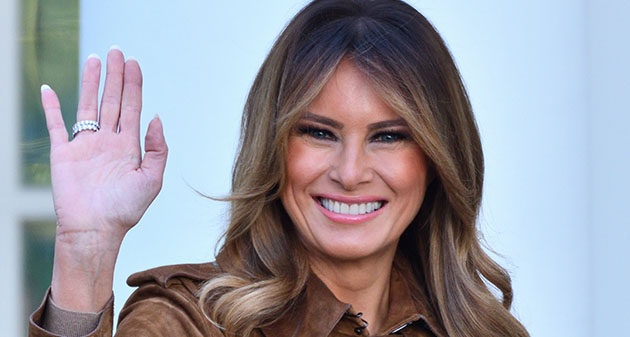 Yet prior to Trump's press conference last week, Melania and Donald presented a united front. They walked out on stage holding hands; a big thing, according to body language Judi James.
Melania Trump holding hands with husband Donald Trump
Not only did they offer a show of unity, but for Melania, the hand holding might have carried even more significance.
"These poses seemed created to give the impression that the President and his First Lady were just walking out of the White House again as though the last few years never happened. This is clearly Melania's gig as well," James said.
"She looked less rigid than she has in the past and her smile looked less of a rictus and more of a gesture of warmth. Donald kept it solemn but he made it look as though this would start as a double act rather than growing into one as it did last time."
READ MORE
James added: "The tight hand clasp looked deliberately performed to illustrate this aspect and there was a certain picking up of where they left off in terms of Melania's signals of being quietly but slightly in charge of the choreography. As they posed for photos when they hit the audience she seemed to be talking in an aside to her husband as though possibly back in the role of nudging him where to go and when."
Of course, this is hardly the first time Melania's clothes have sparked interest. No, her wardrobe choices have been scrutinized before, and said scrutiny hasn't always been favorable.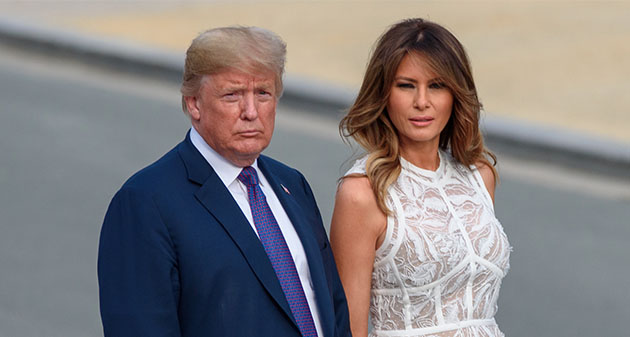 On her way to a migrant housing facility in Texas, then-First Lady Melania wore a jacket with the text 'I REALLY DON'T CARE, DO U?'
At the time, Trump and his administration were under heavy criticism due to their policy of separating migrant children from family members.
Infamous jacket scandal
Melania's visit was an excellent opportunity for the administration to form a better image of the issue. In the end, they abandoned the program altogether.
When Melania came back from Texas, the president was furious. Donald Trump is said to have summoned his wife to the Oval Office and yelled at her over the wearing of the tasteless jacket, according to author Stephanie Grisham, who worked in the First Lady's office.
"He yelled and asked "what the [expletive]" they thought they were doing," Grisham wrote in I'll Take Your Questions Now.
"It's obvious I didn't wear the jacket for the children," Melania later told CNN. "I wore the jacket to go on the plane and off the plane. And it was for the people and for the left-wing media who are criticizing me."
If Trump wins the 2024 election, Melania will become First Lady again. However, previous reports suggest that she does not desire to return to the role.
According to CNN, Melania has told several friends that she doesn't intend to become First Lady for a second time – she's done with living in the White House and instead wants a more private life.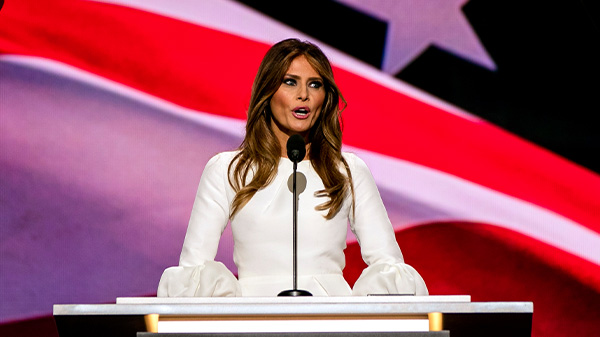 "Being the first lady again is not what she wants," one person close to the Trump family told CNN back in September.
"For her, it was a chapter — and it's over, and that's that."
Melania Trump 'not to be seen' at Trump rallies
Furthermore, Melania doesn't believe that political work for the Republican Party is her job, but rather her husband's.
"You're not going to see her at rallies or campaign events, even if he 'officially' says he's running again," another person said.
"Instead it's going to be Lara (Eric Trump's wife) or Kimberly Guilfoyle (Donald Trump Jr's girlfriend). They have that same urge Trump has to run again; Melania absolutely does not."
Melania and Donald's differences of opinion were well-established throughout the presidential campaign of 2020.
As mentioned, Melania has reportedly made it clear that she doesn't want to become First Lady again. In addition, though her husband is gearing up for another presidential run, she is not keen on joining him.
READ MORE
CNN correspondent Kate Bennett told Anderson Cooper that Melania dislikes "being in the news." Moreover, she wishes not to have her name associated with her husband's rants.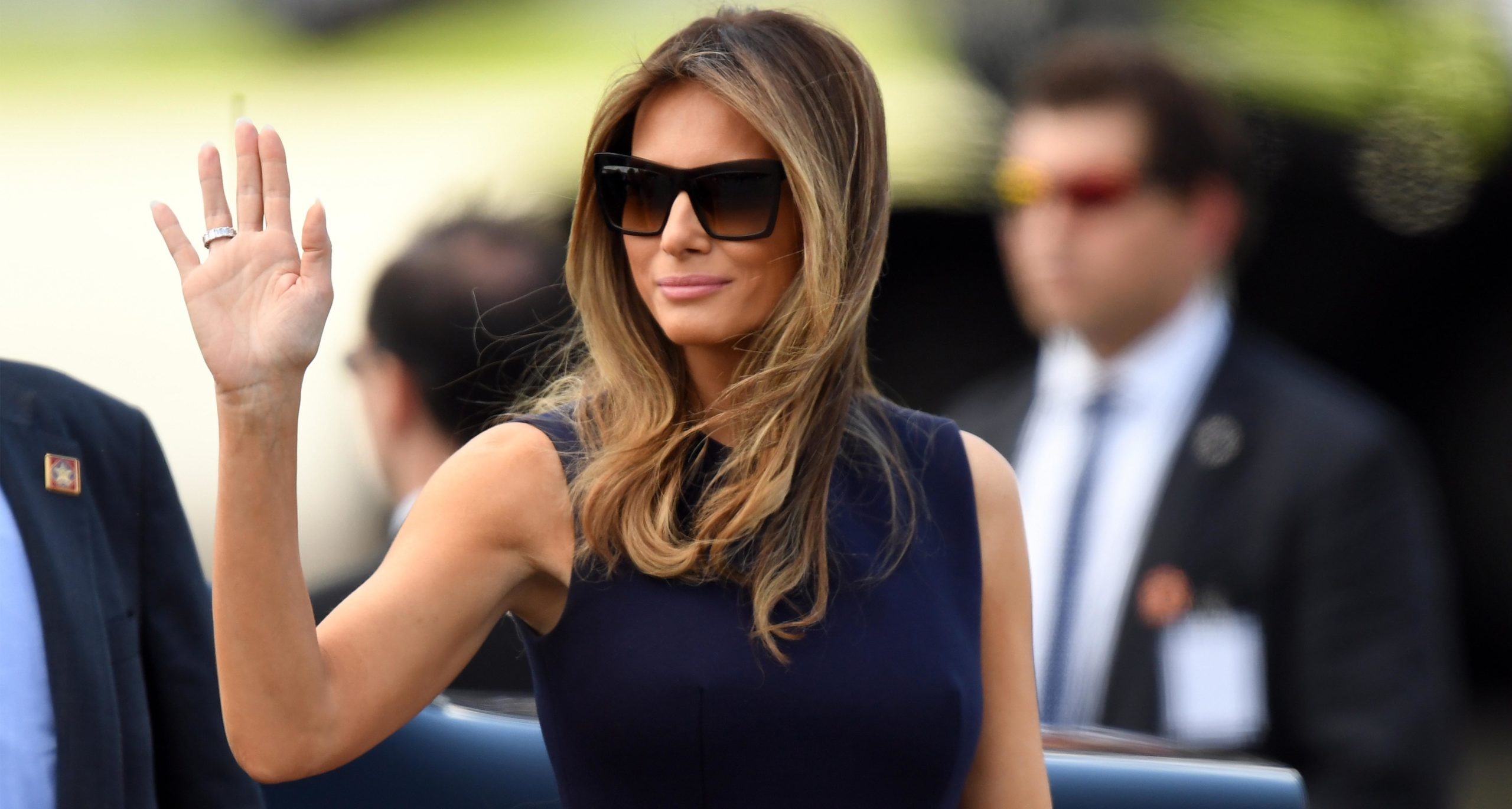 "Showing up in a news story is not something the ultra-private Melania Trump enjoys, and Trump was soon apologizing on Truth Social to her for what he called 'made up' stories about her involvement," Bennett said on CNN.
"Things are a little chilly"
"She doesn't like being in the news. She certainly doesn't like her name being attached to the rants and ravings of her husband," Bennett later told Cooper.
Bennett added that their relationship isn't in the best place. And as for the presidential campaign, Donald might even end up traveling alone.
"Things are a little chilly in that area just now," she said. "I don't think she has any intention of being on the campaign trail."
Please, share this article if you enjoy reading about the Trump family!