Just like millions of other people around the world, Oprah Winfrey has been living in quarantine during the COVID-19 pandemic. In fact, the celebrated TV host has barely left her home in Montecito, California, excepting a couple of occasions.
Now, Oprah Winfrey has shared news on her general well-being, and in these troubling times, it couldn't have been better.
Writing on her new platform, Oprah Daily, Winfrey revealed that she feels like a "superhuman" after getting two shots of the COVID-19 vaccine.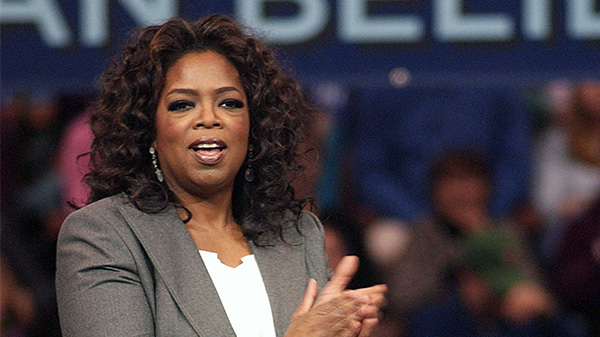 These days, Oprah's finally settled down after a very long and very successful career. And boy, has she earned the time to unwind!
Oprah Winfrey
Born on January 29, 1943 in the rural town of Kosciusko, Mississippi, Winfrey's early years in the small farming community were unstable. She was raised by her grandmother, but eventually left to live with her mother.
Oprah's life with her mother was troubled and at times terrible. By 14 she was pregnant, and she ended up moving to live with her father in Nashville.
Tragically, Oprah gave birth to a premature son who died shortly after birth.
Plenty of people would be devastated by the trauma and ready to give up on life following such an event. However, Oprah decided to channel her pain into something positive.
By 17, she had turned into a young woman with confidence and went on to win the Miss Black Tennessee beauty pageant.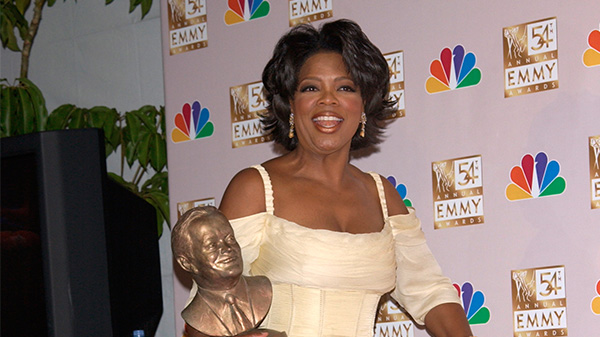 The event was sponsored by a local radio station, and since she showed talent in the field, Oprah was hired. She started working part-time reading the news, which later led her to another gig.
First job in television
She attended Tennessee State University on a full scholarship and majored in communications. However, when a job came up, she left before graduating. In 1986, Oprah returned to school to turn in her final paper and officially graduate.
Oprah Winfrey packed her bags and moved to Baltimore, Maryland, where she began co-anchoring the six o'clock news at WJZ-TV.
Incredibly, this now-media powerhouse was dropped from the co-anchor position and demoted to the news desk instead. There, she would meet someone who would become a vital figure to her future success.
Her mentor was an editor at work who yelled at her every night she was on the job.
"I used to go to work every day shaking with fear, saying 'I know I'm going to be fired'," Oprah said.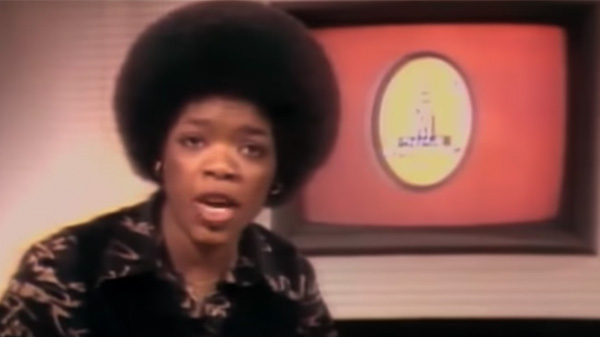 "I wasn't a great writer, I wasn't fast enough. In the end I didn't get fired, but I did get demoted to the talk show … which was seen as a big demotion in those days. And that's where it all began. So, I thank him. He was inadvertently a guiding light!"
The Oprah Winfrey Show
Oprah Winfrey got the opportunity to host the TV show People Are Talking, through which she gained a lot of friends. It was a huge hit, and meant that Oprah had taken her first steps towards stardom. Her empathy and courage – which became her trademark – were key. She stayed on the show for eight years.
She was then recruited to Chicago to do a morning talk show called AM Chicago. However, in 1986 the show was rebranded as The Oprah Winfrey Show.
As a young Black woman, she was a pioneer in the field, and her presence soon turned into what could be referred to as a revolution.
When she accepted the Cecil B. DeMille Award – a Lifetime Achievement and prestigious award for outstanding contributions to the world of entertainment – at the Golden Globes in 2018, Oprah Winfrey talked on the concept of a talk show being more than just a talk show.
"It's to say how we experience shame, how we love and how we rage, how we fail, how we retreat, persevere, and how we overcome," Oprah said in her acceptance speech.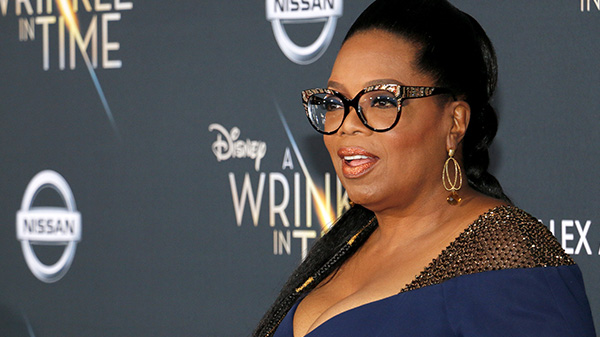 "I've interviewed and portrayed people who've withstood some of the ugliest things life can throw at them, but the one quality all of them seem to share is an ability to maintain hope for a brighter morning, even during our darkest nights."
Ended the show after 25 years
Oprah had signed a contract to continue The Oprah Winfrey Show through the 2010-2011 season. At the time, the show could be seen on more than 200 US stations and in more than 100 countries worldwide.
In 2011, when her contract expired, Oprah Winfrey decided to end her show after 25 successful years.
"I love this show, this show has been my life, and I love it enough to know when it's time to say goodbye," she said. "Twenty-five years feels right in my bones and it feels right in my spirit. It's the perfect number. It's the exact right time."
Oprah Winfrey hasn't only grown a big audience and fanbase in Hollywood because or her talk show. She's also been in many movies. She made her debut in The Color Purple (1985), a role for which she received an Academy Award nomination.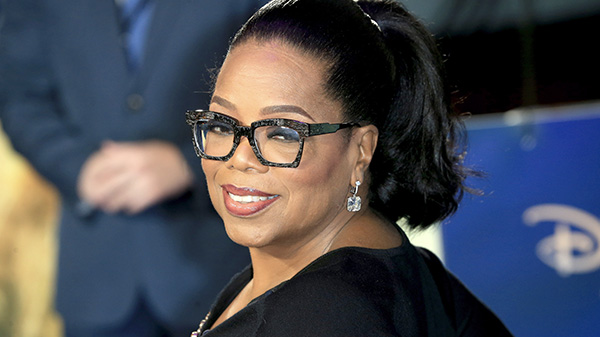 Oprah has lent her voice to several animated movies, as well. In 2013, she had a big role in the multi award-winning movie The Butler.
Million dollar donations
Two years later, in 2015, she was once again nominated for an Academy Award in the Best Motion Picture of the Year for Selma, in which she was the producer. According to IMDB, Oprah Winfrey became the first African American woman to be nominated for Best Picture.
Oprah is also known for being very generous on her show, giving the live audience all sorts of gifts. Not only that, but the beloved TV personality donates millions of dollars of her own money to fund various charities.
In April of last year – in the midst of the COVID-19 pandemic – Oprah announced that she was donating $12 million to several organizations dedicated to help communities in need of help in Chicago, Baltimore, Nashville, Milwaukee and Kosciusko, Mississippi. Oprah's lived in all these places herself.
"This thing is not going away. Even when the virus is gone, the devastation left by people not being able to work for months who were holding on paycheck to paycheck, who have used up their savings — people are going to be in need," Winfrey told the Associated Press.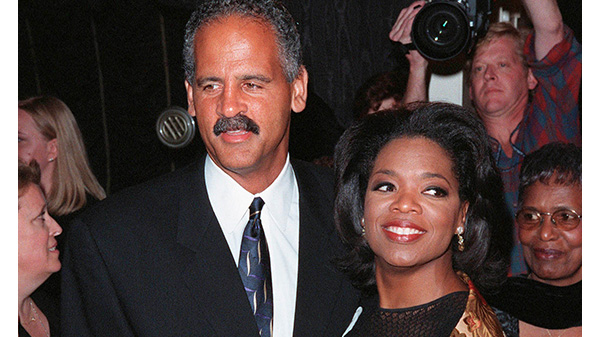 The COVID-19 pandemic has been hard on all of us. Being quarantined without getting to see and hug friends and family has been a real struggle, and it's been the same for Oprah.
Quarantine in her California home
She's spent quarantine in her big mansion in Montecito, California alongside her husband Stedman Graham.
Luckily for her and her husband, they've been able to entertain themselves on their estate – named "Promised Land" – which is said to be worth a staggering $100 million.
Oprah has the pleasure of living in a great community, but at the same time, she gets the privacy she and many other celebrities wants.
Even though Oprah can afford experts to take care of her many rose bushes, she'd rather do it herself.
"I'm very hands-on"" she told Veranda. "I picked the gravel, I picked the grout between the stonework. I decided which way the roses would face. Love is in the details."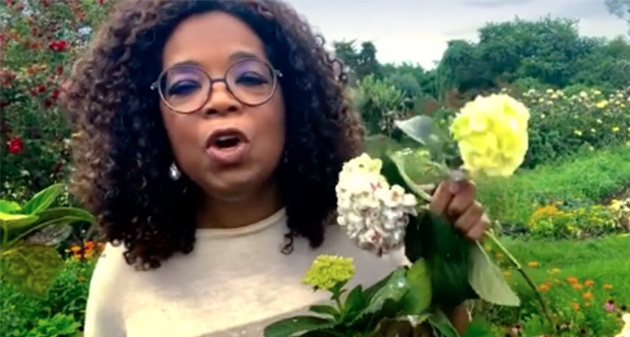 Growing up, Oprah said she only had a hydrangea bush in front of her grandmother's porch. And that's why she's planed thousands of white hydrangeas along Hallelujah Lane, to honor her grandmother.
Spends time in her garden
On her wonderful estate, the long-time talk show host also has her own vegetable garden, which she harvests herself.
"I can get excited over little things," Oprah said. "Just the bounty of it, the fact that this just came out of the ground."
It isn't everyday that you'll be able to see the big estates of celebrities. However, in February , Oprah Winfrey shared some new videos on her Instagram page, giving her followers and fans a glimpse of her great lawn and garden.
In another video, Oprah is seen taking cuttings in the middle of a huge garden, filled with all different types of flowers in different colors.
And her garden has really proved to be a place where she can relax and just be herself.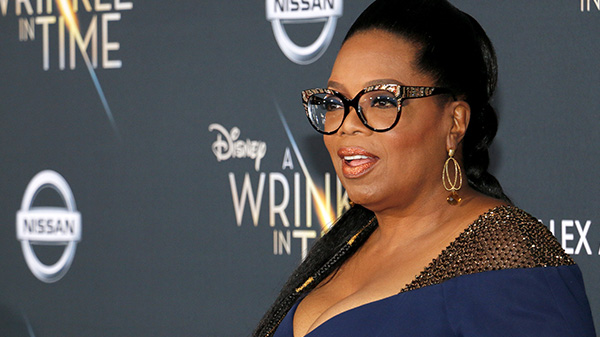 "I've done many interviews with people who had to lose what they had in order to value what they still have," she told Veranda. "Sometimes I stand under the arbor, close my eyes, and allow myself to take in as much as I can: I hear birds splashing in the fountain and literally smell the roses. This garden makes me present."
Oprah Winfrey – health
In 2019, Oprah Winfrey revealed on the Ellen DeGeneres Show that she battled a "very serious" health scare which left her in the emergency room. She said she'd been diagnosed with pneumonia, and following a CT scan, the doctors said it was worse and that Oprah was going to see a specialist.
She had to cancel all her plans to focus on getting better. Luckily, the celebrated TV host fully recovered.
"[The doctor] called me every day to make sure I was using the inhaler and taking the right antibiotics, and when I walked in and I was better, he thanked me three times for getting better, and said, 'Can I have a hug?'" Oprah recalled.
During the COVID-19 pandemic, Oprah's only been out of the house for very special occasions. Now, she's given her fans a new and wonderful update regarding her health, as she's gotten two COVID-19 vaccine shots.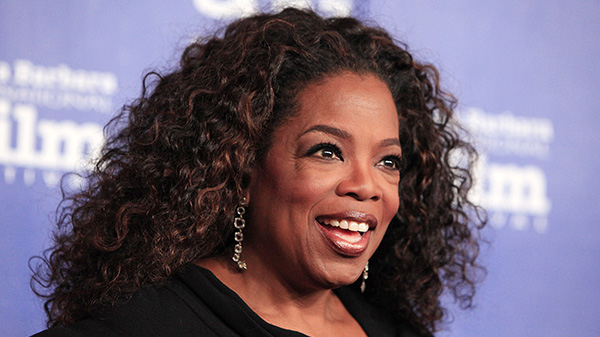 Writing on her new website, Oprah Daily, she says she wanted to cry when she got the first shot.
Gotten two shots of vaccine
"I wanted to cry but didn't, just from the overwhelming sense of relief. I'd had pneumonia the previous year, and my lungs were still sensitive. I was very much afraid of the toll COVID-19 would take on me; it's why I was so super strict about the goings and comings of everyone in my space," Oprah writes.
After she got her second vaccination shot, Oprah didn't feel well for 30 hours. She got fever, chills and all the "classic" symptoms. Oprah thought about a lot of those people in the US that have lost their lives because of the horrific virus, as well as what they had to endure.
"Afterwards, I felt like superwoman—like I'd been given a new lease on life. But it hasn't changed my habits. I've still gone nowhere other than to do the interview with Meghan and Harry. Recently, Stedman went to hit golf balls alone, for the first time in a year."
"I'm just grateful"
Oprah – just like the rest of the world – is hoping that things are going to be back to normal soon. Once the coast is clear, she knows exactly what her and her husband Stedman's first activity will be.
"When enough friends are vaccinated, I may have an outdoor taco party. I'm not ready to whoop whoop just yet…but eventually, I will ease into group gatherings. For now, I'm just grateful beyond description to have the vaccine," Oprah Winfrey writes on her website.
We're so happy to hear that Oprah Winfrey is doing great. And also, very thankful that she made such a great donations to help people less fortunate, that's a true act of kindness.
Please, share this article with friends and family on Facebook to honor the one and only Oprah Winfrey!